All signs in the vast expanse of the veggie world seemed to indicate that I should make some kale for dinner tonight. Not only did I have a huge bundle of locally-sourced kale in the produce bin courtesy of the organic delivery service Greeling.com, but every magazine I've opened for the last few days has been abuzz about this looser-leafed cousin to cabbage. It is a "superfood,' after all. Convinced to put some green in this running machine, I whipped up a spicy-sweet side of kale using an orange and Sriracha sauce. Try it, you'll like it!
Kicked-up Cashew Orange Kale Recipe
1 tablespoon olive oil
1 teaspoon minced garlic
2 teaspoons minced ginger
8 cups chopped kale
1/3 cup white wine
1/3 cup fresh orange juice
1 tablespoon Sriracha sauce (more or less to taste)
1 tablespoon fresh orange zest
2 ounces cashews (I used cayenne spiced cashews)
Add olive oil to large skillet; bring heat to medium-high. Add garlic and ginger and sauté for approximately 1 minute, or until fragrant. Add kale and sauté for 2 to 3 minutes; add wine, orange juice and Sriracha sauce. Stir well to combine.
Add lid to skillet and let kale steam for 3 – 4 minutes, until softened. Remove lid and continue to cook, stirring as needed, until most of the liquid has cooked off. Remove from heat. Sprinkle with orange zest and cashews.
Serves 2.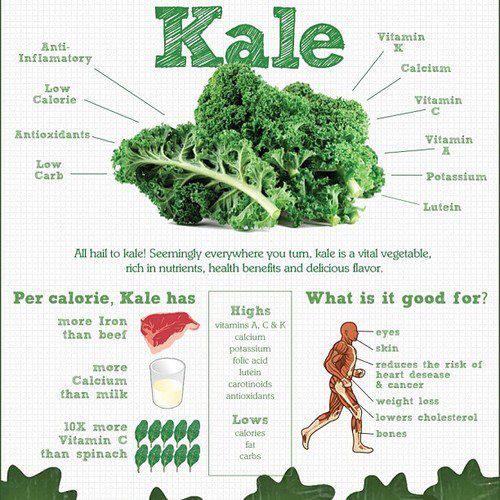 So Why Kale?
And there are many nutritional reasons to exclaim "all hail the kale." This dark leafy green veggie is high in beta carotene, vitamin K, vitamin C, and also has loads of iron and more calcium than a serving of milk. Kale boasts anti-cancer properties thanks to a chemical called sulforaphane. Another chemical found in kale, indole-3-carbinol, is said to encourage DNA repair in cells. Kale has also been shown to lower cholesterol levels and decrease the absorption of dietary fat.  And, all this for 36 calories per cup!
Steaming, braising, microwaving, and stir-frying are all good ways to cook kale; however, boiling this veggie can decrease some of its beneficial properties. Check out these fabulous-looking, creative ways to cook kale brought to you from some of my fellow healthy food-loving Fitfluential.com ambassadors:
Heather at fortheloveofkale.com has an awesomely unusual kale recipe she's calling Sexy Salad of the Moment – you'll have to click to find out what gives it so much appeal!
Laura at sprint2thetable.com threw together a lot of yummy stuff in a pot and is calling it White Bean, Butternut and Kale Soup.  Here in Austin, we're having a weird April cold front, so I'm making this nutrient-rich and warming meal tomorrow night.
Cat at breakfasttobed.com has me motivated to prepare her make-ahead salad. Massaged Kale and Wheatberry Salad with Feta. It's true that kale salads are so much tenderer when pampered with an olive oil massage.