Friends and acquaintances on social media frequently ask me what supplements I use to support my active lifestyle. Partly, I've never really answered the question because it feels like opening up my medicine cabinet and inviting strangers rifle through at their leisure. And, also partly because I don't want anyone to use MY cocktail of supplements as a cookie cutter solution for their needs. That just won't work, we are all unique people with different needs.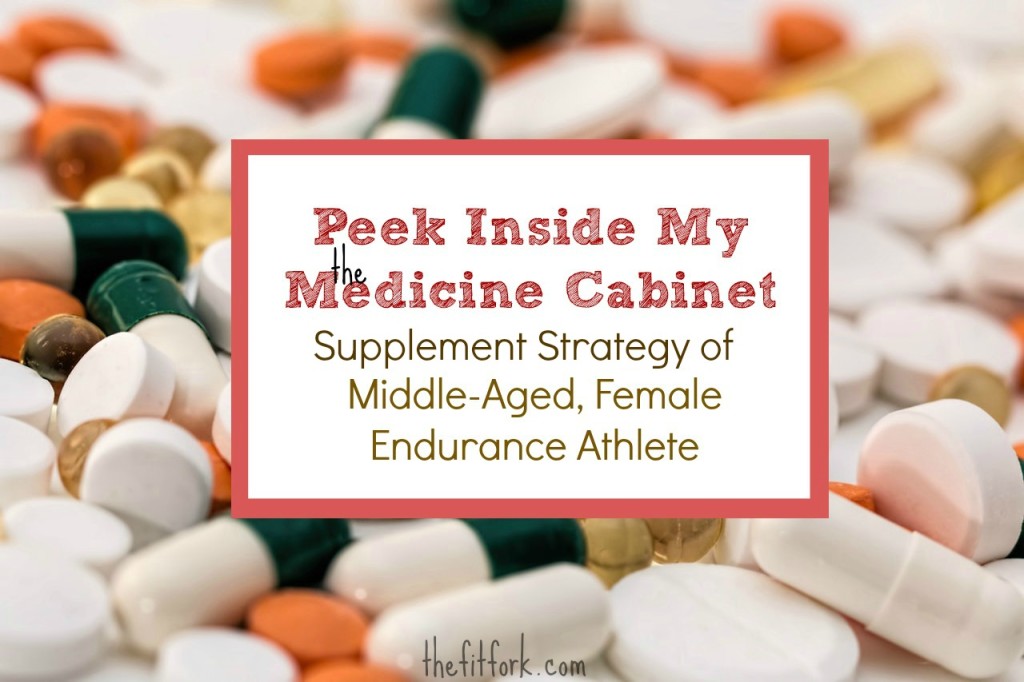 However, that being said, I think that many of my supplements, considered individually, could help another female athlete (and in some cases, men) optimize wellness and performance . . . and so, I share! But please consult a medical professional if you thing you want to try one or more of these. Read on to learn about my major challenges as an elite master's athlete (running, obstacle course racing, and CrossFit) and the supplement solutions I use on both a daily and as-needed basis.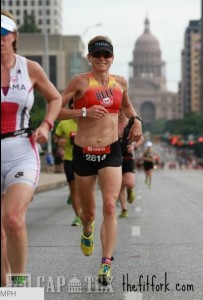 – – – My Goals – – –
I don't want to be a professional bodybuilder, but I do want to maintain a lean body composition and stay strong enough to stay competitive in my sports. I want to get relief from the discomfort of my arthritis and recover faster from workouts, so that I can train at the level I want. I want to sleep better (for sanity and recovery) by both increasing the number of hours asleep and reducing the number of wake-ups. I want to get as many nutrients as a can from a balanced diet of whole foods, but recognized that I may need to supplement where my body is not responding.
– – – My Challenges – – –
Osteoarthritis: It's pretty bad in my hands and I also have in in my hips, SI joints and who knows where else they haven't x-rayed. But mainly my thumb joints and hands, every day, all day – this is a significant issue for a obstacle course athlete.
Vitamin D deficiency: A hereditary issue for me. My mom is deficient and so are 2 of my 3 children, regardless of our time in the sun.
Muscle, Joint, Ligament Fatigue: Part can be attributed to the osteoarthritis, some to Delayed Onset Muscle Fatigue (on occasion, when I've overdone it), and the rest for reasons I don't know and haven't been answered.
Trouble Sleeping: I've never been a champion sleeper, but in the last three years have been hell (there's that time I tried to make the best of my time awake, went for a run at 3:30am and saw a mountain lion. Anyway, I've cycled out of the worst of my insomnia (never trouble falling asleep, but trouble staying asleep) for the time being, but still get up 2 to 3 times a night and feel programmed to wake up between 4:30 and 5:30 am, no matter how late I stayed up or what the day is.
Peri-Menopause: Don't. Even. Get. Me. Started. Also, a pet peeve when a doctor doesn't want to listen to you and blames it on this change of life.
High Cortisol Levels: They go up, and they stay up, instead of the repeating rise and fall cycle that you should have through the day.
Reflux: Ugh, if I eat too much after 6pm or spicy food, it's like I'm an elderly person. Also, often swallowing the pills that are supposed to be taken at night cause a problem, that's why I go for the chewable supplements whenever I can find them.
Please Pin for reference later!
– – – Daily Supplement Regimen – – – 
NOW Sports Omega with CLA: I take this primarily to support cardiovascular health and muscle/joint comfort.* This supplement features a blend of fatty acids (FAs) that promotes a balanced immune system response to the challenges of vigorous exercise.* Omega-3 FAs, especially when combined with exercise, can help to support the maintenance of normal blood lipids.* These fats may also help to minimize temporary, but minor muscular aches and pains associated with intense physical activity and support overall joint comfort.* This product includes CLA (Conjugated Linoleic Acid) and GLA (Gamma Linolenic Acid) for a comprehensive nutritional oil blend.
ZMA® Capsules: I take this supplement (a combination of Zinc, Magnesium and Vitamin B-6) 90 minutes before bed for sports recovery. * Zinc plays a central role in the regulation of cellular growth and tissue repair, as well as the maintenance of a healthy immune system* Magnesium is essential for the maintenance of electrolyte balance, energy production and normal neuromuscular function. * Athletes need more of these nutrients. Check out my post on How ZMA Helps Female Athletes
Glucosamine & Chondroitin with MSM Liquid: The fact that this is a liquid makes me really happy, I like this citrus-y "shot" intended to help joint mobility and improve the discomfort I have from arthritis. By keeping joints "lubed" up, it's also a great preventative to the wear and tear that athletes put on their bodies.

Smarty Pants Women's Complete: Sometimes when I'm not in the mood to swallow a bunch of pills, I just take two of these multi-vitamins and take a day off from the rest. These gummies pack Omega 3 fish oil for brain health*, Vitamin D as D3 for immune health*, Folate for detox support*, Vitamin B12 as for mental focus and energy balance* and CoQ10 for heart health* plus the garden-variety vitamins we need every day. They also have a Master's Women (50+) Complete product line that I guess it's time to graduate to – haha.
NOW Vitamin D-3 Chewables – I take 5,000 IU of this little, chewable minty tablet to improve my low vitamin D levels. While vitamin D is typically found in foods or produced by skin from the ultraviolet light, low levels can also be hereditary (my situation). Even with the recommended 10 minutes of sun exposure a day, I am still low without supplementation. This vitamin also helps to maintain strong bones in conjunction with calcium* (I don't want any pesky stress fractures), support the immune system and can help reduce muscle soreness and keep inflammation down in some athletes according to studies.
NOW CoQ10 200mg Lozenges – Thank goodness for another supplement I don't have to swallow, these orange tablets are chewable! CoQ10 plays a central role in cellular energy production. * CoQ10 is found throughout the body, but is especially concentrated in the heart, liver, and kidney and production has been found to decline with age. CoQ10 works with vitamin E as a potent free radical scavenger in cell membranes, as well as within blood vessels. * Years of scientific research have shown that CoQ10 helps to maintain a healthy heart and vascular system. * The NOW® brand is pharmaceutical grade and contains only the natural, all-trans form of CoQ10 produced by fermentation.
Hyperbiotics Pro-15 – I take this probiotic every other day, it's a tiny pearl capsule that's easy to swallow. Time released over 8 to 10 hours, this little pill is intended to bypass stomach acids (which would destroy them) and reach deep into the intestines alive and well! This company has quite a few different formulations to meet a specific need or life stage. Check out my post on 3 Ways Probiotics Help Runners.
– – – Supplements & Products Used as Needed – – – 
Curamin® Stop Pain Now, a safe, effective, non-addictive herbal formula that has gotten me back in the literal and figurative game. This #1 selling brand is my first line of defense against chronic pain, it's safe and non-habit forming. I talk about in more in this post on Pre-Workout Hand Stretches to Lessen Pain
NOW Acid Relief with Enzymes: I prefer this calcium carbonate chewable tabs to the major leading brand because they also include digestive enzymes. A side effect of calcium carbonate neutralizing stomach acids is that it unfortunately can slow down digestion, leaving that "ugh" feeling all night. But the addition of enzymes helps keep things moving in the right direction.
NOW Magnesium Topical Spray: I keep a bottle of this Magnesium Topical Spray by my bed and do 4 squirts (which equals 66mg magnesium) about my body and rub it in. . At first it feels a bit oily, but it's not oil at all– it's highly concentrated magnesium from an ancient seabed which soaks right in and feels magnificent. Use Google to discover the many benefits of topical Magnesium . . . it's my personal opinion that it helps with sleep.
NOW Magnesium Flakes: After a hard run or workout (or stressful day), I take a pre-bed bath with these 100% pure, highly concentrated magnesium flakes from the ancient Zechstien Sea Bed. Not only does my skin feel soft and hydrated, it is my personal experience that it helps with muscle relaxation and recovery . . . and sleep. *
– – – Workout Supplements, Powders & Products – – – 
Grass-Fed Whey Protein – Natural Unflavored: One of the newest protein powders available in the NOW® line-up, and maybe now my favorite, Grass-Fed Whey Protein is made from the milk of exclusively grass-fed and grass-finished cows (no feed lots) that are also raised without synthetic growth hormones (rBGH), antibiotics or pesticides. Because this powder is unflavored, it lets the flavors of my other ingredients shine through when making smoothies or using for baking.
BCAA Big 6 – Watermelon Flavor: I like this exercise endurance drink because it tastes great and is caffeine-free.* Not that I'm against caffeine in any way, but I've usually hit my limit via coffee long before the gym. As the name hints, this pre-workout boasts six branched-chained amino acids which studies say may support muscle retention and recovery, and betaine to help keep body fluids in proper check.*
Nuun Hydration: I love all their verified clean products for staying hydrated, especially Nuun Active and Nuun Energy (with caffeine from green tea and vitamin B12 for energy).
*These statements have not been evaluated by the Food and Drug Administration. These products are not intended to diagnose, treat, cure or prevent any disease. Also, this post contains affiliate links. 
What are your needs and issues when it come to performing your best. What supplements to you take on a regular basis? Pills, chewable, liquid — if you had your pick? What race or event are you training for? Please share in the comments — XOXO, Jennifer