You better hop to it if you are still looking for sweet treats to share with family and friends this Easter weekend. If the bunny that visits your house is anything like the one who hides eggs at mine, I'm pretty sure you'll have enough chocolate goodies and jelly beans to last until the Fourth of July!  But if you are hosting an Easter brunch, luncheon or dinner, you probably need a delicious dessert that is showy enough for a Sunday celebration of this magnitude.
But don't fret, I have an easy and "healthier" option that I whipped up for Lighthouse Foods — a Lightened Strawberry Bundt Cake and it is just perfect for the season! Several decadent ingredients found in traditional pound cake recipes have been swapped with sugar-free and reduced-fat products to keep this cake a little from exploding with excess. Plus, fresh strawberries for garnish are always a good thing! Check out the Living Lighthouse Blog for the full directions.
You may want to spend some extra time (especially if you have today off) enjoying the perks of great outdoors in spring – warmer weather, longer days and verdant vistas with beautiful wildflowers. Fuel up with long-lasting healthy energy with the Layered Spring Smoothie I created for CorePower.com. Sweet layers of fruits and vegetables blended with a Core Power High Protein Shake not only looks pretty, but will have you feeling pretty good too – it's packed with 26 grams of quality protein!
Layered Easter Smoothie Recipe
1 bottle Vanilla Core Power (or milk of your choice)
1 large banana, sliced and frozen
½ cup frozen or fresh spinach (a handful)
½ cup sliced frozen strawberries
Whipped cream and pastel sprinkles, if desired
Pour entire bottle of cold Core Power into blender. Add frozen banana slices and blend until smooth; blend in ice if mixture seems too thin. Divide banana mixture evenly into three parts, leaving one part in blender and pouring the other two parts into two small bowls or cups.
Add handful of spinach to portion remaining in blender and process until smooth. Pour this into bottom of tall glass. Over this "green" layer, pour the "yellow" portion that is just banana and Core Power.
Quickly rinse out blender and pour in the remaining bowl. Add strawberries and blend until smooth. Pour this "pink" layer on top. Garnish smoothie with whipped cream and pastel sprinkles, if desired.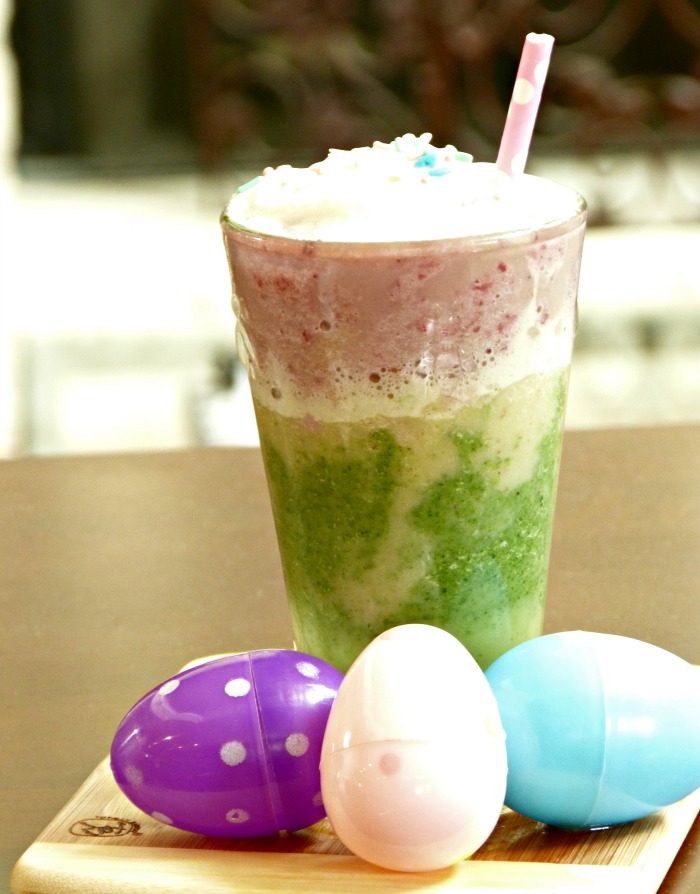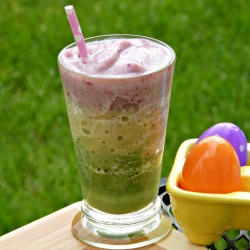 Note: For "no bleed" stripes, freeze serving glass between each layer. For a more casual "dip-dyed" look (as in photo), this step is not necessary – the colors will seep together a bit by design!
If you are still looking for a sweet and stunning end to your meal, check out the gallery of Best Easter Desserts from CookingLight.com. The Black and White Angel Food Cake has definitely grabbed my attention!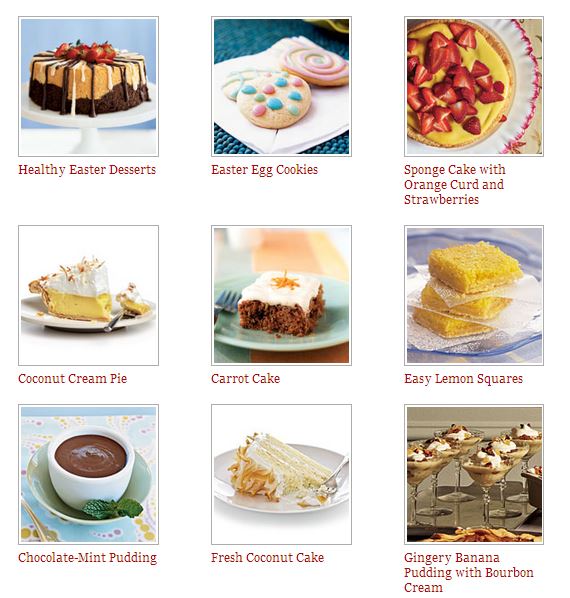 Are you planning a special dessert for Easter? Let me know in the comments below!