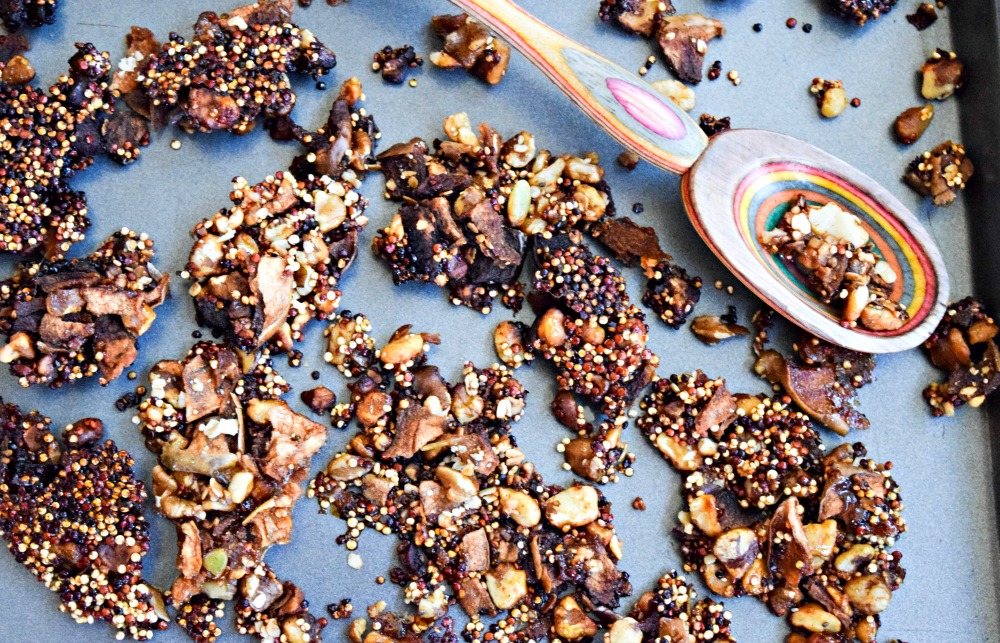 Ready for a curiously crunchy treat? My recipe for Apple, Walnut & Quinoa Crunch will satisfy sweet crispy cravings while filling you up longer thanks to an unexpected punch of protein from the quinoa and black walnuts– it's a balanced candy for your "healthy tooth"!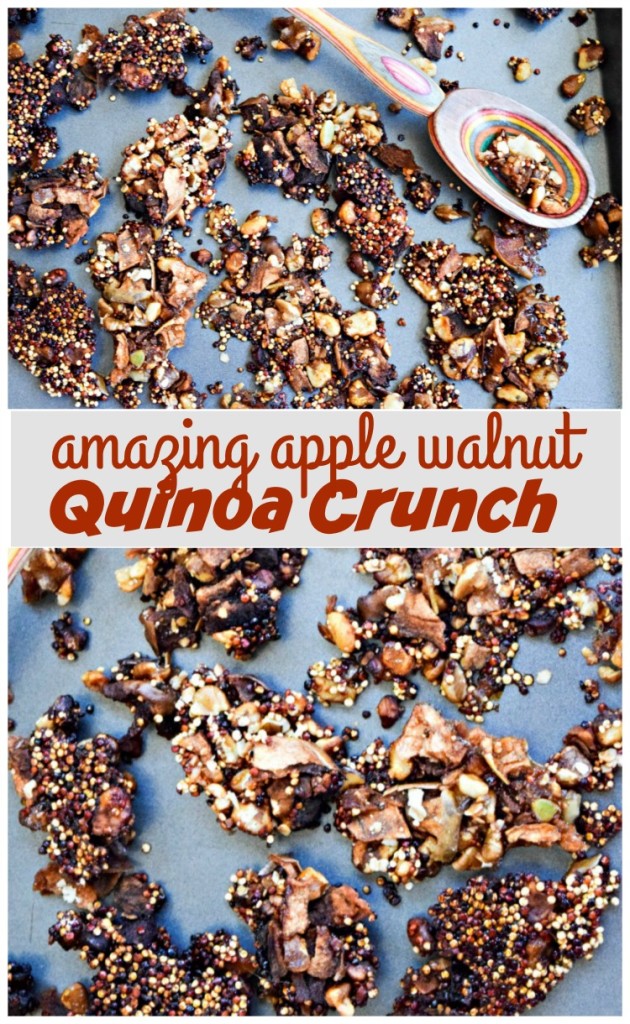 I like to eat it straight off the baking sheet or break up into shards of sweetness to top my Greek yogurt.
I almost hesitate to even call this easy-to-make recipe "candy," although it is a take on old-fashioned "nut brittle." However, the typical peanut brittle or nut brittle uses a boatload of butter, table sugar and corn syrup – gasp! Instead, my healthy candy recipe is packed with wholesome ingredients like 100 percent juice apple cider, ancient grains, dried fruit and nuts, and just a touch of coconut sugar.
I also choose to use Black Walnuts instead of standard english walnuts. Why? The black walnut has the most protien of any tree nut and imparts a more intense, earthy, nutty flavor to recipes. I discovered this news I can definitely use at the Produce Marketing Associations recent Fresh Summit in Orlando when, I auspiciouslly bumped into Hammon Black Walnuts on my way out the door to fly home.
As far as sugars go, coconut sugar (derived from Palm) is a much healthier sweetener in moderation as it doesn't spike blood sugar as dramatically as traditional sugars. Also, if a concern for you are a loved one, this recipe is gluten-free and dairy-free.
I originally made this recipe for Litehouse Foods and used the Honey Crisp Apple Cider, you can find it in the produce section this time of year. This Cold Pressed, 100 percent pure apple juice has a unique tart taste that is wonderfully balanced with sweet. It's perfect poured straight from the container, served hot or cold, and also makes a great ingredient in recipes where you would prefer natural sweetness.
Some things to note when making this recipe — you need to keep an eye on it so it doesn't burn, your oven temperature may vary affecting the overall cook time. Also, it will be soft when removed from oven — give it plenty of time to set up and harden, stick in the fridge to expidite. If it still doesn't seem crispy, then you can put it back in the oven for several minutes at a time until done.
Another healthier "candy" I'm pulling from the archives to share with you today is my recipe for Sweet Date Chocolate Candy Bar Bites. These are so yummy and I love how the dates provide extra iron in my diet.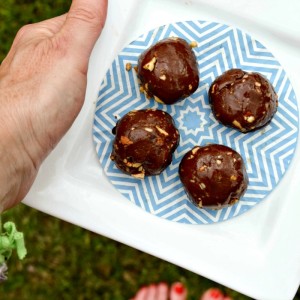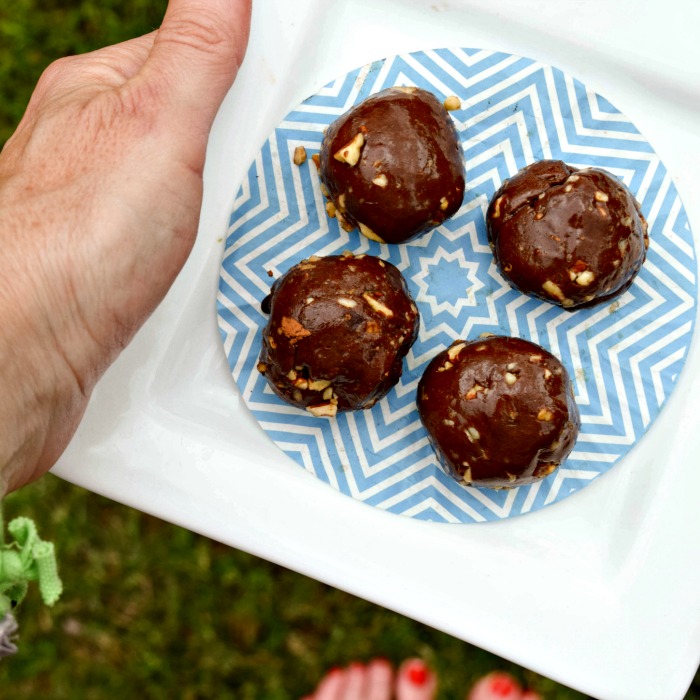 I also like to make a batch of my Hazlenut Fudge Protein Balls to stash in the freezer and thaw out one at a time to quell my dessert cravings. These no-bake energy bits are ideal for a healthy little dessert or as pre and post workout fuel.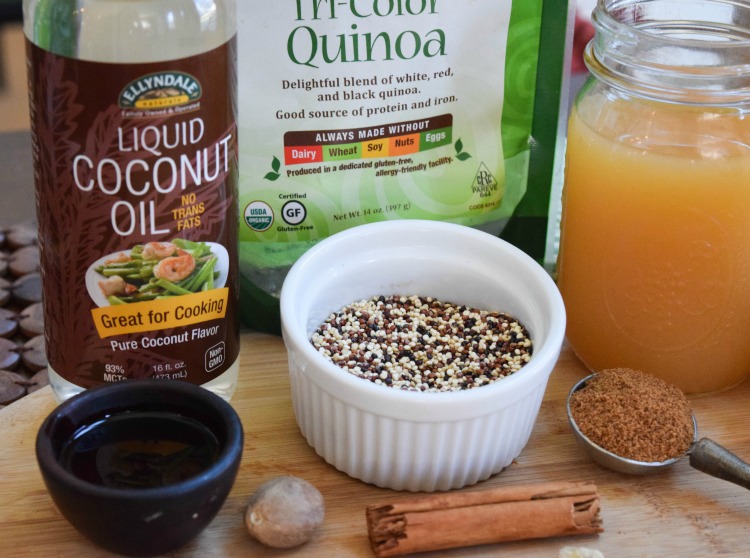 In addition to the Honey Crisp Apple Cider from Litehouse Foods, which you can conveniently find in your market's produce section this time of year, here are some other ingredients used in my Quinoa Crunch.a
"
Do you have a "healthy" candy recipe? What is your go-to when you are craving something sweet? Please share in the comments – XOXO, Jennifer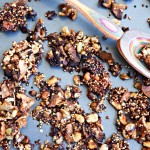 This healthier alternative to candy is easy to make and packs a bit of protein thanks to the ancient grain Quinoa.
Servings

Prep Time

4

servubgs

10

minutes
Servings

Prep Time

4

servubgs

10

minutes
This healthier alternative to candy is easy to make and packs a bit of protein thanks to the ancient grain Quinoa.

Servings

Prep Time

4

servubgs

10

minutes

Servings

Prep Time

4

servubgs

10

minutes
Preheat oven to 325 degrees F (160C) and line a rimmed baking sheet with parchment paper (or use a silicone baking liner as I did)

Using a fine-mesh sieve, rinse the quinoa well under cold running water and spread out on a paper towel to dry. This will prevent bitterness.

Add quinoa, walnuts, oats, crumbled dehydrated apples, and salt to small mixing bowl, stirring to combine.

To a small saucepan, 1 ½ cups apple cider and bring to a boil over medium-high heat. Reduce heat and simmer for approximately 20 minutes, until volume has been reduced to ½ cup liquid. Add coconut oil, coconut sugar, cinnamon and nutmeg and simmer for an additional 2 minutes, stirring frequently.

Pour apple cider "syrup" over the dry ingredients and stir to thoroughly coat. Arrange on parchment-lined baking sheet and spread into a uniform layer with a metal spoon. Uniformity in thickness will promote even cooking and keep edges from burning.

Bake for approximately 30 minutes, rotating the pan around on the oven rack at the halfway point. When removing from oven, color should be deep golden brown in color. Allow to cool completely so that it hardens up before breaking into bite-sized pieces.

If you realize, after cooling that still soft in the center, you can return it to the oven for another 5 to 10 minutes, keeping a close eye.

Store leftovers in a sealed bag or container at room temperature up to one week, or in the freezer for up to three months.