Some of the things I like best about exercising — the physical and mental challenge, the variety of workouts available (yet also the ritual of doing them), the endorphin rush, meeting short-term goals while safeguarding my health for the long haul, and the sweaty satisfying soreness following a tough session, the relaxing and winding down. That being said, I also look forward to the food fuel I need to top off my tank and keep my engine running properly.
Aside from the occasional cheat, I eat a higher-protein, lower carb diet. Although, I've never had a weight issue, I really noticed a change in my lean-to-fat ratio when making these tweaks – suddenly I had visible abs, back muscles and more without a change on the scale. I've even blogged about eating a higher protein, higher fat diet for marathon nutrition while embracing the need for some carbs for loading and recovery. For my active lifestyle, I aim to eat about 20-25 grams of protein at each of three meals and one to two snacks.  Research has shown that incorporating protein into diet can help build lean muscle and boost the metabolism to more efficiently burn fat. Also, more protein in the morning has been shown to reduce junk food snacking later in the day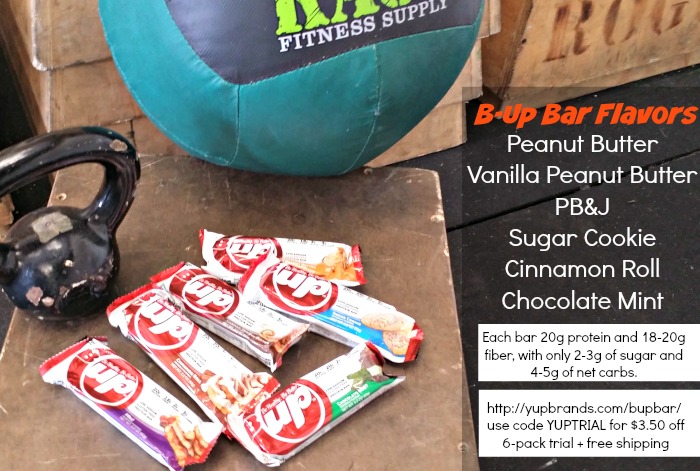 Anyway, it's hard to pass up the opportunity to try a new protein bar – I'm definitely a protein junkie. So, I was thrilled to give B-Up Bars a test and was hoping they'd stand up to my non-negotiables in a bar (higher protein, lower carb, reasonable calories, taste). These soft bars (think nougaty marshmallow texture) each have 20g protein and 18-20g fiber, just 2-3g of sugar and 4-5g of net carbs, and come in six crazy-delicious flavors — Peanut Butter, Vanilla Peanut Butter, PB&J, Sugar Cookie, Cinnamon Roll, and Chocolate Mint. In addition to the higher protein profile, I also appreciate how B-Up Bars are made with no artificial flavors, sweeteners, or preservatives and are low sodium and gluten free. B-Up Bars also feature a plant-based fiber to offset carb intake.  Be Healthy. Be Better. B-Up.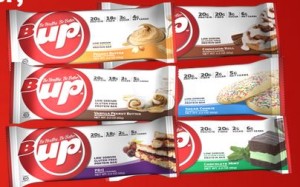 If you like indulgent snacks that are actually good for you and make a convenient breakfast on the go or snack to stash in your gym bag, head over to B-Up Bars at  http://yupbrands.com/bupbar/ for one of two great offers.
Discount Code YUP29 for 12% discount on box orders on yupbrands.com + FREE shipping (not valid on 6-pack trial).
Discount Code YUPTRIAL for $13.99 six bar (6 flavor) Trial Pack (reg. price $17.49) plus FREE shipping.
I'm also sharing with you the Medicine Ball Workout I did yesterday (before I at my chocolate mint B-Up Bar)! I really enjoy exercising with a full-body med ball routine – compared to gym machines, it makes working out old-school easier yet tougher at the same time! Try out my Med Ball Workout, it's perfect for improving explosive power, increasing strength and endurance and improving overall functional fitness – and all you need is a ball!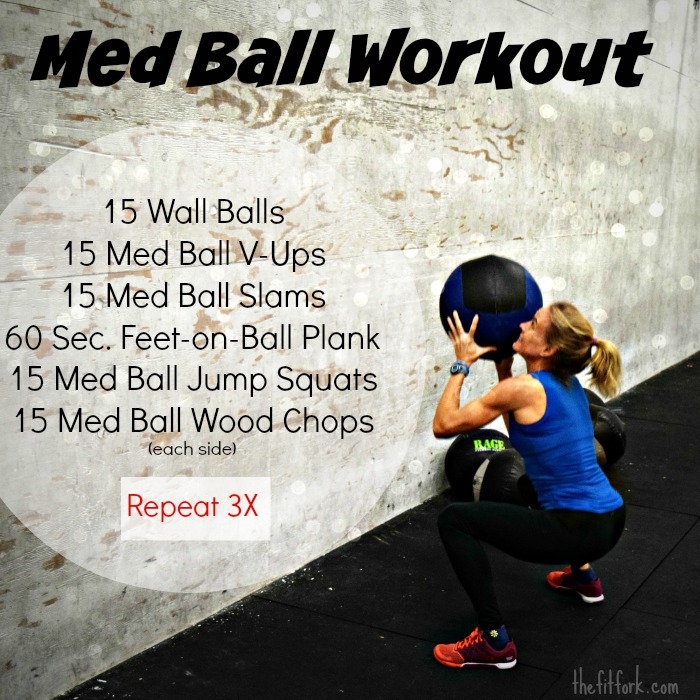 Wall Ball – Stand facing wall, hold ball close to chest.  Lower into a partial squat and propel ball upward as far as possible, catch at chest on the way down while lowering into a squat.
Med Ball V-Ups – Lay on back, extend arms over head to rest on floor while holding ball. Engaging core, raise up arms and legs at the same time to meet in alignment above hips. Slowly lower to start position.
Med Ball Slams – Standing upright, hold med ball high overhead with both hands and throw to the floor with force, squatting down slightly. Catch ball on the bounce up and return the start position.
Med Ball Plank – Rest on forearms and place feet on medicine ball. Engage core and keep body position as straight as possible. Hold for designated time without breaking form.
Med Ball Jump Squats – Standing upright with feet shoulder-width apart, lower into squat position holding ball. Explosively jump upward keeping ball at chest.
Med Ball Wood Chop – Hold ball in both hands and stand with feet shoulder-width apart, knees slightly bent. Drop down slightly, moving the ball near right, then drive up through feet, swinging the ball up and across your body to the opposing side. Swing back down to start position.
And, if you are looking for an extra challenging med ball exercise, give this headstand med ball pick up a try. Oooh, it worked all the large and small group muscles of my body in my constant pursuit of keeping balance.
Do you eat protein bars?  Describe your dream flavor! What is your favorite med ball exercise?
This post was sponsored by B-Up bars / YUP brands. However, however they did not tell me what to say or how to say it — all comments and opinions are my own.