As the end of October nears, I'm feeling a bit nostalgic for one of the most sensory-overloaded food experiences of my life (to date) – the 2004 Jack Daniel's World Championship Invitational Barbecue. This annual event, held in Lynchburg, Tennessee, features barbecue teams from all over the globe who come together to smoke, season and sear their best recipes to the delight of more than 25,000 spectators. Let me tell you, this shindig isn't about tossing some hotdogs and burgers on the grill; it's an epicurean extravaganza that is serious, serious business. I figured that out early on the first morning when the big rigs rolled in and started setting up some epic-sized barbeque pits. Plus, you've got to be a state or national champion just to get an invite!
Now, the particular year I was lucky enough to sample my way through what is fondly called "The Jack," I was a guest of the famous whiskey distillery. Apparently they took a liking to my Apple Honey BBQ Sauce with a Bite (keep reading to find recipe below) and said, "come on down!"  I have to disclose that I am not a huge whiskey drinker, but it is pretty darn good in a recipe – just wait until I share my whiskey onion soup recipe!
Part of the barbeque boondoggle included a seat at the prestigious Kansas City Barbeque Society judging certification course, definitely the most gut-busting class I've ever taken.  I learned all the important details of upholding my responsibilities as an official  BBQ judge including spotting the various barbecue cooking methods, the nuances between regional barbeque flavors, and a deeper appreciation for the three main criteria of BBQ judging – appearance, taste and tenderness.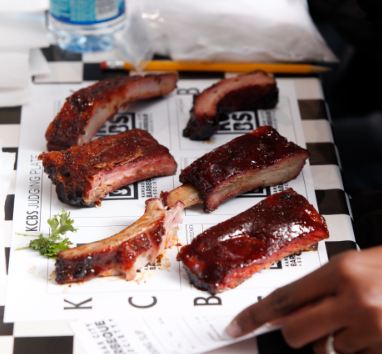 As you can imagine, this job required a lot of meat sampling. I feared falling short of the official oath I had just taken, so I made sure to polish off every last morsel of meat. Let me tell you, I was as stuffed as a turkey on Thanksgiving, but I did finish, finally waddling away four hours later with my official KCBS judge's badge and certificate suitable for framing
The next day, I was actually still so full that I had to pass on my judging assignment. Instead of wallowing in my failure as a carnivorous critic, I hoofed it around the festival and watched the various teams battle it off tong to tong, slop mop to slop mop. After nearly a full day of this moderate exercise and inhaling the delicious smells, my appetite thankfully returned. Dashing back to the judging arena, I made it just in time for the 'dessert' category – all things are definitely made better with Jack Daniel's Whiskey!
Now, next time you're firing up the 'cue, whip up a batch of my Apple Honey BBQ Sauce with a Bite, the perfect sauce for beef, chicken, pork or whatever you've got grilling!
Apple Honey BBQ Sauce with a Bite Recipe
½ cup butter
½ cup oil
2 medium onions, minced
2/3 cup Jack Daniel's Tennessee Whiskey
½ cup apple cider vinegar
½ cup apple juice
½ cup honey
½ cup dark molasses
2 teaspoons Worcestershire sauce
½ teaspoon black pepper
½ teaspoon salt
Melt butter in large saucepan, add oil. Raise temperature to medium and sauté onions until caramelizing and golden brown. Add remaining ingredients and bring to a simmer, stirring frequently. Reduce heat to low and simmer for approximately 40 minutes until thickened.