This post is sponsored by Stubb's Legendary Bar-B-Q, however the recipes, opinions and enthusiasm are all my own!
There is so much to love about May! The weather is warmer, daylight lasts longer and backyard patios, porches and pergolas are prime party spots for good friends and great food. I don't know about you, but my go-to cooking method from early spring well into the fall season is grilling. Whether I'm entertaining company or it's just the family, my trusty grill is this mom's solution when it comes to whipping up creative, healthy and quick meals.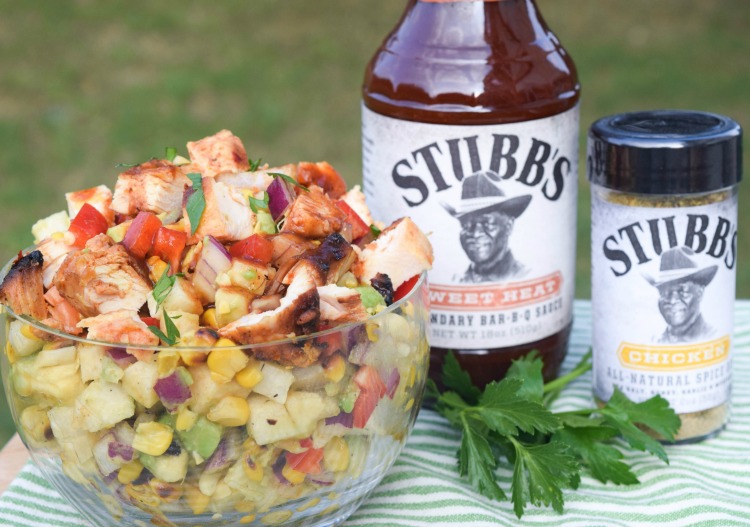 I will grill anything and everything.  I get fired up for grilling the gamut . . . meats and seafood to fruit, veggies and dessert (mmmm, banana boats)!  Today, I'm sharing a recipe for Chicken, Corn and Jicama Chopped Salad with Sweet-Heat BBQ Vinaigrette that relies on one of my secret weapons when it comes to grilling and barbeque – Stubb's Bar-B-Q Sauces, Marinades and Rubs.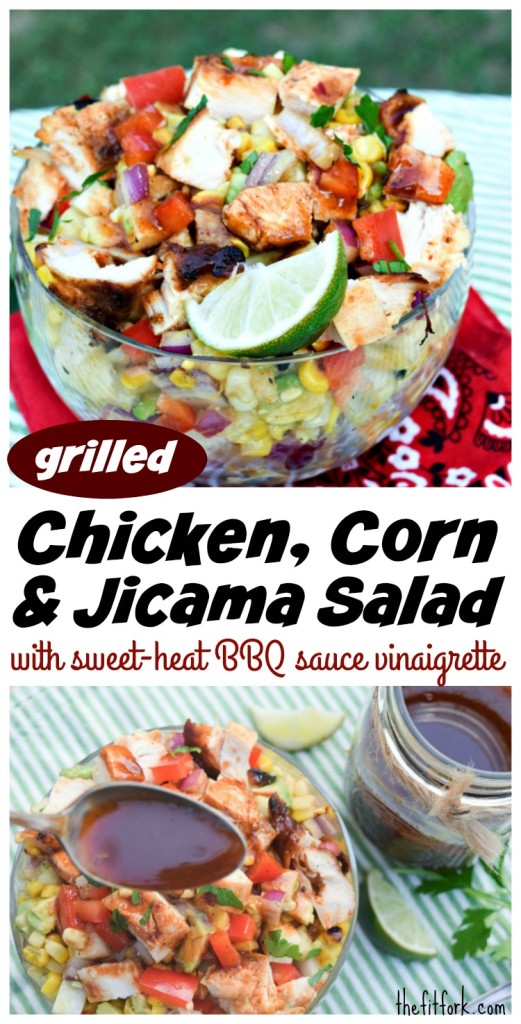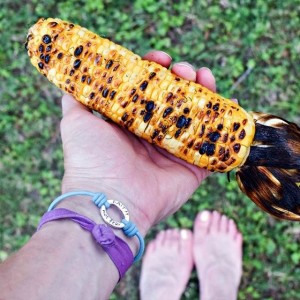 Grilled corn and chicken are the stars of this simple grilled salad recipe – Stubb's Chicken Spice Rub gives just the right amount of seasoning to poultry and vegetables without being overpowering or too spicy for my kids to eat. This is the original rub of Stubb's fame, crafted by the legend himself at his original Texas Bar-B-Q joint — "It all starts with good rub."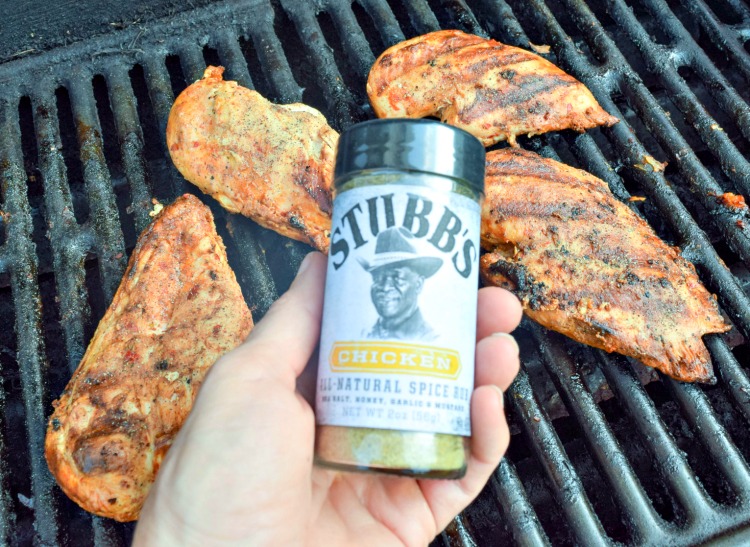 To dress this chopped chicken salad that also features jicama and avocado , I've created a simple barbecue sauce vinaigrette that is a bit spicy, a bit sweet – and certainly fun to eat! Using Stubb's Sweet Heat Bar-B-Q Sauce is my not-so-secret shortcut to prepping this dressing in mere minutes. Of course, this BBQ sauce with hints of brown sugar and chipotle peppers is also excellent used in the traditional way to drizzle or douse on everything from baby back ribs and burgers to pizza and sweet potatoes.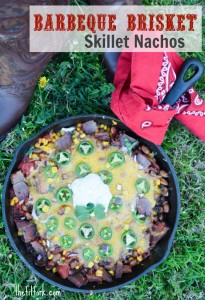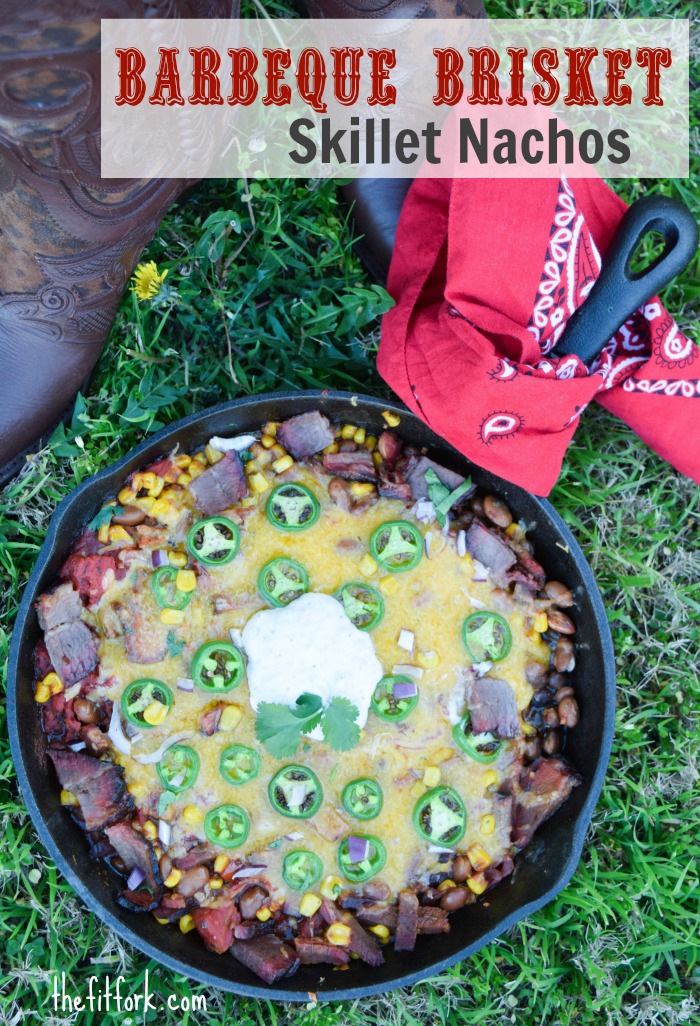 It's also the sauce I use in my Brisket & Bean Skillet Nachos. I love that Stubb's Bar-B-Q sauces get their bold flavors from real, wholesome ingredients with no artificial flavors, colors or sweeteners.  Also, you'll find absolutely NO (none, zip, nada) high-fructose corn syrup in these quality condiments.
Stubb's Legendary Bar-B-Q, maker the No. 1 brand of barbecue sauce, rubs and marinades in the the country, is located right here in Austin, Texas — so I can head over and dive head-first in a vat, if I want!  But, these barbecue "helpers" are also sold in 85% of grocery stores nationwide — so, run out and getcha some!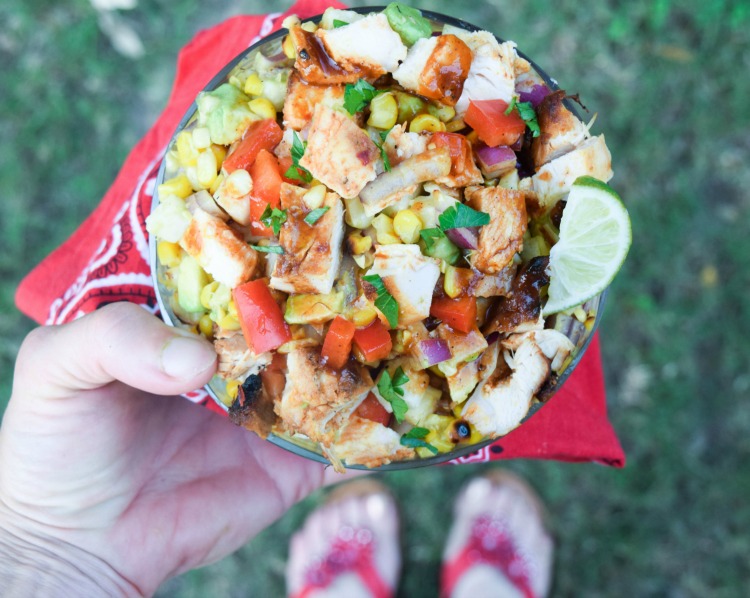 Grilled Chicken, Corn and Jicama Chop Salad with Sweet-Heat BBQ Vinaigrette is such an easy grilled recipe and the perfect fixin's for a potluck or picnic – whether for Memorial Day, a graduation or any summer time celebration. You can also make it the night before, the dish is delicious served cold and the vinegar and lemon juice in the dressing help keep the avocado fresh for up to a day in the fridge. If you want to enjoy as a side dish or vegetarian meal — just omit the chicken and dig in!
What have you been tossing on the grill lately? Any big weekend plans for Memorial Day — a race, a party, a picnic? Please share in the comments below – XOXO, Jennifer

For Sweet Heat BBQ Vinaigrette
Rub uncooked chicken breasts with 1 tablespoon olive oil and rub with 2 tablespoons Stubb's Chicken Spice Rub.

Heat charcoal or gas grill to approximately 400 F degrees and grill chicken approximately 15 – 20 minutes, flipping once, or until cooked through and internal temperature reads 165F degrees.

While chicken is cooking, rub corn cobs with remaining 1 tablespoon olive oil and sprinkle with remaining 1 tablespoon Stubb's Chicken Spice Rub.

Place corn on grill with chicken and grill for approximately 10 minutes, rotating occasionally, or until turning tender and browning in spots.

Remove chicken and corn from grill and let rest for 10 minutes, or until cool enough to handle.

Chop chicken into small, bite-sized pieces. Slice corn kernels off the cob. Add both to medium bowl along with jicama, red onion, red bell pepper and avocado. Set aside while making dressing.

To make dressing, whisk Stubb's Sweet Heat Bar-B-Q Sauce together with olive oil, lemon juice, vinegar, honey and pepper.

Pour dressing over salad and toss gently. Garnish with chopped cilantro.