There are many things to love about the end of summer. Stocking up with anticipation on new supplies for school yet slowing down to enjoy the last moments of lazing around with the kids. Oh, and the food – the boundless bounties of August produce in all its assorted sun-ripened, juicy and (in this case) spicy goodness.   I'm talking about HATCH GREEN CHILES – love them, love them, love them and have been in fire-roasting cahoots with bushels of the New Mexico superstar long before they became the "IT" food of August.

Oh, and in case you aren't aware of my, ahem, celebrity – I am a past Central Market Hatch Green Chile Cook Off Winner (and have also placed 2nd and 3rd in other years. People, I KNOW my PEPPERS! Check out the video if you want to know how to roast, peel and seed them!
It's so (yawn) common for people to pair Hatch green chiles with pork or chicken.  Well, I've put Hatch chiles in everything from gnocchi to cheesecake (seriously). Also, one of my favorite burgers (and bunless, too) is my Hot Mess Hatch Green Chile Burger on Grilled Squash "Buns."  Today, I have delicious recipe for Strip Steak Salad with Roasted Hatch Chile Relish – it's easy and will take your mouth to a happy place.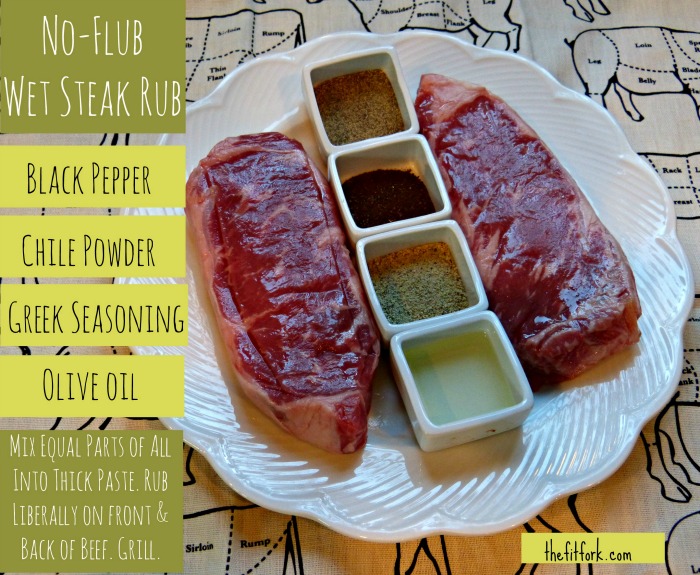 First, order of business is seasoning the beef. Strip steaks are very tender and don't require a marinade to break them down – only a rub to enhance the natural flavors.  My "No-Flub Wet Steak Rub" can easily be made in any quantity you need – use it generously so it makes a nice crust!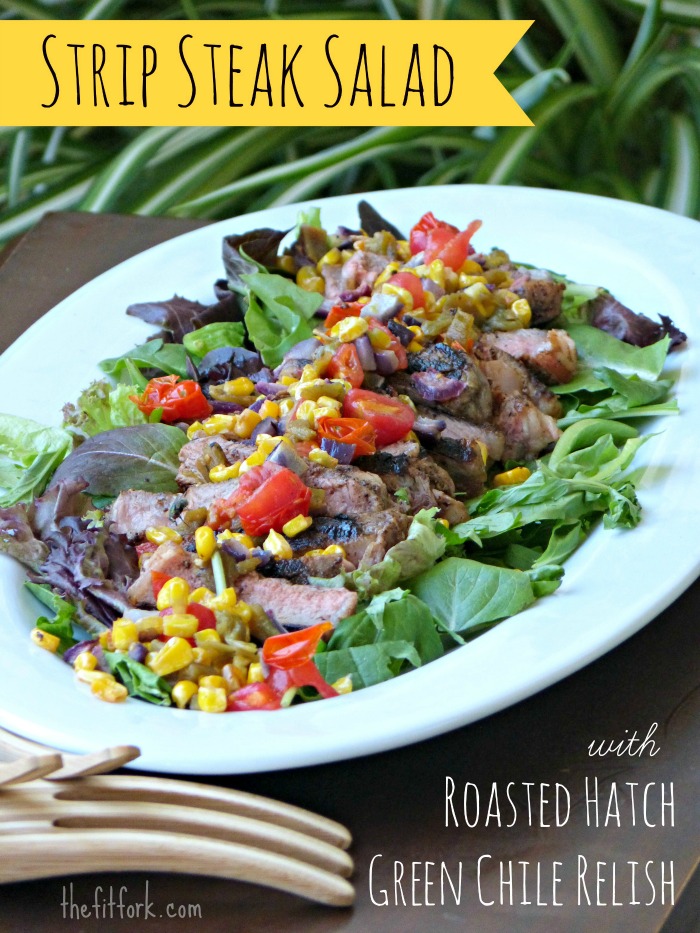 Strip Steak Salad with Roasted Hatch Green Chile Relish Recipe
For Rub:
1 tablespoon olive oil
1 tablespoon chile powder
1 tablespoon ground pepper
1 tablespoon Greek seasoning
For Relish:
1 cup fresh corn kernels
½ pint grape tomatoes
½ red onion, chopped
¾ cup fire-roasted Hatch peppers, peeled and seeded (you can buy them like this at most stores)
2 teaspoons olive oil
½ teaspoon coarse sea salt
For Dressing:
2 tablespoons olive oil
3 tablespoons red wine vinegar
1 teaspoon chile powder
1 teaspoon minced garlic
1 tablespoon chopped cilantro
8 oz baby spring lettuce mix
In small bowl, mix together olive oil and spices into a paste. Apply liberally on the front and back of steaks.
Grill steaks over 400 degree heat for 4 to 5 minutes per side, or until instant read thermometer reaches 135 degrees.  Take steaks off grill and let rest for 10 minutes.
Toss together corn kernels, tomatoes and red onion with 2 teaspoons olive oil and sea salt. Place in rimmed baking sheet and roast at 400 degrees in oven or on grill until edges starting to brown, approximately 15 minutes. Stir as needed.
Remove vegetables and chop up roasted tomatoes. Add in roasted Hatch chiles, stir to combine.  Set aside.
For dressing, shake together olive oil, vinegar, chile powder, garlic and cilantro in a mason jar. Set aside.
To assemble, place lettuce on platter. Top with strip steak that has been cut thinly across the grain. Top with relish and dressing. Serves 4.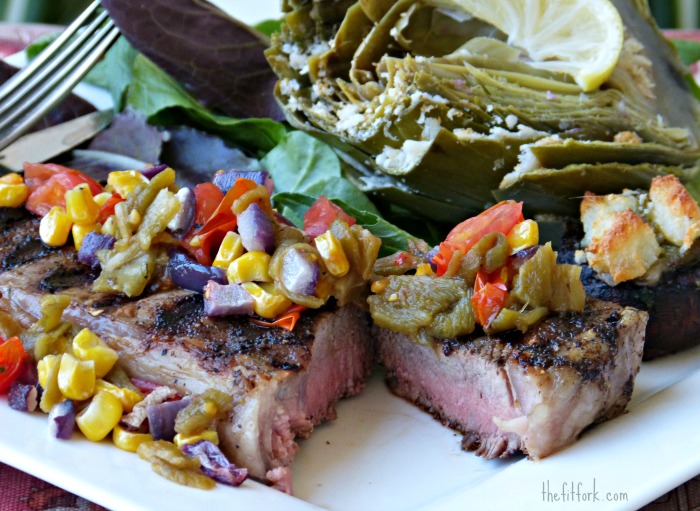 There is no shame in saying, "no salad for me tonight." The Hatch Green Chile Relish (roasted with corn, red onions, and tomatoes), also makes a tasty accompaniment atop a whole steak.
Do you have a favorite topping or salad recipe for steaks or are you strictly carnivorous?