First, let's fruit chat, because food always comes first — even before winning races! Anyway, it's that time of year – pomegranates are on parade at the grocery store now through early winter!  This big red fruit is a precious member of my produce bin, those little arils inside look like ruby-red jewels and razzle dazzle with sparkling flavor. In addition to big flavor, pomegranates are a superfood offering an abundant supply of antioxidants, potassium and vitamin C – and are also a good source of dietary fiber.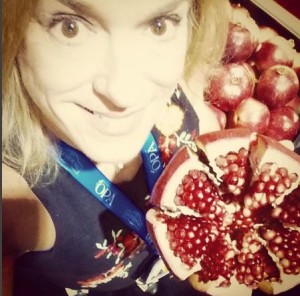 This past weekend at Fresh Summit (Produce Marketing Association) I got to see all the pomegranates in every imaginable way – from whole fruit and pre-packaged arils for convenience to a variety of juices and sweet snacks. The pomegranates I see in my market are about the size of a softball, but some of the beauties being shown off at this produce convention were almost the size of bowling balls.
Pomegranates are picked and delivered ripe, so pomegranates can be purchased and enjoyed right away.  A tip to take home the best in the bushel is to look for a pomegranate that feels heavier than it looks – a good indicator that the inside is loaded with juicy flesh. You can keep whole pomegranates on the counter for a week or so and in the product bin of your fridge for up to three months! However, once the arils are removed, it's best to enjoy them within three days. In addition to the smoothie recipe I'm sharing below, pomegranate arils are also excellent sprinkled on salads, yogurt and mixed into sauces.
Pomegranates are juicy good news for everyone, and maybe even more so for individuals with an active lifestyle.   Some research suggests the polyphenols in the juice of pomegranates can help offset delayed-onset muscle fatigue in trained athletes. Beets (also in the featured smoothie recipe) are high in nitrates which can help reduce the oxygen cost of exercise and enhance efficiency. This is why I've always loved a beet juice smoothie — check out my Sweet Beet Smoothie.  Plus, with the quality protein found whatever protein powder you use (or the Core Power I like), perfect for pre-workout fueling and post-exercise recovery, this Pomegranate, Blueberry, Beet Protein Smoothie is a winner in every way!
Edit: I recently came across Beet Juice Powder — I love it! It's more economical than buying pre-made juice and waaaaaaay less messing than juice beets at home.  
Pomegranate, Blueberry, Beet Protein Smoothie: In a blender, add 12 ounces vanilla almond milk, one scoop protein powder (or sub one bottle of Core Power Vanilla for milk and protein powder), ½ cup pomegranate juice, ¼ cup pomegranate arils, ½ frozen blueberries, and ½ cup shredded fresh beet. Blend until smooth, adding ice as needed to achieve desired consistency.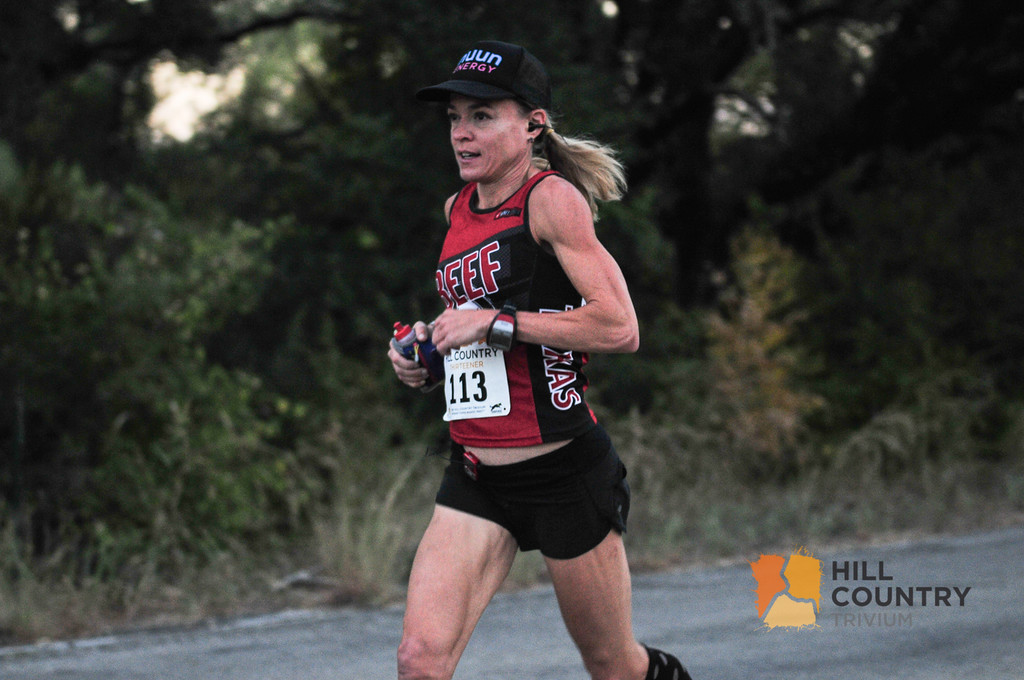 I also want to give you the quick recap on the Hill Country Trivium on October 18, 2015 – there was a 10k, a half marathon and full marathon. I ran the half marathon and the recap — It. Was. Hilly. I am no stranger to hills, we have plenty in my neighborhood and I've been an ambassador for the hilly Zooma Women's Race Series in the Texas "Hill Country."  This race I would say was comparable in hills to Zooma, but with an extra bad boy that started at mile 4 and pretty much lasted through mile 5 – or so it seems. It was rough, it was tough, but I got up – I wish I would have looked back over my shoulder to see the challenge of the climb (which reduced me to walking more than once). I used the mantra from the Unbroken story more than once — "If you can take it, you can make it"!
So, I endured the hills and the suffering and the story ended well – I WON the half marathon as the first female finisher and also the FIRST finisher male or female. Yup, I chicked the guys – knowing I was probably going to pull it off was all that kept my lactic-acid, jello'd out legs going in the final two miles — that and my awesome The Ones from Altra Running (light for speed yet just enough cushion in the roomy toe box to keep feet happy coming down the steep hills).   Also a fun touch at the race – everyone got a slice of pie at the finish!
Check out my friend Jill Conner's blog for great fitness and life inspiration —
like Tips for a Productive To-Do List! I so need that!
Do you like running in hills? What's the hilliest race you'd finished? Pomegranates — do you buy the whole fruit or the pre-packaged arils? Please share in the comments, XOXO – Jennifer