This post is sponsored by NOW Foods via Mamavation.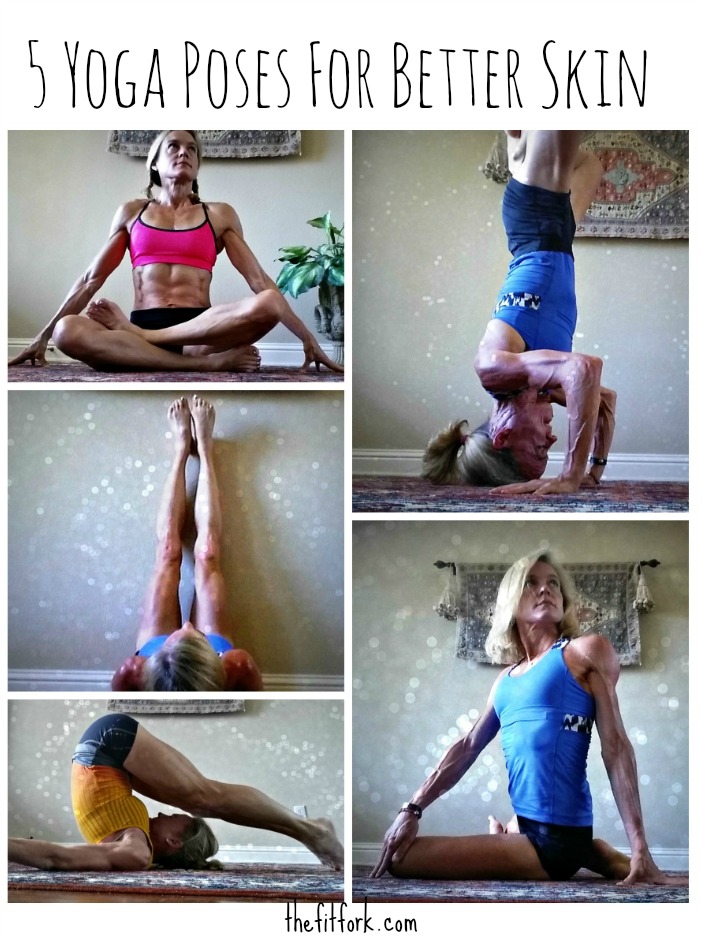 Not only does practicing yoga have great benefits for your body and mind, but yoga also can help improve skin health by lessening stress and flushing toxins from the body. Some poses are better than others at helping you attain that magical glow – incorporate these five yoga poses into your workout routine and then reflect on your new healthy complexion!
Five Yoga Poses for Better Skin
Breathing Exercise: In seated position with legs crossed and arms at sides or gently resting on knees, practice deep rhythmic breathing slowly inhaling in and out ten times. Drawing in oxygen through the body will help release toxins and keep your motor running smoothly.
Legs Up The Wall: To perform this simple inversion, lay on back with rear touching wall and legs extended straight upward. This pose gets blood pumping to all parts of the body and has long been touted as an anti-wrinkle pose.
Seated Twist:  Sit with one leg bent and the knee behind you and the other bent and tucked in at the crotch. Place opposing arm on forward knee and other arm behind for support, twisting torso, neck and head as far as possible .This pose focuses on the digestive system which is vital for moving toxins out of the organs; remember to breathe deeply.
Headstand: Using a forearm or tripod position, extend legs over heart into headstand. Balance against a wall if needed. This position circulates the blood, especially to the face in a rejuvenating manner. While it is good to practice headstands every day, use caution to stay upside down for too long – this could be counterproductive to skin health by causing broken capillaries.
Plow: Lay prone on back with arms at sides. Extend legs upward and over face, optimally reaching the ground behind your head with your toes.  To modify, extend legs as far as possible and use hands to support back. This pose sends blood flow to the face and stimulates the hormone and metabolic system.
Some other ways I've been helping my skin, hair and teeth out are with natural products from NOW® Solutions.  You may be familiar with the vitamins, supplements and healthy food that NOW Foods makes to help people achieve optimal nutrition – but they also have a really great line of organic personal care products like moisturizers, shampoos, essential oils, home fragrances and more. All of the lotions and potions are made with a commitment to quality and  tested for potency, purity and safety — and never test on animals. There are no synthetic ingredients or yucky chemicals because NOW Solutions believes that nature provides almost everything we need to maintain the health and vitality of our hair, skin and nails — and so do I.
Here are some of the NOW® Solutions I've been loving lately (along with a few of their other personal care items):
NOW® Solutions Herbal Revival Shampoo and NOW® Solutions Herbal Revival Conditioner: This invigorating shampoo and conditioner combines Horsetail Extract, Tea Tree Oil and Sea Kelp to help soothe and nourish the scalp.  L-Arginine and L-Cystine strengthen damaged follicles, giving hair a healthy shine and smooth feel – it's perfect for my colored hair that tends to get damaged from styling tools! I also love how NOW avoids harsh chemicals and synthetic ingredients – who wants to put that yuck (like SLS or Parabens) on your hair?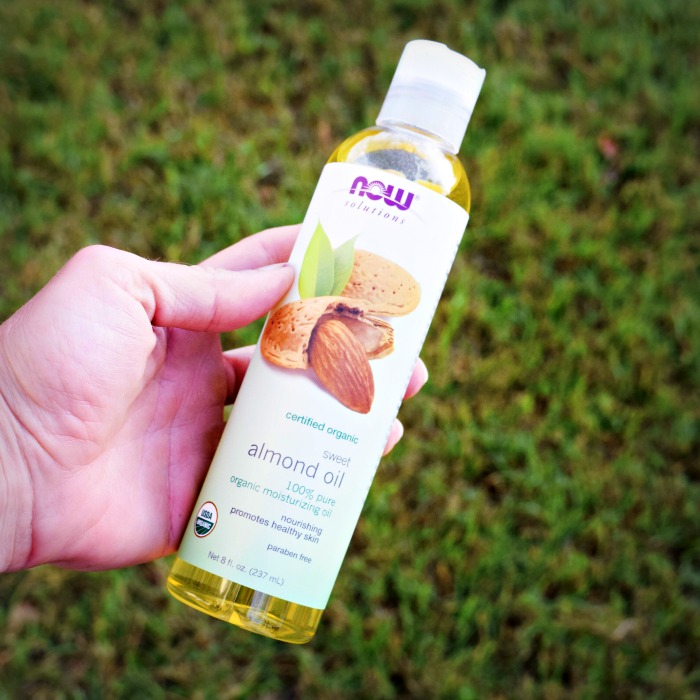 NOW® Solutions Sweet Almond Oil – Vitamins A, B, and E, certain phytonutrients, essential fatty acids, and a variety of minerals make almond oil an effective natural moisturizer and skin protector.  Among its many varied used, almond oil softens and smoothes skin, removes makeup naturally with little greasy residue and helps add shine and moisture to undernourished hair. Perhaps the benefit I'm most interested in (and am testing out now), is the suggestion that almond oil can help reduce dark circles under the eyes and on the lid – simply apply lightly before bed and allow to work overnight for a few weeks.
NOW® Solutions XyliWhite™ Neem & Tea Tree Toothpaste – I feel good about brushing my teeth with this cool, minty gel toothpaste made with quality ingredients including 25% Xylitol – a natural ingredient that creates a healthy ph balance in your mouth and helps fight the bacteria which cause cavities (more about it here). . . . . Too much fluoride in your system can be a bad thing causing everything from brown spots on your teeth (dental flourousis) to allergies – there are even claims that over-flourinating can cause lower IQs, Alzheimer's disease and cancer.
Biotin: Biotin is a water-soluble vitamin necessary for normal growth and body function.  Biotin is a key regulatory element in gluconeogenesis, fatty acid synthesis, and in the metabolism of some amino acids.  Alongside its role in energy production,  Biotin enhances the synthesis of certain proteins.  In addition, Biotin promotes normal immunity and plays a critical role in skin health – I notice a difference in my hair and nails!
NOW® Solutions Vitamin D3 Cream –  This lotion provides intense and renewing moisture to skin that is dry, damaged, cracked or just crying out for help.  Just 1 gram (about ¼ teaspoon) will help get your skin on the fast-tract to recovery with a balanced ratio of vitamin D (1000 IU), vitamin A (500 IU) and Vitamin E (50 IU). I've been using this with good results to keep my heels from cracking and to massage into rough patches of new skin where scabs (from obstacle racing) have fallen off.
What is your skin care routine and do you have major concerns — acne, wrinkles, etc? Please share in the comments!