This post is sponsored by Sverve and Walmart and I was provided compensation for my time. However, all opinions and recipes are my own.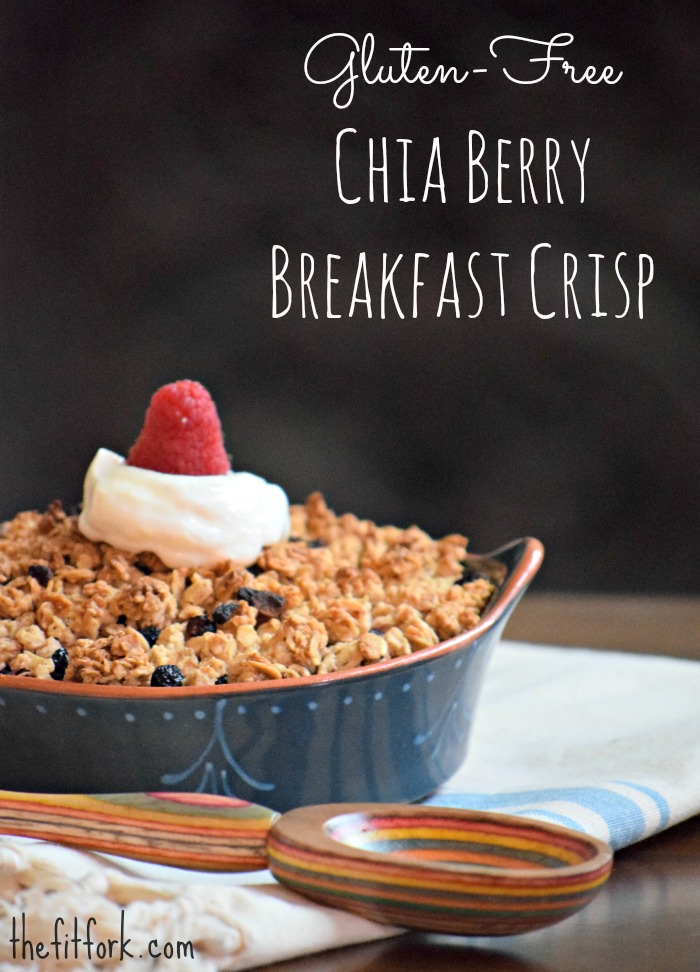 My recipe for Chia Berry Breakfast Crisp with Stevia-Sweetened Vanilla Greek Yogurt puts the "able" in your morning table – especially if your diet requires you to steer clear of the gluten found in many traditional breakfast foods like bagels, pancakes, cereal and the like.  Even some granolas can be off limits if the oats are not certified organic, but eating Nature's Path Gluten Free Granola or using it in a recipe will put your mind and body at ease because knowing that all the ingredients are free of gluten.
So, you guessed it – I made this healthy fruit breakfast recipe with Nature's Path Gluten Free Granola for some wholesome crunch with no worries of those little gluten buggars ruining my day. Eating a "crisp" or "crumble" might sound a bit unusual or induldgent for breakfast – but it shouldn't. Served with a stevia-sweetened vanilla 0% Greek yogurt instead of high-fat and sugar laden ice cream, this morning meal solution also provides a hearty serving of protein for long-lasting energy.   Chia Berry Breakfast Crisp with Stevia-Sweetened Greek Yogurt is so simple to make, let me show you how: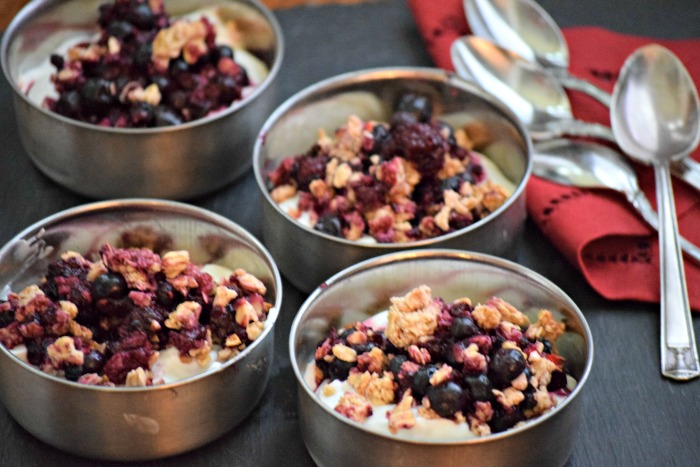 Chia Berry Breakfast Crisp with Stevia-Sweetened Greek Yogurt Recipe
2 cups mixed berries (fresh or frozen)
1 tablespoon Chia seeds
3 teaspoons stevia (divided)
2 cups plain 0% fat Greek yogurt
1/2 teaspoon vanilla extract
Heat oven to 375°F. In an ungreased 1 quart baking dish, mix frozen berries, chia seeds and 1 ½ teaspoons of the stevia together until fruit is coated.
Sprinkle top of fruit with granola and lightly pat down.
Bake approximately 20 minutes or until top light golden brown and fruit bubbling.
Meanwhile, prepare yogurt by stirring together yogurt, vanilla extract and remaining 1 ½ teaspoons of stevia. Store in refrigerator until serving.
Remove crisp from oven and let stand 5 to 10 minutes before serving. Serve warm with 1/2 cup of Greek yogurt mixture per serving. Serves 4.
There is so much to love about Nature's Path Organic Summer Berries Granola. First of all, and most importantly for many with gluten and wheat allergies and intoleances, it's totally gluten-free without scrimping on taste. It's also certified organic, non-GMO verified and free of synthetic preservatives and additives.  But, another big selling point of Nature's Path Granola is that it's easy to find and affordable – I picked up my bags at Walmart.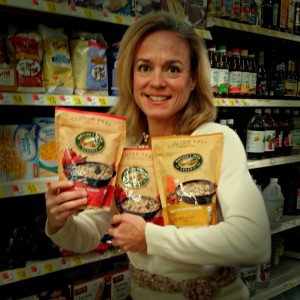 In fact, Walmart has a surprisingly large selection of Gluten-Free products for less including Udi's, Glutino, Van's, Nature's Path and more! As a frugal mom and healthy food blogger, it's my job to create and prepare recipes that speak to the dietary needs of those on the other side of the fork and for all budgets. With huge increase in those living a gluten-free lifestyle, I take my responsibility to suggest ingredient swaps,  recommend balanced pre-packaged foods, and offer meal planning ideas, all free of gluten, very seriously.
I've found that Walmart has really stepped up to the plate when it comes to addressing the needs of their gluten free customers.  If you don't see what you need on the shelves, swing by customer service to fill out a product request form. And, if you DO see the gluten-free products that you need, but they are cheaper elsewhere – bring in the other store's advertisement for Walmart price matching! Later this month, Walmart will be holding a Gluten Free Event at participating locations – check out the event information, find the participating store nearest to you, and discover other useful information for your gluten free journey on the Walmart Gluten Free for Less website.
What are your favorite brands for gluten free living? Let me know in the comments below. Also, please feel free to share your own gluten-free recipes on social media with #gfwalmart – enjoy!