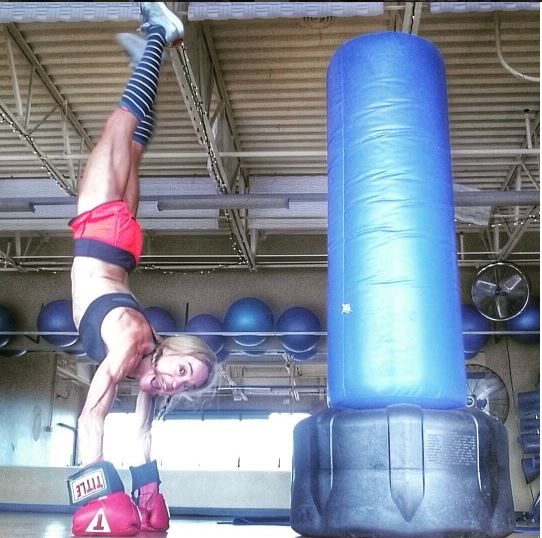 Sometimes it can be a real fight to get daily exercise accomplished. No joke. Ready to get it done and get on with the day? This 20 minute, high-intensity (HIIT-style) workout gives you heart-pounding cardio combined with working every muscle in the body. It's a real calorie-torcher and productive way to relieve stress before your day begins or as it ends.  There are NO handstands as the above picture implies, I'm just flipping out and having fun after finishing my workout!
What you need: In addition to 20 minutes, you'll need a visible clock with a second hand to keep track of the intervals / rounds. Also, you'll need access to a free-standing punching bag or one that hangs low enough that you can throw punches from a seated, sit-up position.  Don't forget to gear up with a pair of kickboxing, sparring or boxing gloves. Explanation of Rounds
Jab & Cross Punch:  Throw straight punch from front hand followed quickly by straight punch from back hand.
Round House Kick: Step forward with front leg and foot rotated outward as far as possible. Rotate hips and kick leg to shoulder height while lowering torso.
Upper Cut Punch: Throw a rising punch that moves upward with palms facing chest, alternate arms.
Sit Up with Hook Punch:  Sit with legs wrapped around bag base, lean back into prone position and then sit up quickly delivering a rounded punch to the bag with an arching motion with one arm, quickly followed by the other arm.
I hate wearing the sweaty, stinky kickboxing gloves from the gym . . . so I just got these!
Do you like to kickbox? What is your alternative cardio workout on days you don't want to run? Did you have a race or run this weekend, please share in comments – XOXO, Jennifer