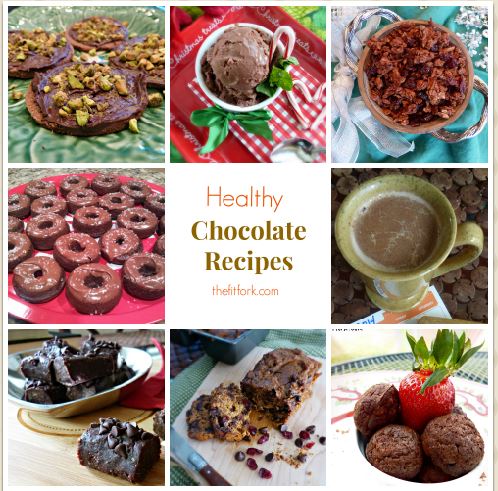 Have yourself a merry little Christmas and let all your treats be light. Dig into my favorite healthy chocolate recipes and your troubles will be out of sight. Troubles out of sight? Okay, there are still a few holiday headaches going on at my house (nothing major), but at least sabotaging all my hard work on the track and in the gym isn't one of them. Now, if you're looking for splurge chocolate recipes, check out my Best-Ever Chocolate Chip Cookies or Chocolate Mint Crinkle Kiss Cookies.
When friends and family gather near over the holidays, many of my delicious chocolate recipes are made as special requests – some I even package up in pretty wrappings to give as Christmas gifts. How can you not love holiday treats that are as healthy as they are heavenly tasting – it's a win-win when your willpower is waning!
I don't even need to rationalize making all my healthy chocolate recipes; research does it for me. Studies have shown that the flavanols (compounds found in cocoa) have antioxidant properties that help repair damage done by free radicals. The flavinols can also help reduce the risk for heart disease by relaxing artery walls and preventing blood platelets from getting clogged up.
The more cocoa in the chocolate the better it is for your health; this means darker chocolates are healthier than milk chocolates. Eating raw cocoa can be a bitter shock at first; ideally you should try to eat chocolate that is made from 70% cocoa – even this takes some getting used to. But, I think we're all willing to hang in there when it comes to eating chocolate, right?! So, let's get to the recipes!
It's still pretty warm here in Austin, so we've been enjoying this frosty and festive Chocolate Peppermint Sorbet I created for the Core Power blog. Made with the Chocolate Light flavor of Core Power High Protein Shakes, it's the perfect treat for recovery after a long run or hard workout.
If you have company coming and they are living the caveman lifestyle, you might what to whip up a batch of these Salted Pistachio Chocolate Cookies. The cookies are dairy-free, gluten-free with a sweet-salt addictive quality!
Craving a candy bar, but aren't willing to give in? My recipe for Chocolate Date "Candy Bar" Bites makes a healthy and heavenly substitution. Also Paleo-friendly, these chocolate treats make a thoughtful gift packaged up inside a sparkly gift tin – that is, if you don't eat the whole batch up front.
Power up a holiday breakfast with a handful of Chocolate Strawberry Protein "Donut" Holes. Protein powder giveS my baked doughnut holes a little extra oomph and will satisfy your hunger until lunch!  I'll let you in on a secret; I like to sneak a few as a bed time snack!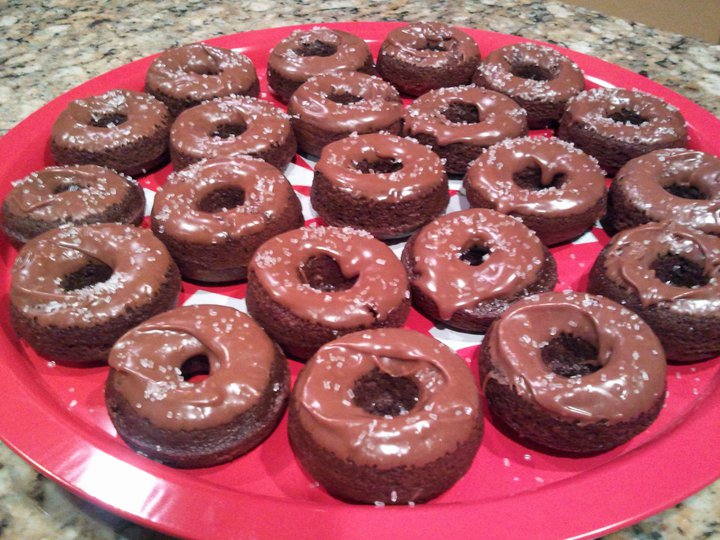 If you want the whole donut, then I've got you covered with these Baked-and-Better Chocolate Protein Donuts – ahh, the chocolate glaze is delish!
Another chocolate breakfast yum-yum (and fantastic healthy snack) is my Choco-Cherry Protein Granola. Eat by the handful right out of the container or sprinkle over Greek yogurt – this doesn't last long at my house.
Chocolate Chip Pumpkin Bread is great anytime of the year; have a piece with your salad, as a snack or a sensible addition to your morning cuppa Joe. Oh, and this one is paleo-friendly and gluten-free too!
And finally, check back next week and I'll share my blog post for steamy, silky Chocolate Chai made with Core Power protein drink (and other healthful stuff) – they sell something similar at Starbucks, but this is way better for you!