Now that Thanksgiving is over, it's time to refocus on the remaining festival of eating that spans now through the New Year!  There is more noshing and nibbling packed into the next 30 days than perhaps in the whole calendar year! With invited (and quite possible uninvited guests) dropping by with holiday cheer and hungry appetites, I like to have a few simple yet show-stopping appetizer recipes at my fingertips so that no one is disappointed.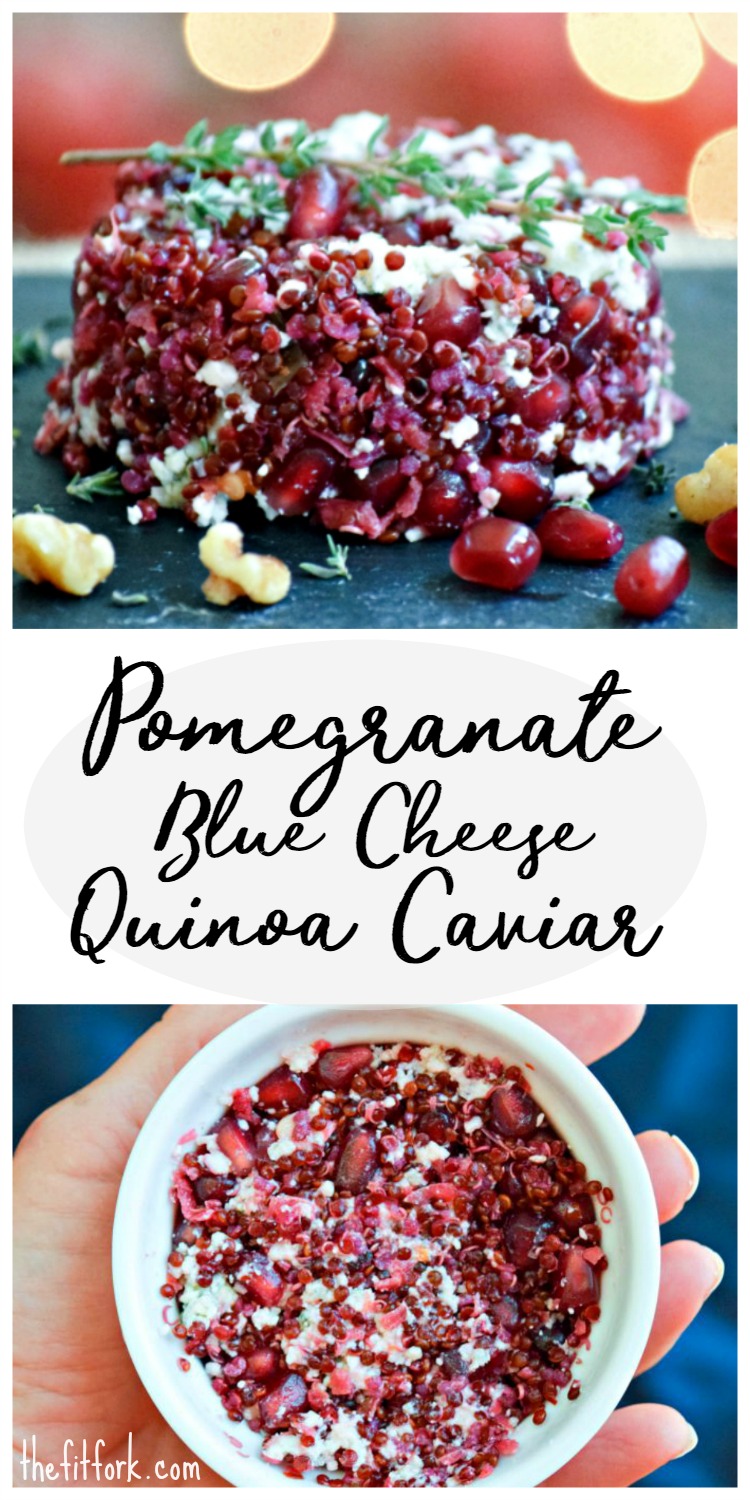 My recipe for Blue Cheese, Pomegranate and Quinoa "Caviar" is an easy yet elegant addition to any gathering, whether you need sophisticated snacks to headline a cocktail party or as a prelude to a full-scale dinner party. Or, perhaps as an "I'm not cooking tonight" mini meal to enjoy with a bottle of wine in your fuzzy slippers after everyone heads home!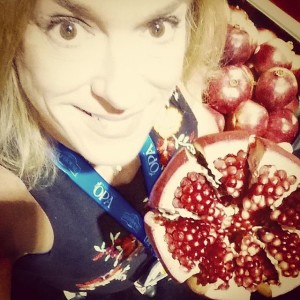 One of the treasures of this holiday hors d'oeuvres recipe is pomegranates. Pomegranates on their own are a quite festive fruit, the little arils inside resemble ruby-red jewels and taste decidedly more precious. When paired with a pleasingly pungent blue cheese and the almost nutty texture and taste of quinoa, you get a taste experience that I can describe no other way than Manheim steamroller for your Mouth – a modern orchestra of fa-la-la flavor!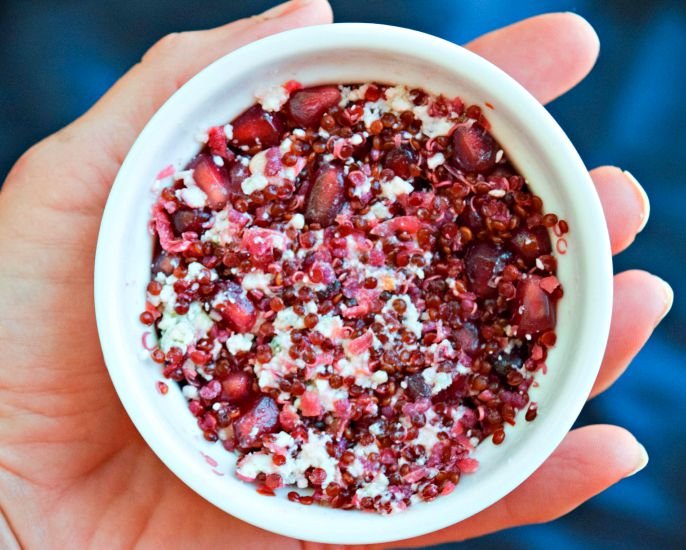 While this holiday appetizer looks like it spent all day getting ready for a food glamour shot, it's actually embarrassingly easy to make. All the ingredients are just tossed together in a bowl and then molded into a standard 6-ounce ramekin dish. If you'd like to do individual servings, mold with a mini melon baller or cookie dough scoop.
I've served this Christmas and New Year's Eve party recipe on one of my favorite cracker; the nearly paper-thin wafers from 34º Crisps.  However, you can use the cracker of your choice or even serve a dollop atop an apple or pear slice.
If you have leftovers, a big spoonful or two of Blue Cheese, Pomegranate and Quinoa "Caviar" is fantastic on a steak salad – especially with the Pomegranate Blueberry Vinaigrette. Enjoy!
PS – Need some other easy cracker-topping ideas? I'm your girl, I have a gazillion combinations of goodness. Here is just a sampling of my madness — 10 Easy and Elegant Ways to Top a Cracker.
So, what are your favorite things to put on a cracker? See if you can surprise me! Share in the comments below – XOXO, Jennifer

Servings:
appetizer servings
Add blue cheese crumbles, cooked quinoa, pomegranate arils and vinegar into small bowl, stir gently to combine.

Transfer to 6-ounce ramekin dish and use back of spoon to tightly pack down.

Place serving plate on top of ramekin and quickly invert.

Carefully lift up ramekin, leaving mixture in mold form.

Sprinkle with chopped fresh thyme and walnuts along with reserved pomegranate arils.

Serve with crackers, apple slices or on a salad.