I rarely, if ever, miss my morning meal. I just love food too much and usually wake up hungry, thinking about what I'm making or grabbing (like Plenti) long before my feet even hit the ground.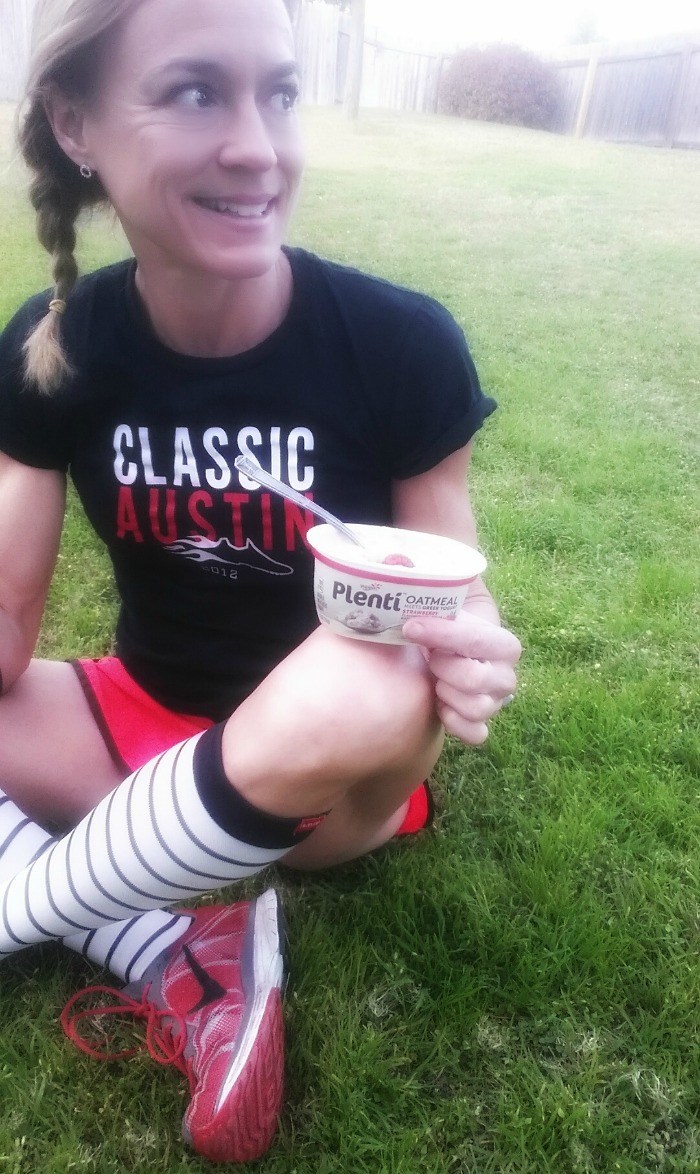 Back in the day, skipping breakfast was a way to "cut calories" in an effort to lose or maintain weight – and it still is with some friends today. This "intermittent fasting" idea seems to be trending again today, based on some diets and nutritional plans I have seen floating around. However, missing meals can have quite the opposite effect, eventually adding on pounds in places you don't want. And, for runners and other athletes, bypassing breakfast can quickly bring quality training (and recovery) in its tracks.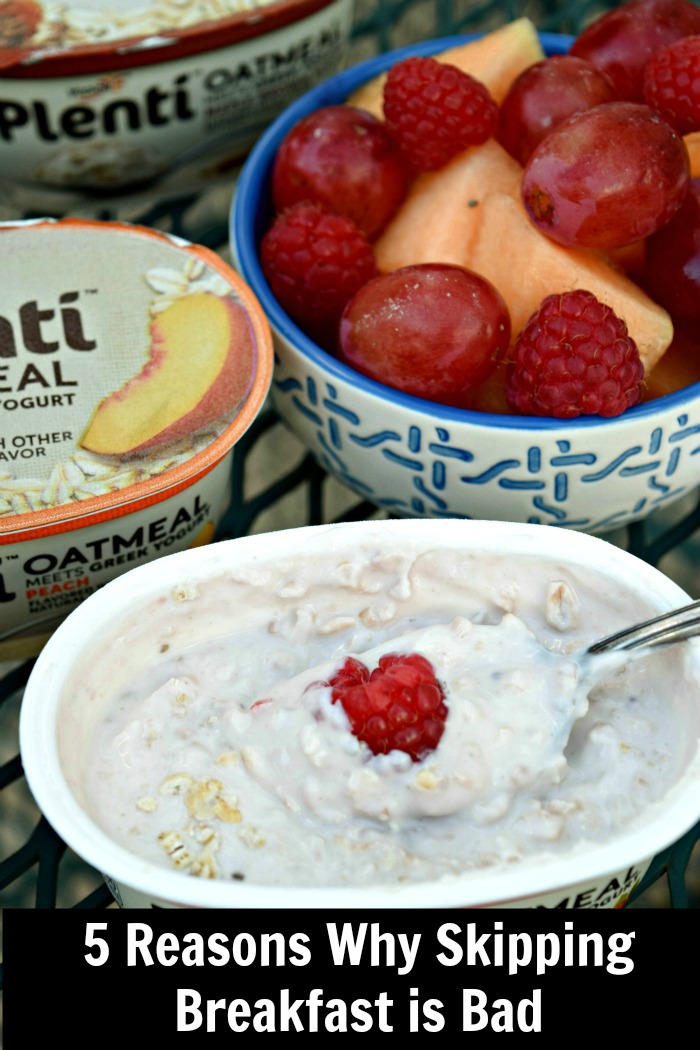 Lose Muscle – While skipping breakfast and other meals cuts calories and create weight loss, research shows that these dropped pounds come more from muscle tissue than fat stores.
Gain Belly Fat: Ohio State University scientists suggest skipping meals may invite any weight lost to come back eventually as dangerous belly fat.
Energy Drop:  Avoiding breakfast keeps the body from important nutrients like quality complex carbohydrates, protein, vitamins, minerals and fatty acids needed for optimal functioning and general get-up-and-go.
Disease Risk: Harvard School of Public Health researchers report that women who regularly missed breakfast where 20% more likely to get type 2 diabetes and men were at increased risk of heart disease. Insulin resistance and blood pressure issues arise when the body's blood lipids get out of whack – something that can be kept in check with a healthy, balanced breakfast.
Unhealthy Snacking: Saying "no" no to a sustaining breakfast very often translates into saying "yes" to unhealthy processed snack foods, fast food and other sugary and bad-fat foods. Blood sugar drops and the resulting "hangry" feeling causes people to make poor food choices.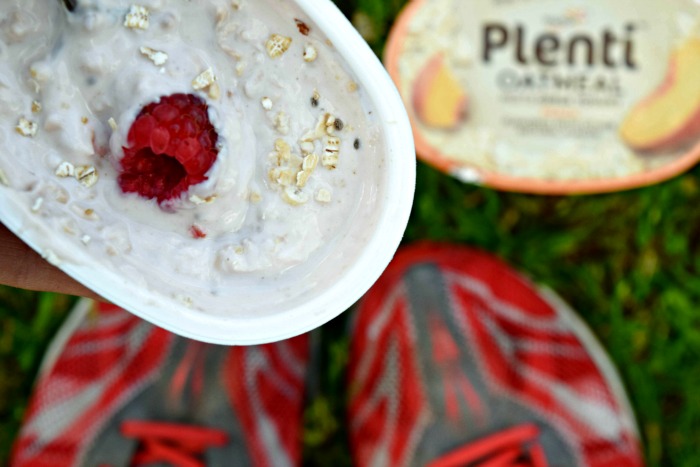 Whether you are an athlete or not, your body needs "gas in the tank" to get going in the morning —  Plenti Oatmeal Meets Greek Yogurt is a quick and convenient way to fill up! Plentí, a wholesome yogurt already packed with fruit, seeds and other yumminess, kicks up its morning game by adding oatmeal to the mix.
Found in the yogurt aisle, Plenti Oatmeal Meets Greek Yogurt, comes in six tasty flavors including Apple Cinnamon, Maple Brown Sugar, Peach, Blueberry, Strawberry, and Vanilla. I love the thick and creamy Greek yogurt goodness mixed with the texture and nutritional benefits of oatmeal. Unlike oatmeal, no messy cookin – just grab a spoon and enjoy cold.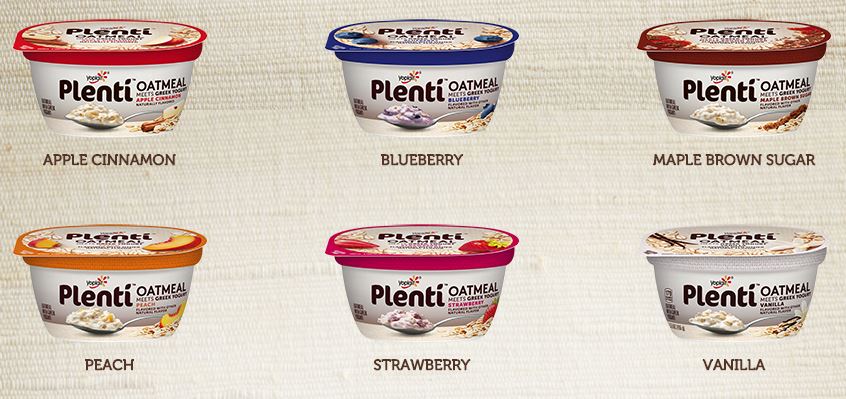 Each cup has 16 grams of whole grain and 11 grams of protein – I aim to get 25 to 30 grams of protein four times a day, so I would make my morning meal by supplementing a cup of Plenti Oatmeal Meets Greek Yogurt with two scrambled (or hard-boiled eggs if in a hurry) and a piece of fruit.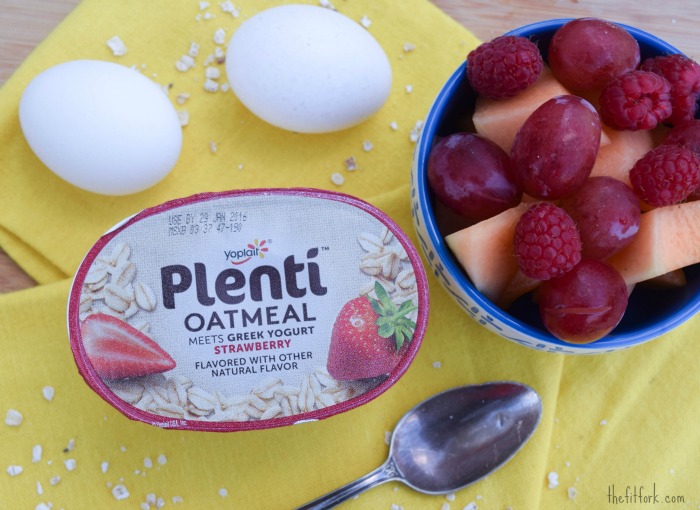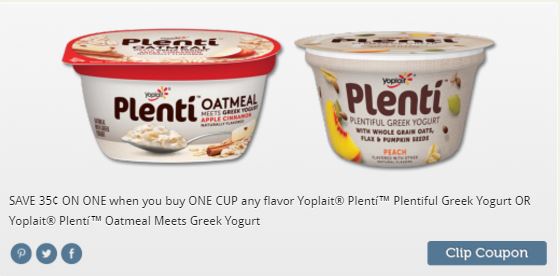 Try Plenti Oatmeal Meets Greek Yogurt for yourself! Print a coupon good for $.35 off one cup.
Are you an oatmeal fan, a Greek yogurt fan or both? What is your favorite "quick grab" for breakfast? Please share in the comments below, – XOXO, Jennifer