All the good things are happening at my house this week! Good (make that great) food and drink to share with family, all with a home-warming, heart-healthy spin. I love spending time with family when there is no "this and that" to be done, the only thing on the agenda this Thanksgiving week is enjoying each other and digging into fine food – some of the intriguing edible details for the week include endive, olive oil and wine!  Oh, and I'm giving away gourmet olive oil, so read on!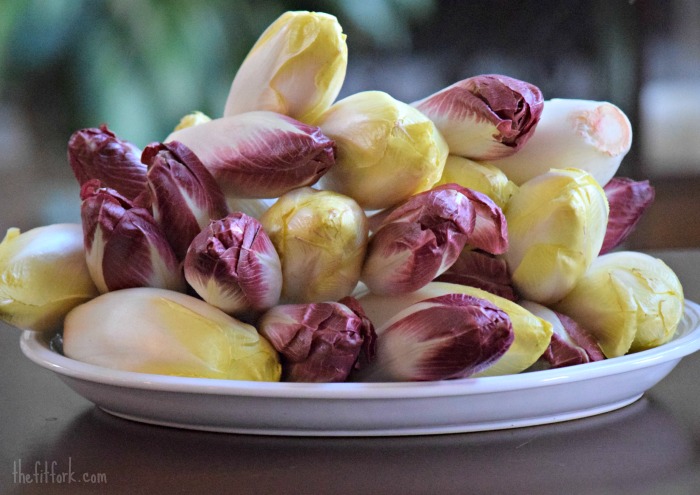 California Endive Farms sent me a huge box of red and white endives, oh how this makes me swoon with salad dreams. But, time to think outside the box, so I decided to GRILL my first endive recipe even though it's a pretty complicated and coddled veggie. Apparently, endive (a member of the chicory family) is one of the most difficult vegetables to grow – it undergoes a two-step process. The first step, takes about 150 days to grow green leaves from a deep tap root. The plant is then harvested and the tops are cut off and the roots are salvaged. Secondly, the roots are put into cold storage to go dormant and then are forced into a second growth – whew, there's so much effort that goes into endive farming ; it makes me love it even more!  And, if you haven't noticed, it's beautiful enough to be used as a centerpiece. 
My recipes for Grilled Endive with Blue Cheese, Walnuts and Balsamic Drizzle would make a sophisticated addition to your Thanksgiving or holiday table. It's super easy to grill either indoors or outdoors and can be finished in less than 10 minutes from produce bin to plate. I have some other recipes that I will be sharing soon (think healthy alternative to chips), but in the meantime please check out this mouth-watering collection of endive recipes.
 Grilled Endive with Blue Cheese, Walnuts and Balsamic Drizzle Recipe
4 red or white endives, cut in half lengthwise
2 tablespoons olive oil (I used Nudo Italia Garlic!)
Salt and pepper, to taste
1/4 blue cheese crumbles
1/4 cup walnut pieces
2 tablespoons balsamic syrup
Brush cut sides of endive liberally with olive oil and season with salt and pepper.
Place endive, cut sides down, on indoor grill pan or grates of outdoor pan. Cook over approximate 375 F degree heat for 4 – 5 minutes, or until grill marks are made and endive is beginning to soften (without getting overcooked – should be crisp tender).
Remove endive from grill and place cut side up on serving platter. Sprinkle with blue cheese and walnuts; drizzle with balsamic syrup.
Serves 4.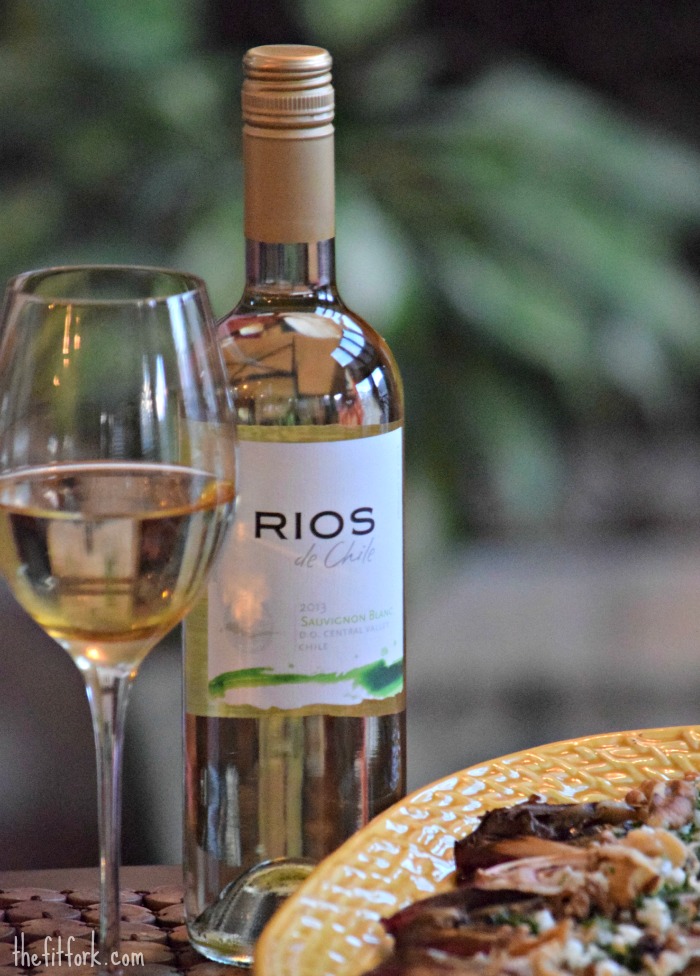 Rios de Chile wine makes a delightful pairing for my grilled endive recipe.  I've heard that there are some great wines from Chile, and this one is definitely a winner – it's light and lively and the perfect choice for seafood, poultry or a grilled salad!  The tasting notes on this one are "intense aroma of tropical fruits, fine mineral notes and citrus accents." You'll be the first guest on everyone's party list if you show up with a bottle of this vino from an award-wining winery in the Cachapoal Valley.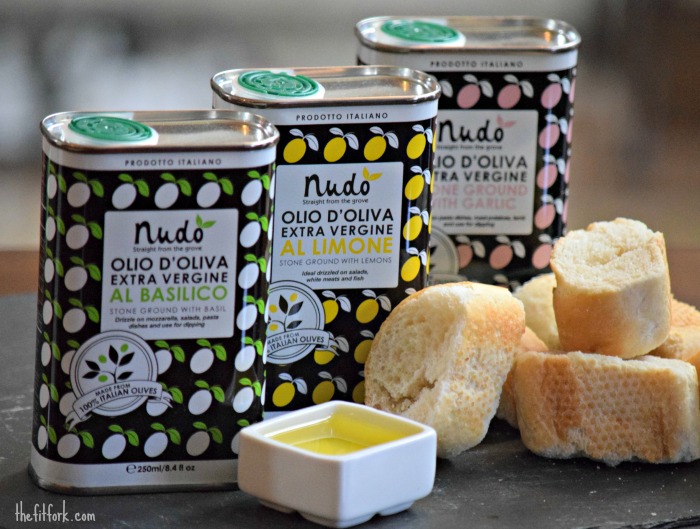 Now, onto more goodness Nudo Italia Olive Oil – wow, is it wonderful.  Imagine kicking back with a glass of that Rios de Chile wine and dipping some crusty bread into a saucer of artisanal olive oil.  Now that's what the holidays are all about, especially if you have your loved ones dipping and drinking by your side!  I am a new fan of Nudo Olive Oil, although it's been around since 2005. Made by a pair who left careers as television producers to move to the Italian countryside, this line of olive oils makes a point of keeping traditional farming methods alive to produce some of the best olive oil in the world. Nudo even has an olive tree adoption program which allows anyone to adopt a tree in Italy and receive its olive oil – now that's the gift for the foodie or fine living aficionado who has everything!
Not only have I been enjoying the olive oil with my bread and drizzled on my salad, it also makes a statement in recipes – they have amazing infused flavors, too many to name (but check out their online shop). But, I'm giving away three 8.4 oz. tins of the infused flavors-  the Olive Oil Stone Ground with Real Lemons,  the Olive Oil Stone Ground with Garlic and the Olive Oil Stone Ground with Basil. Enter below via the Rafflecopter App!