1) MilestonePod Running Wearable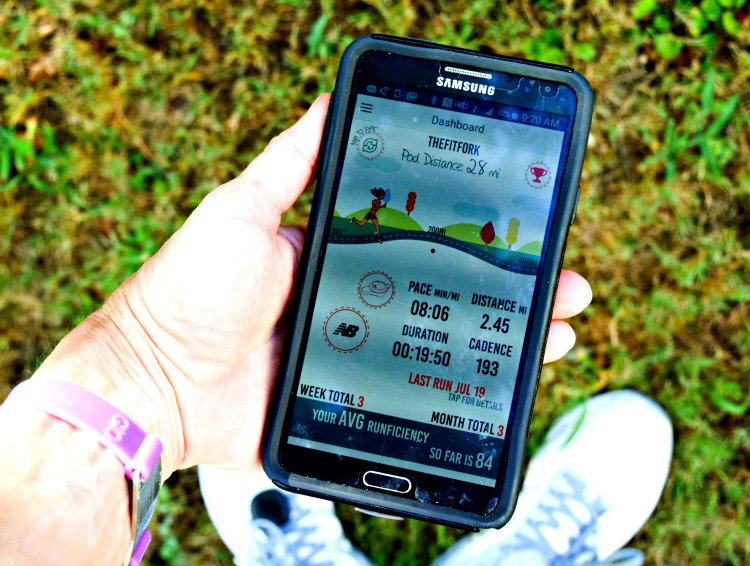 I'm fairly low tech when it comes to running, oh how I do love a good pair of shoes and cute outfit, but sometimes all that data at my fingertips pushes me over the edge. In the past, I was a die-hard stat tracker, but today (although I do check in with my running benchmarks now and then), I don't always record every lap, loop and interval of every run (but when I do, a good GPS watch can't be beat). Recently, MilestonePod sent me their brand new wearable that provides easy access to "just enough for me" activity data to keep me in touch with my general performance (like overall distance, pace and calories burned that I can check at the end of my run but not every insufferable second), along with insights on my personal running style and how to improve it.  What I REALLY love is how MilestonePod also tracks an assortment of additional metrics such cadence, foot strike and stride length. For example, I'm always trying to keep my cadence between 180 and 200 and this easy to wear gadget keeps the count for me – it also breaks out the percentage of time I strike with heel, forefoot or toes – it makes your shoes smart! Very interesting and useful feedback!  Very reasonably priced (under $30) with a free user app that is downloaded for both Android and iPhone, there is no reason for a runner to give  MilestonePod a go! #GoBeyondPace
2) POPSUGAR Must Have Box
I love LOVE getting these POPSUGAR Must Have boxes in the mail every month – it's like having twelve birthdays a year!  There are usually around six to eight "gifts" that sum up the season perfectly
(sometimes more)– the July subscription box included sunscreen for your hair, darling emoji fabric cocktail napkins, a lightweight scarf, a cute pineapple pin, an inflatable drink holder that looks like a swan (how cute is this for the pool?), yummy old-school style potato chips, brow highlighter (ooh, middle-aged me needs the lift) and a gift card for $20 towards customizable jewelry from an online boutique!
You need to try out a subscription to POPSUGAR Must Have Box yourself, I've never been disappointed!  Get $5 off your first #MustHaveBox box (no expiration date) with code SHOP5 at http://bit.lt/2ao52ns 
3) EverlyWell

I also just mailed in my Sleep Balance Profile and Home Collection Kit from EverlyWell to identify hormone-related sleep imbalances. Yeah, I am not a champion sleeper and am at my breaking point. I need to know what is going on with my body and EverlyWell makes it simple and convenient to #KnowYourNumbers and I hope the results well help me work with my pharmacist and/or doctor to find the right seep relief I need. They have all sorts of home tests including Food Sensitivities, Cholesterol & Lipids, Heavy Metals, and more. I'll be posting a full review and the findings from my Sleep & Stress Test in a week or two – but, in the meantime, if you want to save 10% use the code EVERLY10 at checkout.
Please note: EverlyWell offers laboratory testing for wellness monitoring, the tests are not meant to diagnose or treat disease, or to take the place of a physician's consultation. Testing is not available in NY, MD, RI, or NJ due to regulatory restrictions. EverlyWell does not provide medical advice and always suggests sharing your results with your primary care physician. 
Disclaimer: I was provided products and/or compensation to review these products and give my honest feedback – all comments, feedback and enthusiasm are my own!