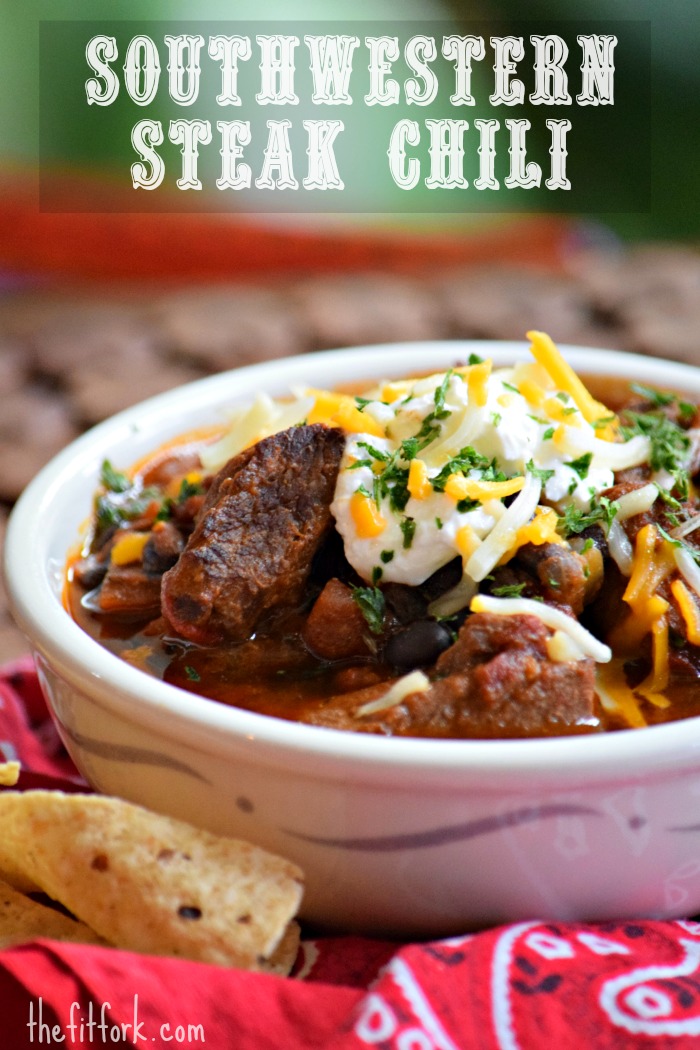 Ring-ding-ding! Come and get it – I'm serving up Southwestern Steak Chili for dinner and you are about to miss it. A big bowl full of this hearty goodness will squash your "hangries" and fuel you up for whatever adventures you've got coming up – whether that's just some causal mechanical bull riding or running roughshod right over a marathon goal (speaking hypothetically, of course).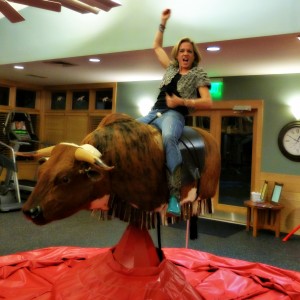 Nutritious ingredients magnified by down-on-the-ranch seasonings create wonderful smells while simmering on the stove top – expect a stampede to the dinner table. Folks I know usually make chili with ground beef, but this easy recipe takes it to a whole 'notha, fork-slinging level with beef stew meat. Meat labeled beef stew is whatever your butcher feels like cutting up that day. So, if you are looking to save a buck and want some control over what you're eating, try sirloin or round for a lean option or chuck if you want juicier, fall-apart action.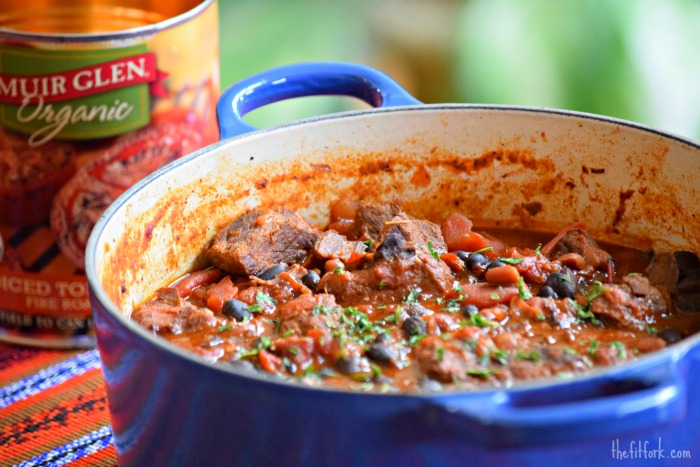 I've used a can of pinto beans (hubby likes these best) and a can of black beans (my favorite) – but you can use whatever variety you prefer including the traditional kidney bean.  Chipotle chile powder is my ace in the hole in this pot of chili. I mix up a blend of standard chili powder along with some chipotle power to add smoky undertones – chipotle peppers are just smoked jalapenos. Oh, and an awesome way to boost up the smoky, roasted flavor is to use canned fire-roasted tomatoes – this post isn't sponsored, but Muir Glen makes a great organic option.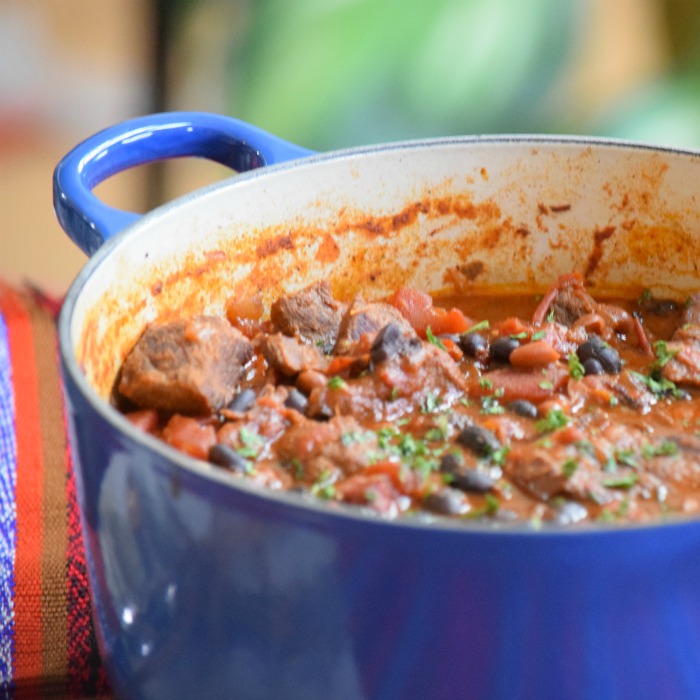 Southwestern Steak Chili Recipe
1 tablespoon olive oil
2 lbs beef stew meat in 1 to 1 ½ chunks (or cut your own from sirloin or round)
1 large onion, chopped
1 tablespoon chili powder
1  teaspoon ground chipotle chile powder
1 teaspoon ground cumin
1 tablespoon minced garlic
1 (12-ounce) bottle or can Mexican beer
1 (28-ounce) can diced fire-roasted tomatoes, undrained (I used Muir Glenn)
1 (15-ounce) can chile or pinto beans, rinsed and drained
1 (15-ounce) can black beans, rinsed and drained
1 (7-ounce) can salsa verde
Heat olive oil in large Dutch oven over medium-high heat. Add cubed stew beef and cook 5 minutes or until browned, stirring gently. Remove from pan.
Add chopped onion to pan and sauté 3 – 4 minutes or until softened.  Add garlic, chile power and cumin to pot and saute for an additional 1 minute, stirring constantly. .
Add beer, scraping pan to loosen browned bits. Return beef to pan. Stir tomatoes, beans and salsa verde; bring to boil.
Cover Dutch oven, reduce heat and simmer approximately 90 minutes or until beef begins to fall apart with fork.
Serve with favorite chile topping such as sour cream, shredded cheese, chopped cilantro and crumbled tortilla chips.
Serves 6 – 8.
[Tweet "Southwestern Steak Chili  causes dinner time stampede! #beeflovingtexans]
What kind of chili person are you — beans, no beans, beef, turkey, vegetarian, etc?