Has your week of work, working out and kids' activities been more jam-packed and crazy than a floral shop filled with frantic husbands and boyfriends fighting for the last bouquet? Well, don't fret that you haven't made a menu for Valentine's Day, I've got you covered!  Check out my ideas for quick-to-make, kid-friendly dinner ideas that provide the quality nutrition you love!  I have three ideas each for salads, entrees and desserts — plus a bonus baked heart fries recipe– feel free to mix and match!
SALADS: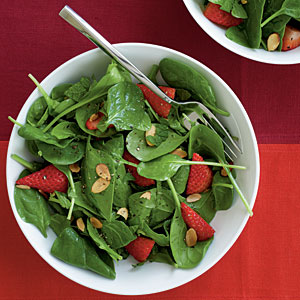 Strawberry Spinach Salad – This beautiful berry salad will get any spinach avoider to start eating greens!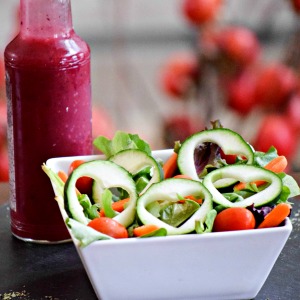 Simple Green Salad with Cucumber Cutouts – Dress up a simple green salad with cucumbers punched out in the center with a small heart cookie cutter.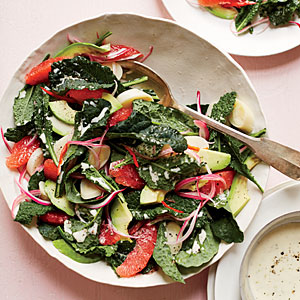 Grapefruit and Hearts of Palm Salad – Fall in love with the sweet-tart zing of this salad from Cooking Light. If you think the kids won't like the slightly nutty, semi-firm texture of palm hearts (but I think they will), simply swap for another veggie.
ENTREES:
Give Me Some Amore Pizza with Quick Homemade Sauce – The kids will be begging for one more slice of this super-quick, convenience crust pizza that features homemade sauce made quickly in the blender (no simmering required).
Herbed Cod with Vegetables in Papillote – This recipe I made for Litehouse foods sounds like it should be learned in a French culinary school, but it's really super easy! Just wrap up ingredients in parchment paper and bake for about 15 minutes!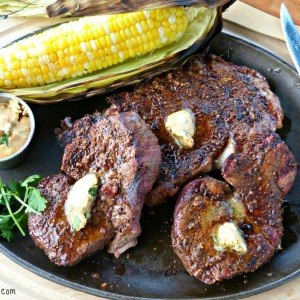 Spice Crusted Tenderloin Steaks – You can't fail with a filet – and caramelized with spices and grilled to perfection, you will win Valentine's Day dinner hands down.  Oh, and not only is tenderloin super tender (duh), it's one of the leaner cuts!
DESSERTS:
Strawberry Greek Yogurt Tart – This better-for-you dessert features a grain free crust, creamy filling made with stevia-sweetened Greek yogurt, and lots of lush berries on top.
Chocolate Strawberry Cheesecake Ice Cream Topping  – I love this fun idea from friend Emily at the Litehouse Foods blog, she transformed Green yogurt fruit dip into a frozen "bark" to use as garnish on a favorite flavor of ice cream.
Berries with Chocolate Dip – Simple, sensible and a real sanity saver if you haven't anything planned for dessert
These were a popular recipe from last week — Herb Lover's Oven Potato Fries