It's a NEW YEAR, a time when many of us start planning for improvements in our health and fitness – eating clean is always at the top of my list. Not only does enjoying healthy, nutritious meals and snacks keep me at a steady weight and help prevent a host of medical issues, it provides the quality fuel I need to perform my best as a runner and general fitness enthusiast.  Typically, it's easy for me to stick to the diet I prefer – lean proteins, low-glycemic carbs and heart-healthy fats. But, that's because creating new healthy recipes and experimenting around in the kitchen is my passion. The only time I really fall off the wagon is when life gets super busy and over-scheduled – that can be frequently as a mom of three trying to keep a full work and training schedule.
"Life getting in the way" is probably why some studies have shown that only 8 percent of New Year's resolution makers have "stuck with it" by year end. However, that doesn't have to be the case when it comes to maintaining a healthy lifestyle — especially when companies like MyFitFoods are around to help us meet our goals.  When my schedule is slammed and I'm out and about during a mealtime, it's easy to say no to (insert gagging noise) traditional fast food knowing I can hit one of the multiple locations of MyFitFoods in Austin to pick up a well-balanced, nutrient-packed, perfectly-portioned meal that also tastes damn good – way better than a (eek) McDonald's salad.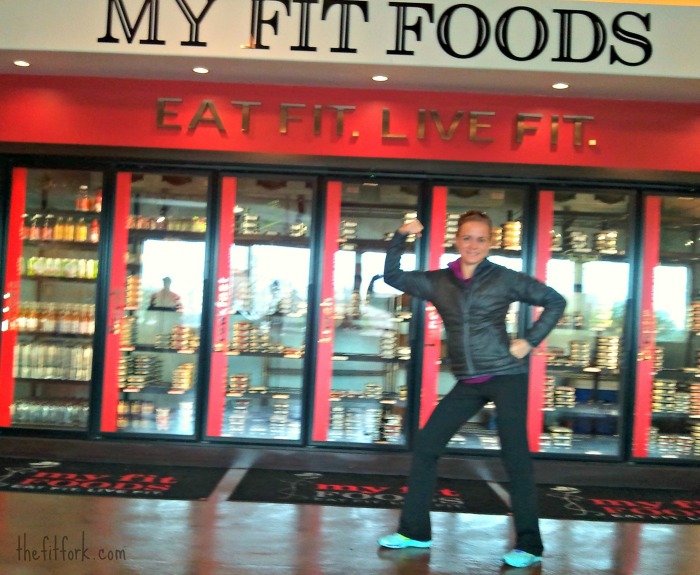 Currently operating in California, Arizona, Texas, Oklahoma and Illinois, this company is growing like crazy — check out the location map to see which store is nearest to you. When you drop into MyFitFoods, you'll see all of their pre-packaged menu offerings on display to either grab-and-go– or heat up and eat in the café area of the store.  When I say pre-packaged, I'm not talking about old school frozen meals – these are refrigerated meals made in their local kitchens with freshest produce, lean proteins, whole grains and healthy fats.  All the nutrition information, calorie and ingredients are printed right on the label so that you can make the best-informed choices as possible. Also, a "best by" date is on the label in case you want to stock up on a few meals to take home for later.
From breakfast, lunch, dinner and snacks, you can count on getting a fresh, delicious and nutritious meal prepared with your health in mind at MyFitFoods. The menu is diabetic friendly and there are plenty of options for special diets including vegan, vegetarian and dairy-, gluten- and soy-free. After scanning the menu, it also looks like there are options for devotees of the Paleo diet too. Meals are sold in a range of portion sizes to meet your unique needs – I'm fairly active and am not trying to lose weight, so the Medium size works for me. But, you can get more or less – or buy a Large and share!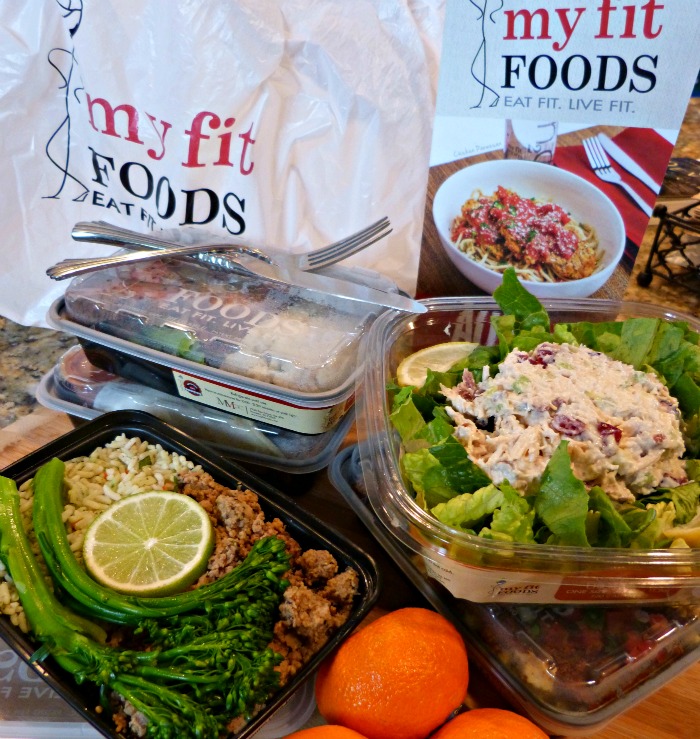 Another neat thing about the company is their 21 Day Challenge. On-site nutritional coaches will provide a complementary consultation on how MyFitFoods can help you lose weight, build muscle, increase energy levels and enjoy better sleep quality.  Company founder, Mario Mendias, totally gets it –  as a past personal trainer, he saw a need to make fit-focused meals for his time-crunched and non-cooking clients who were too often risking their hard work in the gym for a convenient yet unhealthy meal.
To help you make healthy living and eating an easy reality this year, MyFitFoods is letting me giveaway a $200 gift card. The winner can load up for a week's worth of food at once or grab a healthy meal now and then – there are so many choices at MyFitFoods. Here are some of the yummy, healthy meals I enjoyed this week.
Good Morning Sunshine – With a taste of the southwest, lean ground turkey, converted rice and eggs topped with fresh pic de gallo and a pinch of real cheese. The medium size only has 430 calories and 29g carbs for nearly a pound of food that packs 40g of protein. I feel my muscles growing already!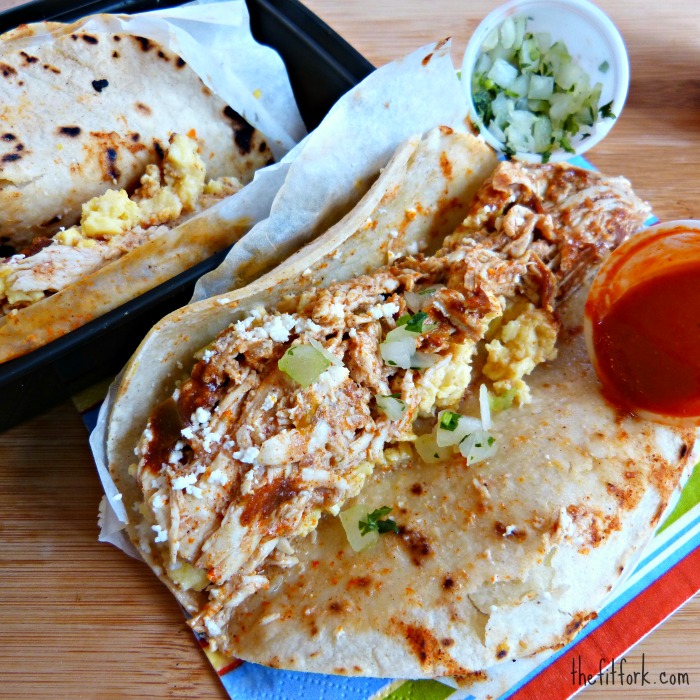 Ancho Chicken Breakfast Tacos – Eggs and shredded chicken nestled into three corn tortillas along with ancho sauce make a very filling breakfast. The medium-sized dish has 450 calories 55g carbs and 30g protein to satisfy even the hungriest post-workout appetite.
Gimme More Chicken Salad – Thumbs up to this lightened chicken salad that is made with lean breast and Greek yogurt with just a dash of real mayo. Chopped celery, cranberries and tarragon add the finishing touches to the generous scoop that rests on a bed of chopped romaine with lemon wedges. Available in one size, 320 calories, 16g carbs with 28g protein and just 15g of fat which is way less than the fat found in traditional chicken salad.
Beef Fit Up! – It's no secret I like beef, especially tenderloin. This low-carb dinner didn't disappoint with sliced beef tenderloin cooked to medium and topped with onions and mushrooms over cauliflower mash and green beans. Here's my tip for reheating so the beef doesn't get overcooked:  heat the veggies separately on high for a minute or so. Next, reheat the beef alone on the "defrost" button for just about a minute, basically to just take the chill off off rather than cook it. Replate and enjoy!  Medium size is more than a pound of food with 450 calories, 18g carbs and 45g protein. I could have shared, but I didn't.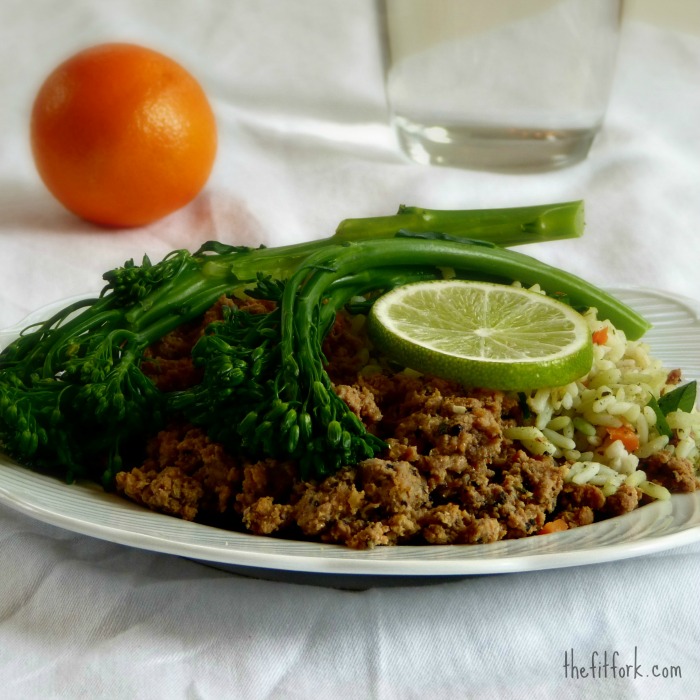 Cilantro Lime Turkey – This is a light and lively dish that tastes really good; lean ground turkey is seasoned just right and served on a bed of converted rice mingled with cilantro. Broccoli rabe and a refreshing lime slice finish it up. The Medium portion makes a hearty yet healthy meal with 500 calories, 51g carbs and 39g protein.
Enter the Giveaway through the various options below – please note that MyFitFoods is currently operating stores in California, Arizona, Texas, Oklahoma and Illinois (so please only enter if you live in one of these states — check out the store map for exact locations):