With autumn just around the corner, it's time to start salivating about all things that include pumpkin and pecans to bacon and Brussels sprouts – and, of course, other delicious fall-inspired ingredients. The Paleo diet embraces so many healthy foods that remind me of the cooler weather season – squashes, sweet potatoes, onions, cranberries, persimmons, pomegranates, broccoli, chard, spinach, all types of nuts, turkey, wild game and more.
Check out Fall Into Paleo

by The Fit Fork at Foodie.com
If you've scrolled through my blog, you may have noticed I don't live and die by the strict rules of the Paleo diet. That being said, I DO believe that the Paleo diet has many great benefits that can contribute to a healthy lifestyle and I always feel great when I'm eating meals that follow a Paleo-esque menu. However, this regime, which eliminates wheat, cereals, dairy, starches (including most starchy vegetables & fruit), grains and anything containing gluten and/or legumes, can be difficult for me to maintain for many reasons including practicality (sometime I just can't find or afford grass-fed beef), performance (I need extra carbs to support my athletic output – check out the book Paleo Diet for Athletes) and personal sanity (an excessive focus on food makes me freak out). So, I'm one of those "I eat 100% Paleo 80% of the time" kind of people and I don't feel bad about it nor do I pass judgment on others who are strict abiders or those who would never, ever eat caveman style.  Also, when I'm thinking about Paleo recipes and what I should or shouldn't do, I remember a quote from one of the go-to cookbooks on my shelf, Paleo Comfort Foods. The author makes a great point that the "Paleo (diet) is a logical framework applied to modern humans, not a historical reenactment."  Amen.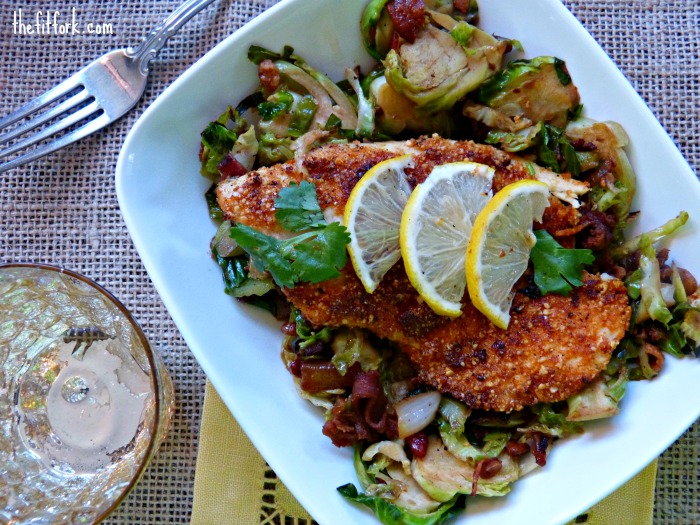 I hope you enjoy my fall-season paleo dinner I whipped up as part of a Foodie.com campaign — Pecan-Paprika Crusted Tilapia on Bacon Brussels Sprout Toss.  Of course, this duo is delicious together, but can also be made and served individually – for example, the fish is also excellent in lettuce-wrap tacos and the warm Brussel sprouts salad makes the perfect seasonal side dish to bring to a potluck or Thanksgiving dinner. .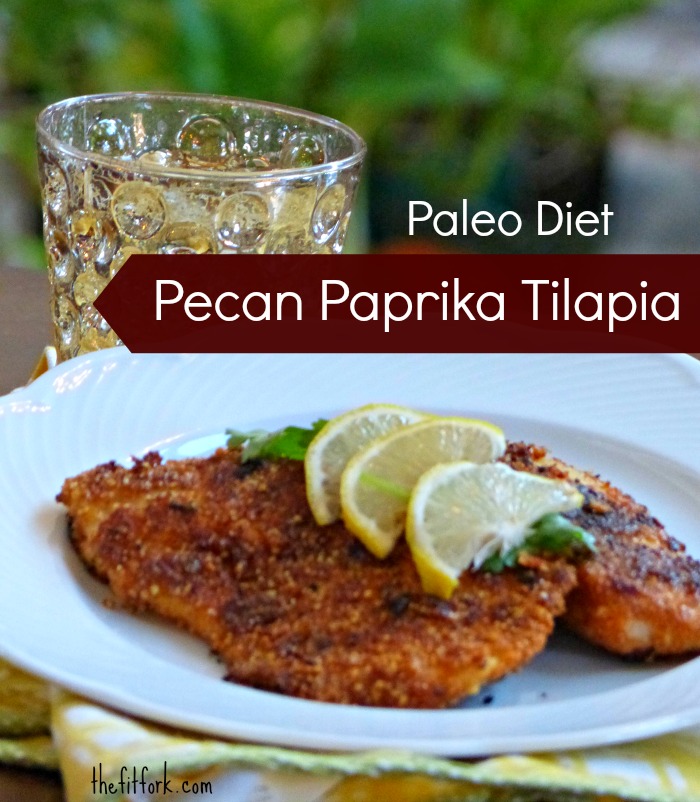 For Pecan Paprika Tilapia Recipe:
 1 lb tilapia filets
½ cup pecan meal (ground raw pecans)
1 tablespoon ground paprika
1 teaspoon salt
1 large egg
¼ cup coconut oil
 In large shallow dish, mix together pecan meal, paprika, and salt.
In another shallow dish, whisk egg.
Dip each fish filet into egg and then dredge in pecan mixture.Heat oil in large skillet over medium-high heat.
Add fish to skillet and pan fry for 3 to 4 minutes per side, flipping once. Fish will be done when white and flakey throughout and turning golden brown on crust. Serves 4.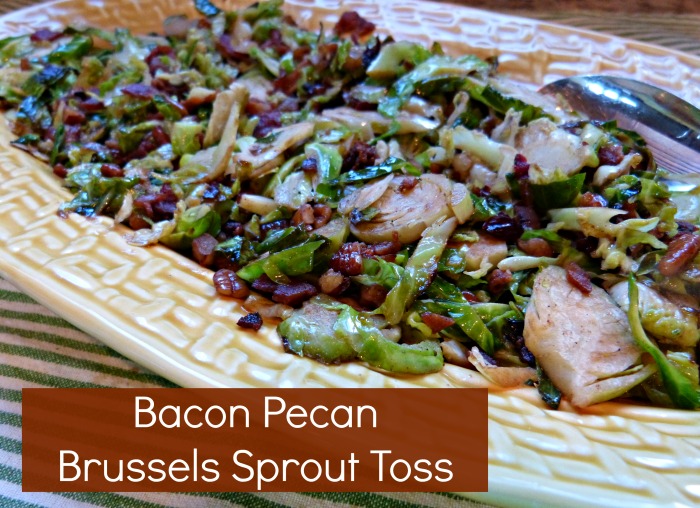 For Bacon Brussels Sprout Toss:
4 slices bacon
¼ cup finely minced sweet onion
1 teaspoon paprika (sweet or hot, your preference)
1/3 chopped raw pecans
1 tablespoon apple cider vinegar
¼ cup wine or cooking wine
2 tablespoons real maple syrup
1 teaspoon garlic paste
1 lb shaved Brussel sprouts
In large skillet, cook bacon over medium heat until crispy. Remove bacon from skillet and crumble up (set aside); reserve about 2 tablespoons of bacon drippings in skillet.
In same skillet with drippings, add paprika, onion and pecans; stir over medium-high heat for several minutes until nuts are lightly toasted, onions are softened and paprika has become fragrant.
Add vinegar and cooking wine to skillet; stir quickly for 1 minute to deglaze pan. Lower heat to medium and add syrup and garlic paste; stir combine.
 Add shaved Brussels sprouts (either slice thinly with sharp knife or mandolin or buy prepared) to skillet and saute for approximately 3 to 4 minutes, stirring frequently, until beginning to soften and caramelize.
Tips: Finely slice the Brussels sprouts with a knife or mandolin – or just by them pre-prepped from the produce section of your market.  Also, it's important to add the paprika to the beginning of the saute so the spice has time to bloom, lending a richer and deeper flavor – this is a trick of trade with chefs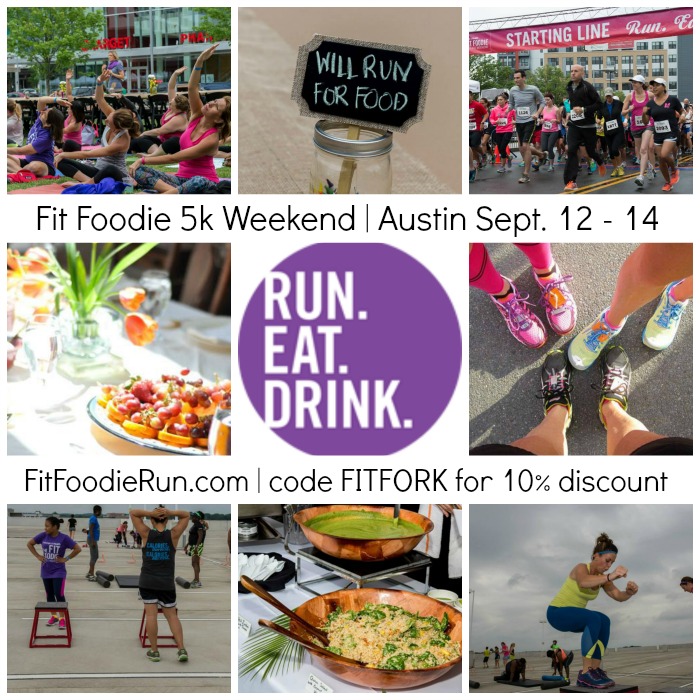 Also, I want to share with y'all an upcoming event that so matches my personality and interests, I'm assuming it must have been put together specifically for me! But, I want you to come join the fun too – it's the Fit Foodie 5k Weekend hosted by Cooking Light and Health magazines. In addition to the 3.1 mile race, there are gourmet tastings from Texas chefs, fitness demos, sunrise yoga, an obstacle course and boot camp. Allison Sweeney from The Biggest Loser television show will be there signing her newest book and showing support for the race beneficiary, City of Hope. City of Hope is a leading treatment and research center for cancer, diabetes and other life-threatening diseases – 10% of all race entry proceeds benefit this official charity.
The Fit Foodie Weekend is coming up quick (Sept. 12 – 14), but it's not too late to register!  Use the promotion code FITFORK and get 10 percent off your registration. Please let me know if you are coming by sending me a note in the comments – I'd love to plan a meet up! Disclaimer: This post was sponsored by Foodie.com, however all opinions, comments and recipes are my own.  Also, I am an ambassador for The Fit Foodie Race Series – whoot, whoot!