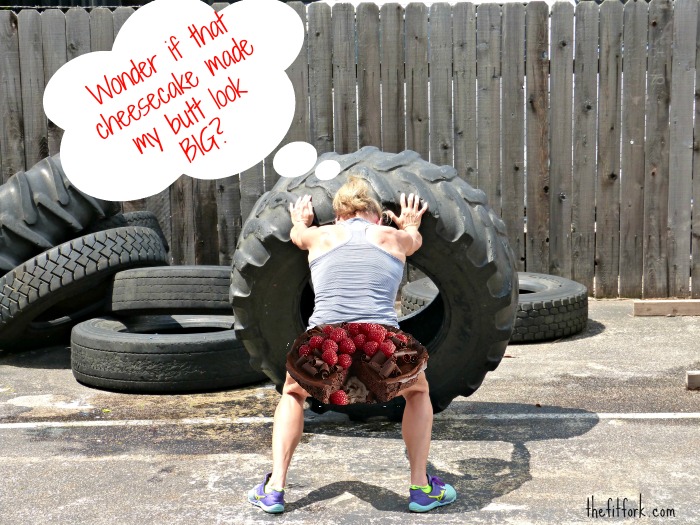 I woke up an hour early today – partly because I had a dream I was spinning around a pole (fully clothed, people) and got motion sick and and partly because I didn't want to miss a minute of National Cheesecake Day. Yup, that's right, I have no shame in saying I recently had a crash course in pole dancing (see below) nor that I like to celebrate a frivolous and, as some might assume fattening food holiday. Down at yonder Cheesecake Factory, (where you can get ½ price slices of cheesecake July 30 & July 31, if you dare), a single slice of their most indulgent cheese cake, the Adam's Peanut Butter Cup Fudge Ripple, contains a muffin-top making 1,320 calories while a Splenda-sweetened version of their Original Cheesecake trims the treat down to 570 calories. Wow, it might be hard to hang onto a pole, run or do any CrossFit WODs with too many servings of either of these!
Check out Fit & Fruity Cheesecake Ideas for Summer Dessert

by The Fit Fork at Foodie.com
I'm not knocking Cheesecake Factory in particular; most cheesecakes have an abundance of calories, carbs and fat. But I have rounded up some HEALTHIER cheesecakes and inspired-by-cheesecake treats (like smoothies and froyo) for Foodie.com that feature less sugar, less fat and more wholesome goodness. Some of the cheesecake inspiration recipes are nutritious enough to eat for breakfast!
Included in the collection of Fit & Fruit Cheesecake Ideas for Summer Dessert, is my super simple but simply sublime recipe for Cheesecake Protein "Ice Cream" – the perfect frozen base for your favorite fresh fruits of summer, such as blueberries, strawberries, pineapple and more. Crumble up a crushed graham cracker or sprinkle some granola on top for an authentic New York cheese cake taste!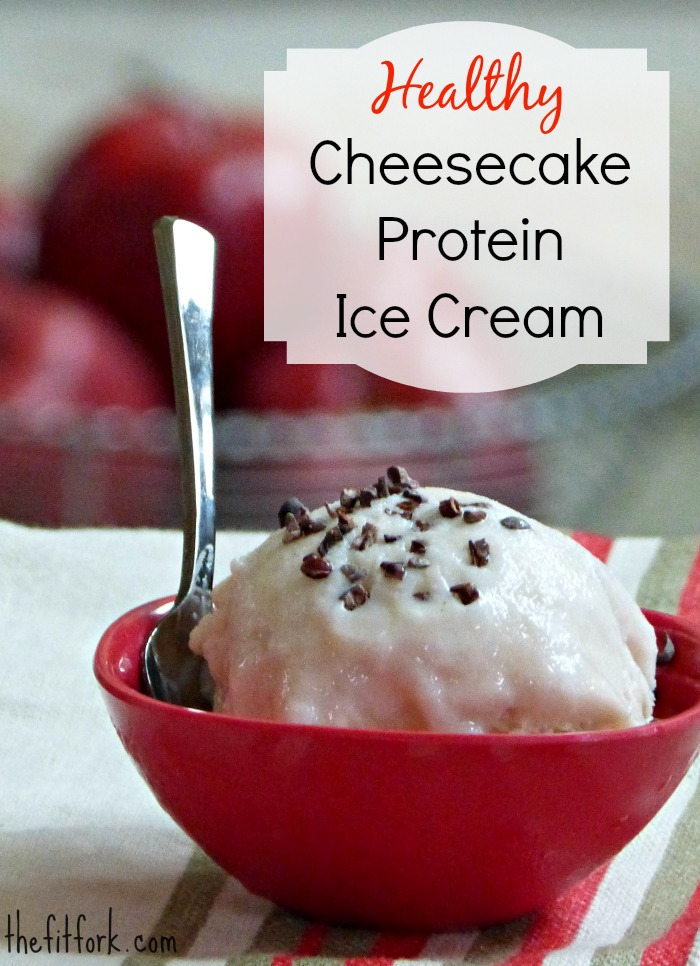 Cheesecake Protein Ice Cream Recipe
3 cups unsweetened almond milk
1/3 cup vanilla protein powder
4 ounces Neufchatel cheese, softened
Stevia, to taste
Optional garnish – fresh fruit and graham cracker crumbles
Puree all ingredients together in blender. Pour into ice cream maker and process according to manufacturer's instructions until done (mine takes about 20 – 30 minutes). Serve with desired toppings and immediately freeze leftovers. Makes four 1-cup servings.
And, finally, I have more cheesecake for you –pole dancing. Yes, I tried my hand at the "sport" at the Naturally Fit Games in Austin this past weekend. Actually, it was fun – except for the crowd that gathered at the Straight Up Pole Fitness  Expo booth caught me off guard as I learned a few tricks of the trade. Actually, I really liked the challenge of "pole fitness," as I'll call it – requires a lot of strength and self-confidence, of which I have both!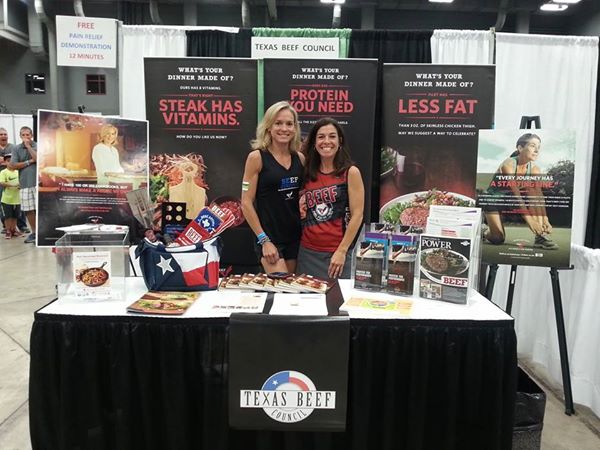 Jackie and I were the fueled-by-beef babes manning the Texas Beef Council booth – if you didn't know, I am a fan of all the lean beef cuts (there are now 38 lean cuts!!) and eat beef at least every other day as a way to recover from my workouts and remain a lean, mean , running machine!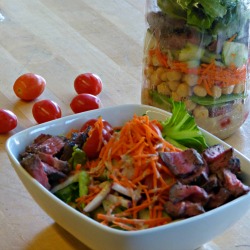 This summer, my Any Day, Any Way Beef Salad (in a jar) made with top sirloin steak has been my go-to meal.
Answer me this:
What would you put on top of plain cheesecake?
Have you ever tried pole dancing? If not, would you?
What's your go-to summer meal?
This post is sponsored by Foodie.com. However, all opinions are my own.