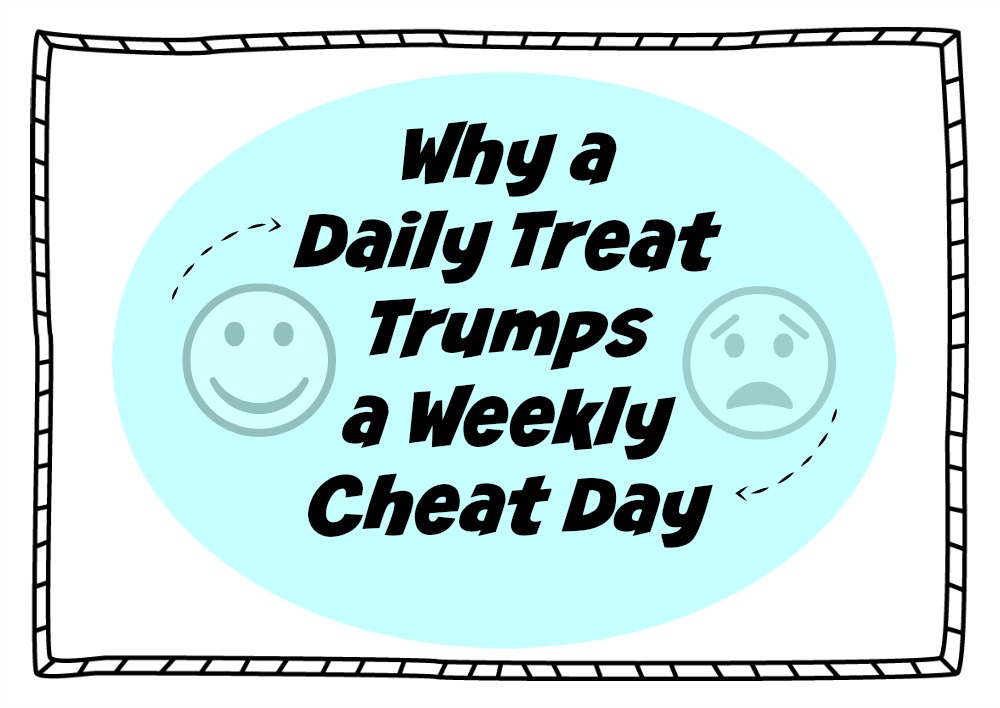 Treats, desserts, goodies, nom noms, whatever name you longingly call a little something sweet after or between meals don't have to be off limits or induce guilt. In fact, if you are craving something outside of your normal healthy-eating routine, it's better to go ahead and satisfy the urge with a reasonable-sized portion rather than setting aside an entire day to pigging out on whatever "cheats" you want.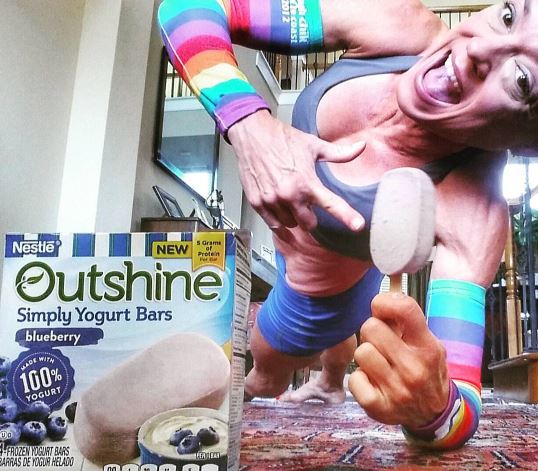 Really, when you think about it, no food is a "cheat." All food provides calories, which translate into energy to burn through the day. —  however, as most of us know, some food provides better quality energy than others!  Most experts would recommend keeping your treats to 200 calories or less and don't feel obligated to indulge everyday if you don't really want it!  If you calorie needs are in the range of 2,000 per day, then a 200 calorie treat makes up only 10 percent – just make sure your remaining diet is balanced with lean protein, healthy whole grains and lots and lots of veggies and some fruit.
1) Guilt- Free: Postponing a treat or small splurge and labeling it as "bad" also sets you up for an unhealthy relationship with food, it creates guilt.  A day set aside to "cheating," how can that be a good thing?
2) More- Consistent: A daily treat is there every day if you want/need it!  Our bodies respond better to consistent behavior, rather that dieting and overindulging to the extremes.
3) Enjoyment: Enjoy your food, all of it. Being well, healthy and happy means living your life embracing food for what it can do for you and not obsessing over a specific diet, what is good or bad, or setting unrealistic expectations.
4) Extra Energy+: A daily treat can give you those extra calories and other important nutrients you need on days when especially active. You definitely need to consider your activity level when planning snacks!
4) Hormones Happier: Studies have shown that with calorie and carb restriction, Leptin (the hunger hormone) is altered, messing up its ability to tell your brain you are full and to stop eating. Similarly, T3  (the thyroid hormone) can be decreased by calorie restriction and extreme dieting, creating a backfiring situation where your metabolism slows down.
5) Sustainable for Life: With a daily treat, there are no feelings of abstinence,  meaning its easy to keep an overall healthy diet for life.   If you're eating a variety of colorful, whole foods the majority of the time, a treat now and then or every single day has no harm!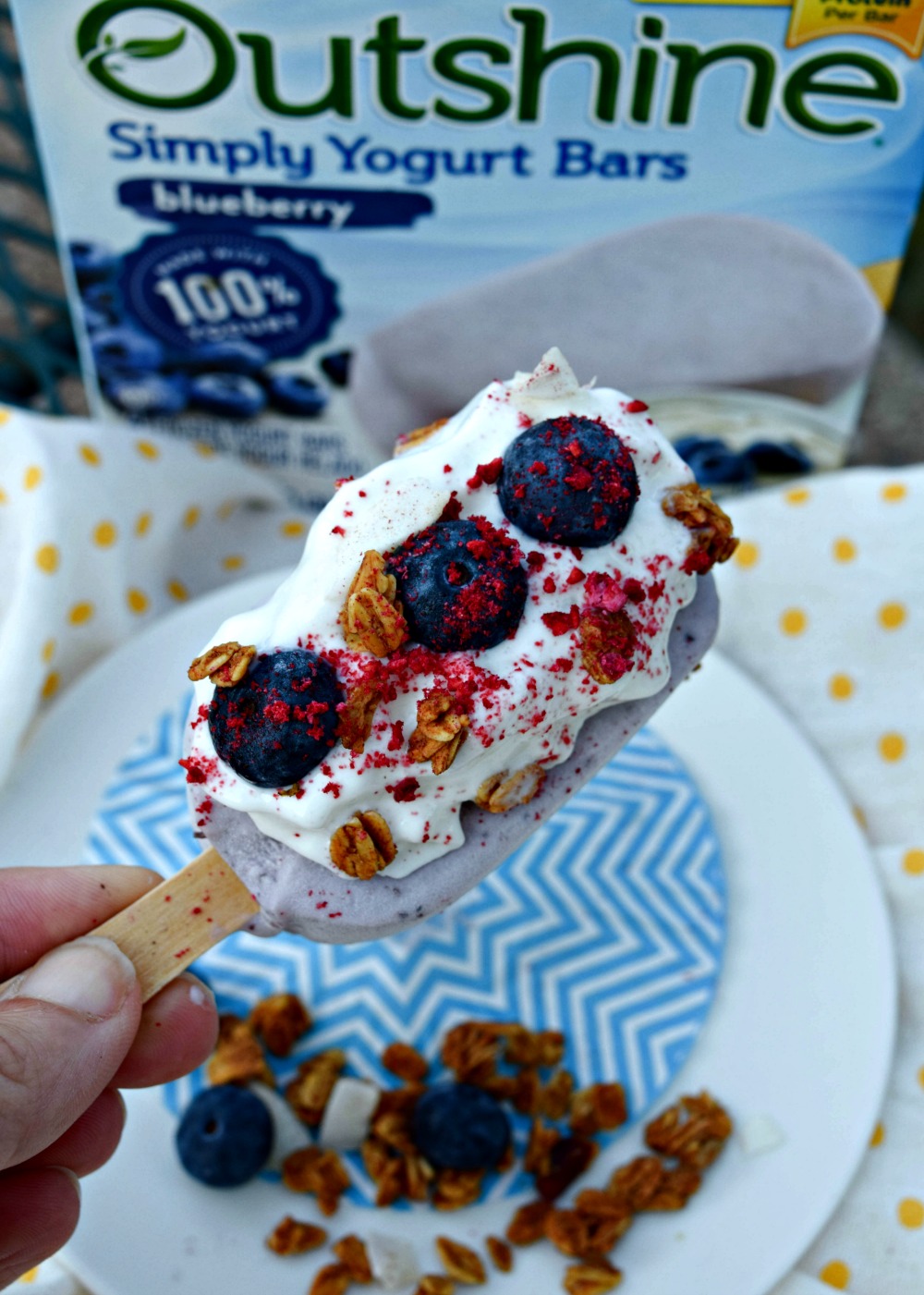 You know, some days I slice myself a piece of chocolate cake and other times I'm completely satisfied with a healthy snack like these New Outshine Simply Yogurt Bars I found at Target*  – they totally take, errrr, the cake!  I really appreciate how Outshine® uses simple and honest ingredients  — 100% yogurt, blended with real fruit, that's it!  These healthy treats contain no artificial colors or flavorings* and are not gunked up with high fructose corn syrup – with each lick and am treated to simply the bright, delightlful flavor as Mother Nature intended. *Check the Store Locator for other locations.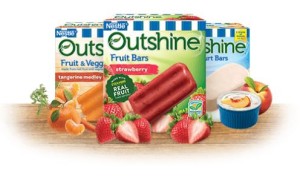 Outshine Simply Yogurt Bars are available in seven creamy and yummy varieties including Strawberry, Peach, Blueberry, Pineapple, Lemon, Strawberry Banana, and Mango. Also good to know, each frozen bar contains live & active cultures, 5 grams of protein, and 10% of our daily requirement for calcium. The company also makes all fruit bars and fruit & veggie frozen bars!
Of course, Outshine Simply Yogurt Bars make a smart choice to eat after a workout – that little blast of protein helps speed muscle recovery.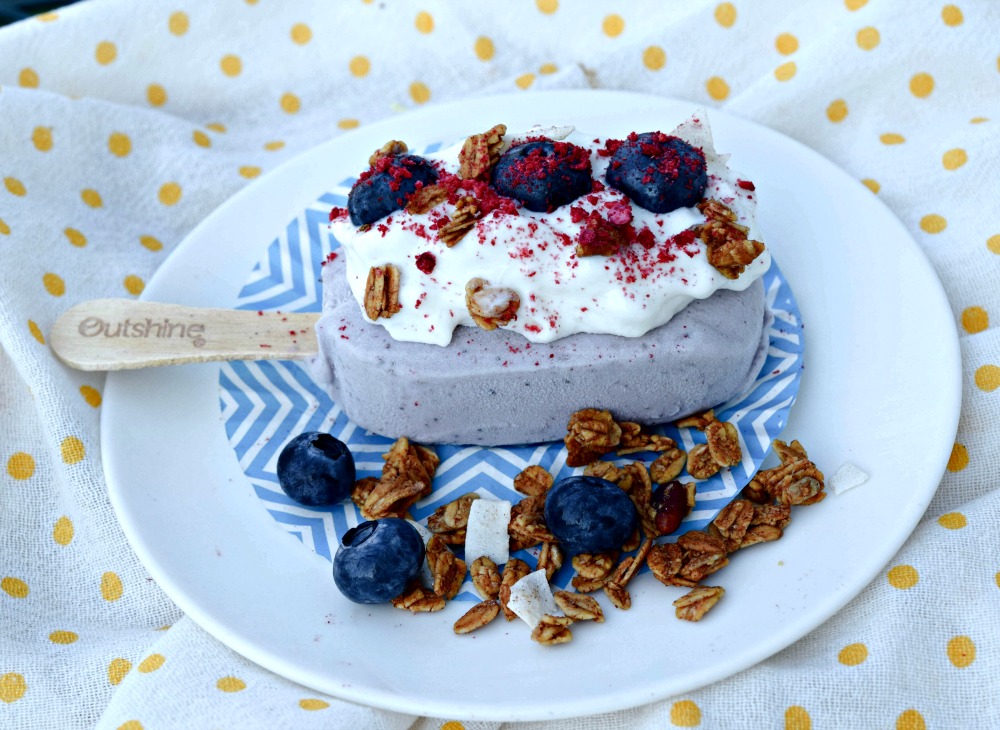 And, because Outshine Simply Yogurt Bars are so sensible, I like to occasionally dress these healthy frozen snacks up a little more with my favorite sundae toppings – like today I used the Blueberry bars and topped with whipped topping, fresh blueberries, granola and crushed dehydrated raspberries (those are the "healthy red sprinkles").
You can find  Outshine Simply Yogurt Bars at Target, Safeway or other convenient locations.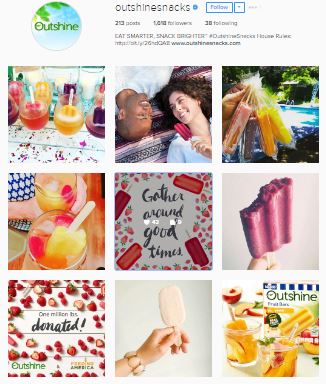 Also, check out Outshine on Instagram — they have a very cute, vibrant and happy page!
What is your snacking philosophy? What is your favorite healthy dessert or yogurt flavor? Any big plans for these last days of warm weather? Please share in the comments below – XOXO, Jennifer