This post is sponsored by Mountain States, however all comments, opinions and enthusiasm are my own.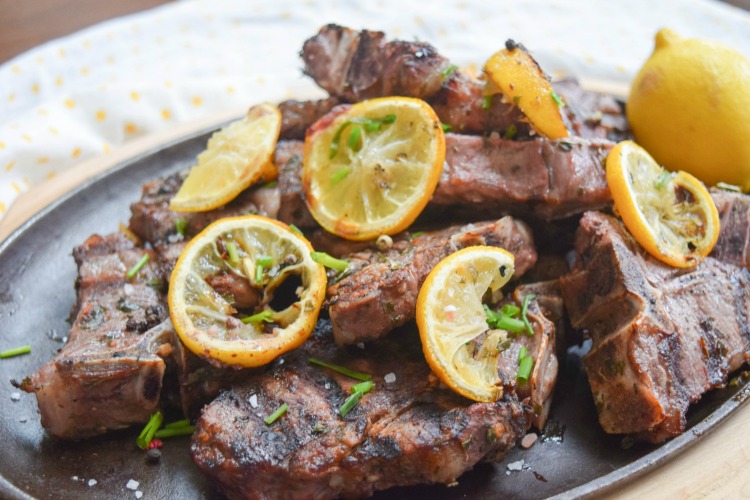 I had a wonderful weekend with my family cooking up new memories – well, grilling them up, to be exact! Sitting down together to a simple yet super flavorful lamb dinner was the perfect exclamation point to the end of our summer together (as school started back up Monday and our oldest left the nest again for 2nd year in college). Until recently, my three teen boys didn't have many memories centered on lamb, but I sure had some recollections – and they mostly involved around stuffy Sunday dinners of yore at a relative's home wearing uncomfortable clothes, shoes that pinched and being forced to "politely" clean my plate of mushy vegetables and an old-school prepared lamb roast.
After hearing various friends, from Paleo diet devotees and flavor-centric foodies, rave about the virtues of this red meat that's been enjoyed across various cultures for century upon century, I penciled lamb onto my "things to grill sometime" list – oh, you how I like to grill everything! When Mountain States (producers of Shepherd's Pride and Cedar Springs lamb, raised right here in the U.S.) sent some delicious looking lamb loin chops my way, they were bumped to the top of the to-do list – it was time to give 'em my modern, fit foodie spin. If the speed at which my guys devoured dinner is any indication, you are going to LOVE my recipe for Grilled Lemony Lamb Loin Chops with Spinach Gremolata Sauce. #GoForTheBOLD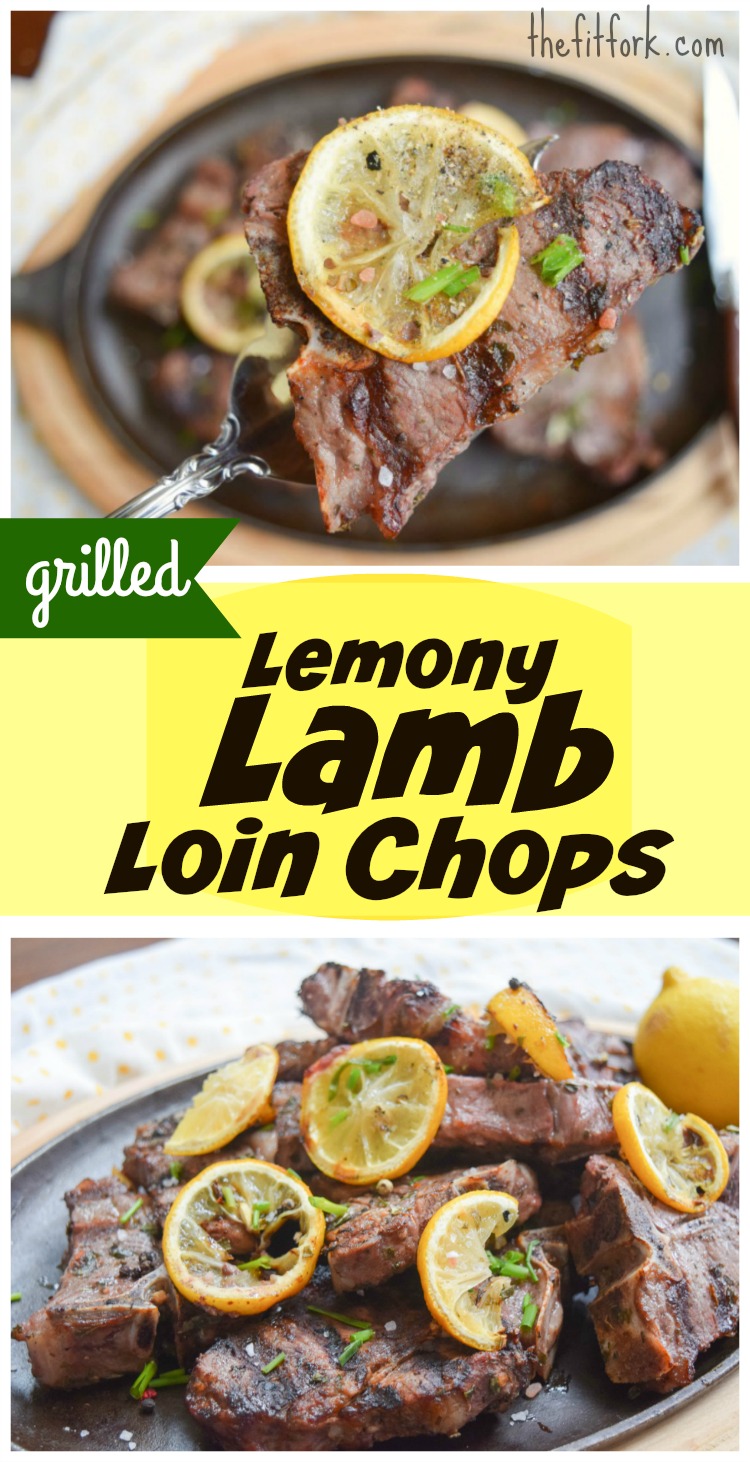 The loin chops couldn't have been any easier to prepare with a simple marinade, less than 10 minutes on the grill, and an easy no-cook sauce. When meal-making is a no-brainer, there is more precious time to spend with family and friends – mine will be seeing this lamb recipe again soon at my backyard Labor Day cookout.
If the weather turns too cool this fall season to barbeque al fresco, these lamb chops easily translate to an indoor grill or stove top grill pan. And, the bright lift of lemon will remind you of a beautiful, never-ending summer! You can see them here served with grilled Shishito Peppers (that recipe posted tomorrow).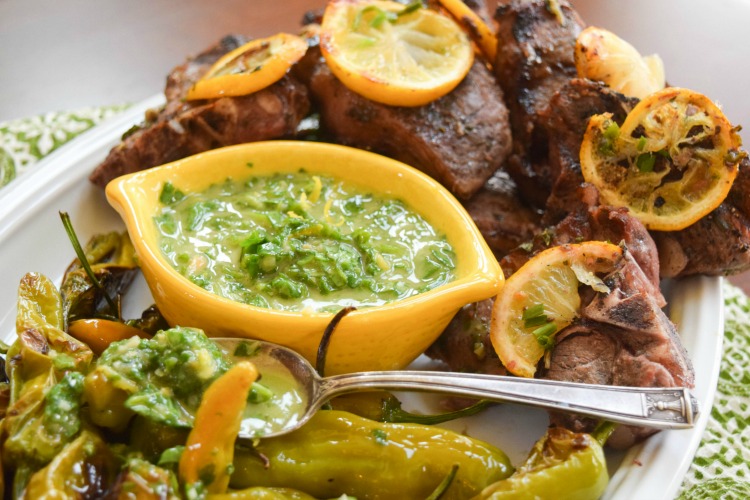 While these lamb chops are delicious served unadorned, I prefer to drizzle them with a gremolata sauce prepared with olive oil, lemons and spinach (another twist on tradition).  I get so excited when this tangy, flavorful gremolata runs off my chops and into my grilled veggies, potatoes or pasta– it's a versatile sauce to dress nearly every main dish, side dish, pasta and salad.
Protein-lovers, let me tell you a little more why lamb should make it onto your menu weekly rotation.  First of all, a 3.5 ounce serving contains approximately 25g protein, the optimal amount for your body to process at any one "eating experience."  How many times have you heard me stand on my soapbox and tell y'all to eat 25g to 30g of protein at every meal – you need this amount for sustained energy, muscle management, healthy aging and more! Mountain States lambs roam pastures, grazing on grass, herbs and alfalfa, making it a great source of omega 3s (especial alpha-linolenic acid) and is also rich in iron, zinc, selenium, vitamin B-12 and niacin. If you want to try cuts other than lamb loin, every choice (which the exception of ground) is classified as "Lean" or "Extra Lean" by the USDA. Get more lamb nutrition information here.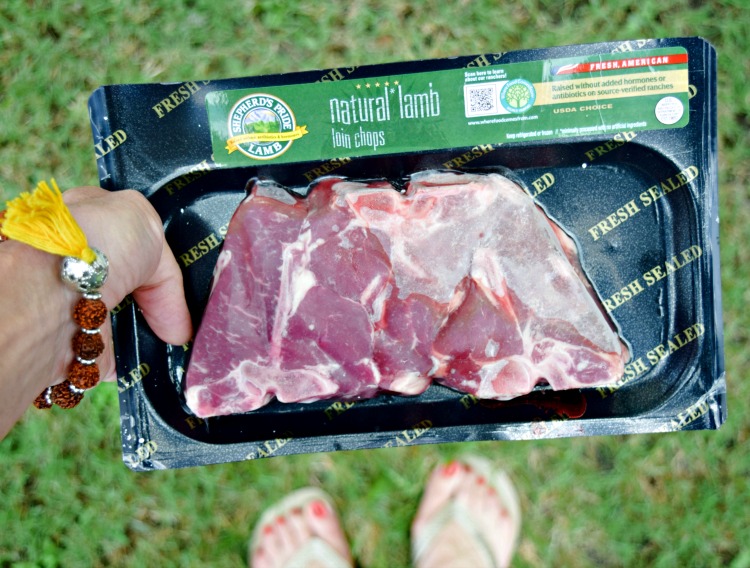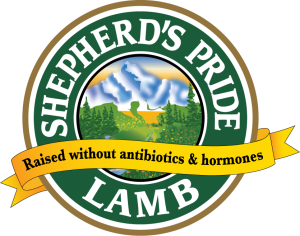 Because I love feeling connected directly to the ranchers, I will keep getting my lamb from Mountain States. Mountain States (sold as the brands "Shepherd's Pride" or "Cedar Springs American") is a co-op owned by more than 150 hardworking families across the US who have been ranching for generations. These Shepherd's Pride ranchers are committed to producing a clean, complete protein given no hormones or antibiotics, raised just the way nature intended. Additionally, it is the only lamb that carries the third-party Where Food Comes From ® source-verified label.  This means, with a scan of the label, I know exactly where my food comes from, where it was raised, and who handled it. Now THAT is some detailed data that will satisfy even the cleanest of clean eaters! Wondering where to buy lamb from Mountain States? When I used their Store Locator, I discovered (yay) my neighborhood H.E.B. grocery store carries it – or, you can ask your butcher!
For additional details on cooking and food safety information regarding lamb, please visit MountainStatesRosen.com.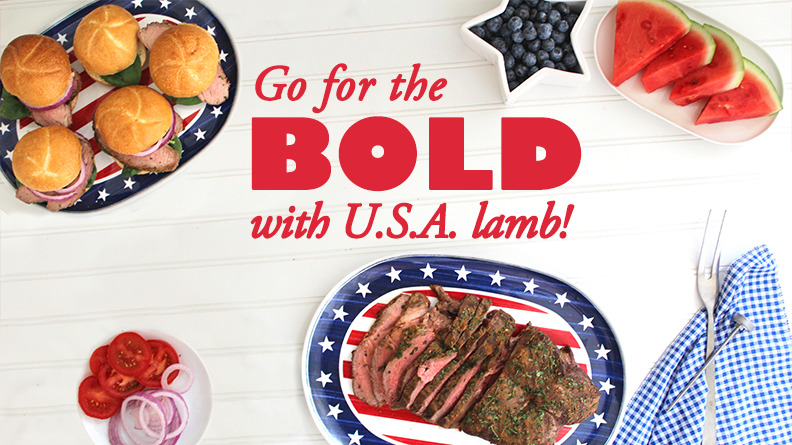 Check out this sweepstakes and enter for a chance to win US lamb and a patriotic dinner wear set perfect for your Labor Day party! #GoForTheBOLD
When is the last time you've tried lamb? Do you grill year-round? Any exciting Labor Day plans? Please share in the comments below! XOXO, Jennifer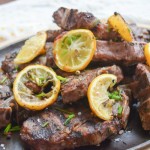 1 tablespoon minced garlic 1 cup packed baby spinach leaves ½ teaspoon white pepper ½ teaspoon salt
Servings

Prep Time

4

Servings

40

minutes
Servings

Prep Time

4

Servings

40

minutes
1 tablespoon minced garlic 1 cup packed baby spinach leaves ½ teaspoon white pepper ½ teaspoon salt

Servings

Prep Time

4

Servings

40

minutes

Servings

Prep Time

4

Servings

40

minutes
Add lamb chops, oil, lemon juice, lemon zest, garlic, herbs, salt and pepper to heavy-duty plastic zip-top bag. Move the chops around in the bag until well-coated with marinade. Marinate for 1 hour to overnight in the refrigerator, no longer than 12 hours.

After marinating, remove chops from marinade and discard remaining liquid. Season to preference with salt and pepper.

Heat gas or charcoal grill to approximately 400F degrees. Grill chops with the lid up, flipping once, for 3 to 4 minutes per side or until internal temperature reaches 145 degrees (medium-rare).

While lamb is grilling, also grill lemons for several minutes per side, or until beginning to lightly char. Transfer chops and lemon slice to platter and rest for at least three minutes before serving or slicing.

While lamb is resting, place all ingredients for gremolata in food processor or blender and pulse until partially smooth but with small spinach pieces.

Serve chops with a grilled lemon sauce and drizzle of gremolata.