If you're anything like me, I bet you're a runner, a weightlifter, an obstacle course racer or some other type athlete who thrives on a tough sweat session but not so much the attention to mobility and cooling down that should follow. Over the last two years, I've come to realize that yoga is a fantastic and fun way to stretch out, unwind and realign the body after working out. Plus, it can be done at home in 15 minutes or less – meaning, "I have no time for that," is a pretty lame excuse!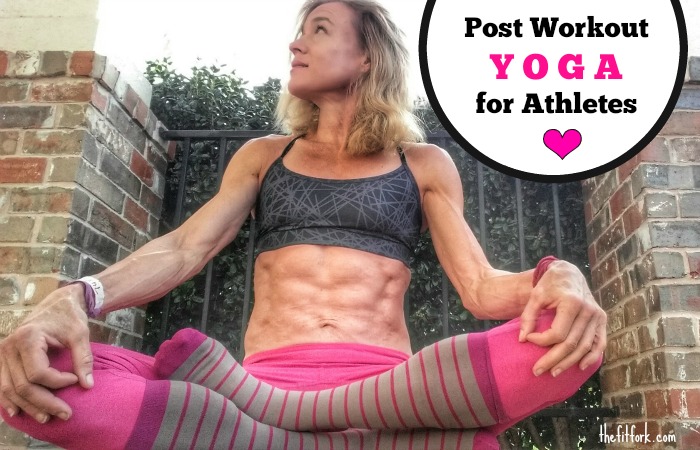 Forget the hassle of heading to a yoga class after the last mile has been run or burpee been thrown down, Grokker, an online resource of home workout videos, has a relaxing post-workout yoga practice for athletes that really works to help ease muscles and the nervous system into cool down mode immediately following a high-intensity exercise event. Actually, Grokker has 1,500+ fitness videos for to choose from, I just thought you'd like to get a taste of this one I keep putting in my queue – Post Workout Yoga for Athletes.

What I like about this athlete-centric practice is that it gently stretches and opens the body to optimize the workout I just finished. Each pose helps my taxed muscle tissue start to repair while I'm still warm and grounds my energy after being in "beast mode" for a couple hours. Because runners, weightlifters and other athletes tend to have tighter muscles than uber-bendy yogis, I appreciate how this video provides simple modifications so that I can attempt each pose without getting injured.
Plus, did I mention how easy it is to do a Grokker yoga workout at home?! Just log in, search the library and hit the play button – or schedule a reminder for a later date and time!  Somedays, I barely have time to fit in a quick run, let alone finding time to drive to a yoga class in crazy Austin traffic. There's no denying the social benefits of exercising in a gym or group fitness class, but often – very often – that is not convenient, or even possible. Grokker video workouts have been a solid addition to my widely varied fitness toolbox – there are all types of workouts and even healthy cooking episodes to suit my current interests and abilities.  
Here are some other reasons to check out Grokker (in addition to receiving a 14-day free trial and 40 percent discount).
Variety: A library full of 1,500+ premium video classes in popular genres like yoga, fitness, meditation and healthy cooking. Videos last 10 minutes to 1+ hours and are available in beginner to advance fitness levels – you will never get bored!
Quality: Grokker's videos, made in-house, are beautiful and inspiring to watch – the expert fitness instructors also know what they're talking about and will wisely teach and lead you through all the steps.
Community: You can contact your fitness instructor to have questions answered and also connect with thousands of like-minded fitness enthusiasts from around the world. You'll also find all the latest health and fitness tips at Grokker – they keep you in the know and motivated!   
Convenient: Workout as YOUR schedule permits, where, whenever and as much as you want. The Premium videos can be accessed on any device including laptop, tablet and phone.
Remember, for a limited time, you can get a 14-day free trial and 40 percent discount on premium memberships, so check Grokker out STAT! 
What is your favorite post-workout stretch or yoga pose?  Have you ever followed along with a video class?  Please share in the comments below – XOXO, Jennifer
This post is sponsored by FitFluential on behalf of Grokker.