Fruit for dessert or a sweet side dish, nom-nom-nom! I've been on a poached pear kick and before that it was figs. This summer my fruit fetish was focused on the fuzzy, ripe peach. The nearby (Fredericksburg, Tx) peach orchards are famous and I actually still have a huge haul of peaches that I prepared for the freezer. I pull out a few of those peaches when I need a little taste of sunshine summer in the middle of winter.
Citrus is another favorite fruit of mine and its peak season is winter! Oranges, tangerines, grapefruits and more – I had all of these citrus fruits in my backyard growing up. I wish I would have taken better advantage of the bounty!  A mixed citrus salad is one of my favorite sweet side dishes; I could eat it every day. Check out the healthy dessert recipe I recently whipped up. It may sound like a strange combination of ingredients but, trust me, it's insanely good – Broiled Grapefruit with Feta & Balsamic Reduction .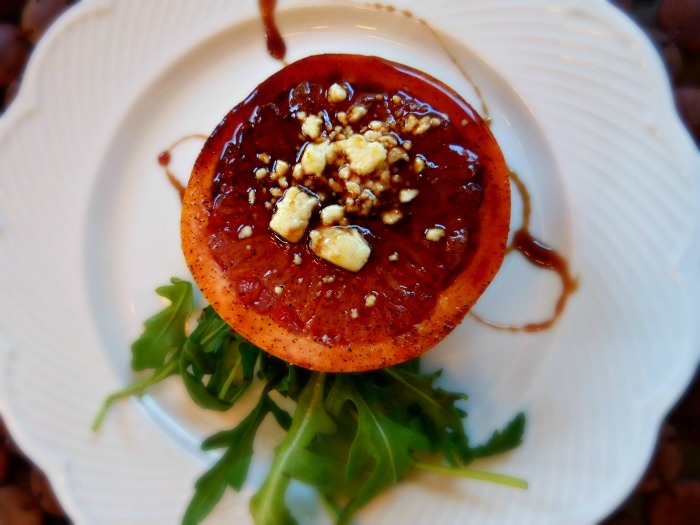 Broiled Grapefruit with Feta & Balsamic Reduction Recipe
2 large Ruby Red grapefruit
¼ teaspoon salt
¼ teaspoon ground cayenne pepper
2 teaspoons coconut sugar
1 tablespoon crumbled feta cheese
1 tablespoon balsamic reduction (store bought or homemade)
Directions:
Preheat broiler on high.
Slice grapefruit in half crosswise. To prevent wobbling in the pan, slice a small amount of peel off the bottom of each half, taking care not to cut up into the flesh.
Use a paring knife to cut around segment edges for easier eating when done.
Sprinkle tops of grapefruit with even mixtures of the salt, pepper, brown sugar and feta cheese.
Place 4-inches under broiler; broil for approximately 3 – 5 minutes until tops are beginning to caramelize and feta is slightly melting.
Remove from broiler and drizzle with balsamic reduction.
Serves 4.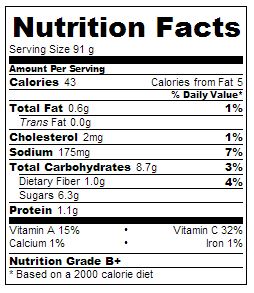 I ran the nutrition on this healthy dessert recipe – I'll think you'll love that it only has 43 calories per servings (!) and is packed with nutrients.
There are many other reasons to sing the praises of citrus. I know that the abundant vitamin C and other nutrients in citrus fruits are beneficial to my well-being. Vitamin C has been shown to offer protection against immune system deficiencies, cardiovascular disease, prenatal health problems, eye disease, and even skin wrinkling.
There's not much that sours my mood more than buying fruit that isn't ripe. Thankfully, it's pretty easy to pick out ripe citrus fruit. Look for fruit that are firm and heavy for their size, with bright, colorful skin. You can store citrus at room temperature for several days; beyond this, keep in the crisper drawer of your refrigerator.  Throw a few oranges or tangerines in your gym bag, they don't need to be chilled, come in their own wrappers and will give you energy before or after your workout.
Go eat your citrus, people!