Don't you just love nectarines?!  The sweet juicy goodness of this stone fruit is at a peak in the summer season — so I've celebrating with lots and lots of nectarine recipes. Nectarines salads, nectarine smoothies, nectarine salsa — you get the idea!
Yesterday, I confirmed a hunch that nectarines would go together awesomely with bacon and blue cheese – duh! What doesn't go with bacon and blue cheese?! In order to get straight to the good stuff, let me present Caramelized Nectarines with Bacon & Blue Cheese:
Surprisingly, this decadent sounding summer fruit recipe isn't all that much of a healthy diet bomb. Fist, you get all the luscious nutrients found in a nectarine like fiber, potassium and quick-sourced quality carbs to provide energy for workouts and life. Plus, the color of nectarines is a dead giveaway that they are loaded with Vitamin A and the antioxidant Beta Carotene.
Less than 125 calories (without the ice cream)! Get the full macros here.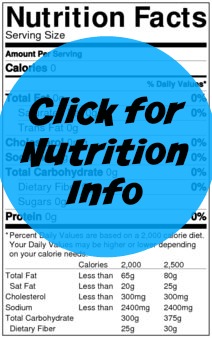 Also, check out more Nectarine Recipes like my TDF Blackberry Nectarine Margarita (and virgin smoothie option).  Head here for the recipes