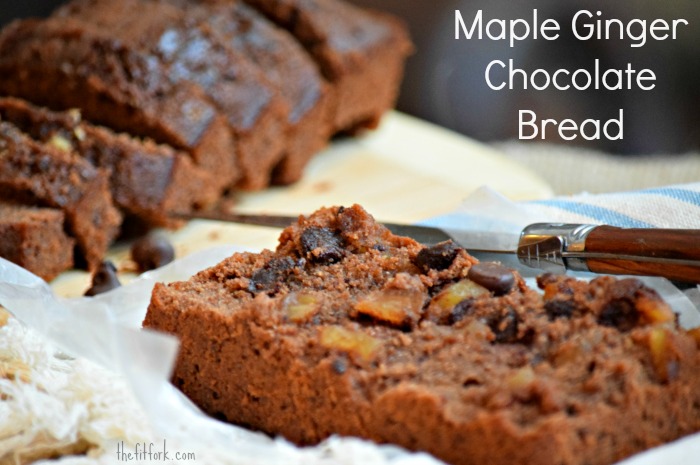 Whew, things have slowed down enough that I can share with you the great experience I had at Prevention's R3 Summit. Happy to say that I "R3'd" the day away – relaxing, refreshing and reinventing!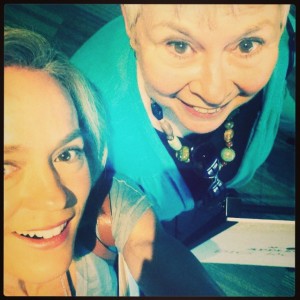 Some of the highlights for me were getting to spend some quality time with my mom – even though she lives in Austin, most of the time we're together it's with all my kids in tow. We enjoyed ourselves at the reception Friday night (I actually drank an entire glass of wine, so it we're talking wild times) and caught the screening of Resistance, a documentary about antibiotic resistance being perpetuated the medical and agricultural industries.
Saturday we spent the entire day listening to panels on topics like eating clean, loving your age, and more – Andie MacDowell was the featured speaker and she seemed just as lovely on the inside as out. Prior to the event, I was able to "ask" her a question about getting older and it was published in an article on Prevention.com . In that interview and in-person, she mentioned that she likes to do handstands and cartwheels – a lady after my own heart.  I would like to challenge her in a handstand-off!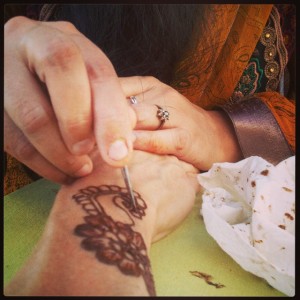 Between speakers, Mom and I got our chakra cleared, had our stress reduced with Reiki healing and took part in a few fun workouts. Again, this year, one of my favorite appointments was with the henna artist who painted me up with a beautiful tattoo – I was sad to see if fade away a couple weeks later.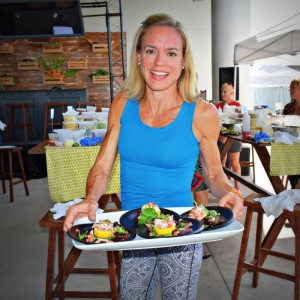 Of course there was food – healthy, healing, good-for-you food. Quinoa salad, yogurt and fruit, almonds, green teas and – fish! One of the companies on site was Wild Planet Foods – they sell sustainably caught seafood (think canned tuna, sardines, anchovies – but YUMMY!) while supporting the conservation of wild marine ecosystems.  They were sponsoring a Food Network-style "Chopped" competition using their canned tuna — oh, you know I was SO up for this. Ten of us battled it off to come up with a tuna recipe using a provided array of ingredients – in 10 MINUTES from start to finish.  In my mind, I hatched my recipe, execution and plating strategy before we even started (that's the competitor in me) – my finished product was Tuna & Quinoa Salad with Creamy Lemon Gremolata Dressing . . . . served in scooped out lemons. I must say, it was lovely. When I have time to sit down and recollect my thoughts, I'll be sure to share the recipe!
So, SAVE THE DATE – I don't know exactly when, but I imagine the 3rd annual R3 Summit will be in October 2015 in Austin (editors told me they love, LOVE the health and fitness scene here).  Meanwhile, start reading Prevention Magazine – not just the website but a good old-fashioned paper version that is mailed straight to your house! I have conveniently provided you a link to subscribe here and at the bottom of this post. This month's issue was packed with good stuff – including a bunch of healthy chocolate recipes including this Maple Ginger Chocolate Bread (they called it cake, but I'm not going there) which I recreated with some minor tweaks for you!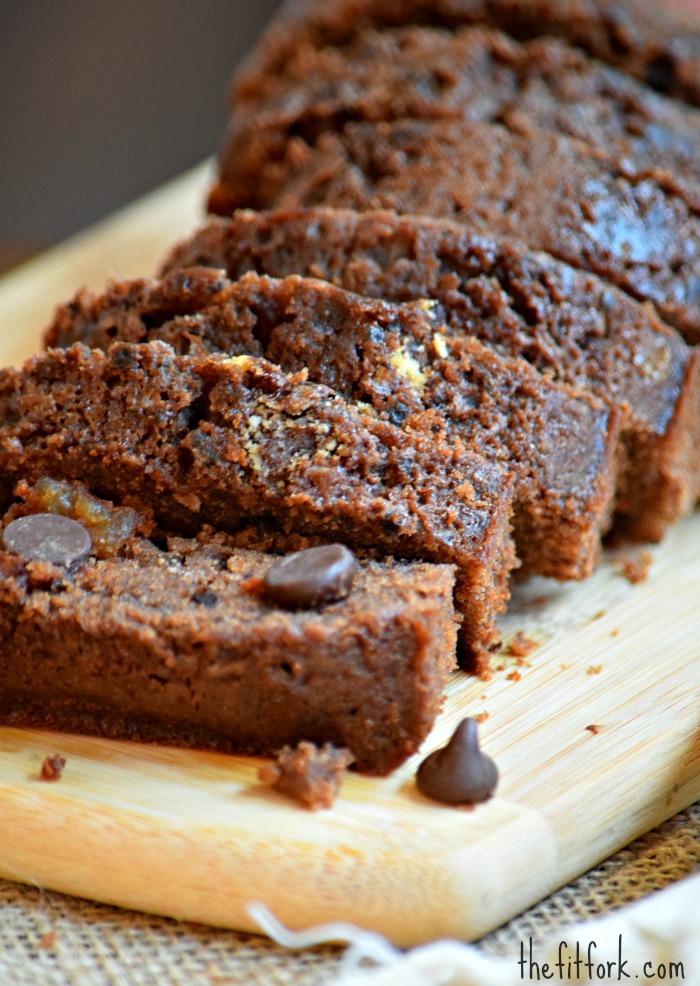 Maple Ginger Chocolate Bread Recipe
1 ½ cup flour
1 cup maple sugar (or regular sugar)
½ cup unsweetened cocoa powder
1 teaspoon baking powder
1 teaspoon ground ginger
3 large eggs, lightly beaten
¾ cup milk (or milk substitute)
2/3 cup olive oil
1 teaspoon vanilla extract
½ cup dark chocolate chips
½ cup crystalized ginger, chopped
Heat oven to 350 F degrees. Lightly coat three mini loaf pans with baking spray. Actually, I think lining the pans with parchment paper worked better.
In medium bowl, whisk together flour, sugar, cocoa powder, baking powder, and ginger.
In another bowl or large glass measuring cup, whisk together eggs, milk, olive oil and vanilla extract.
Pour wet ingredients into dry ingredients and mix together with spatula until just combined. Gently stir in chocolate chips and ginger pieces.
Bake on center rack for approximately 35 – 30 minutes, or until toothpick inserted into center pulls out clean.
Let cool for 10 minutes before removing from pan.
Prevention provided me free admission and products to attend this event. However, all opinions and commentary are strictly my own.