Oh, F word. And by "F word" I mean fat. Seventy two hours into my quest to eat 180 grams of healthy fat a day for 10 days is proving harder than I imagined. I'm doing this as a fat-loading phase of a marathon nutrition plan. I've had avocado, almonds and eggs.  I put real cream in my tea. I was thinking whole plain Greek yogurt would be yummy, but am finding it actually hard to find at the grocery store. Everything is marketed as fat-free, low-fat, reduced-fat or I-can't-believe-its-not-fat! I did find one large carton of yogurt that had nearly half its calories made from creamy goodness, but the expiration date was looming. Conspiracy!
I was planning a fabulous beef dinner crisped up in rendered fat, but keep forgetting to pull the roast out of the freezer. That will happen this weekend, but I still needed dinner inspiration for tonight. With salmon and bacon on hand, it didn't take long to realize that these two high-fat proteins would pair up like fine wine and Cheetos (really, try it). With salmon rich in heart-healthy polyunsaturated Omega-3 fatty acids and the bacon sputtering with a hefty dose of (one might argue) less-healthy saturated fats, it only took a mere bamboo skewer to bring together these two opposing forces of dietary fat. You can call the fat combo "naughty and nice" or you can call it "yin and yang," but why not just make this recipe for Bacon-wrapped Salmon Kebabs with Sriracha-Orange Glaze and call it a damn good thang?!  
Bacon-wrapped Salmon Kebabs with Sriracha-Orange Glaze Recipe
8 ounces wild-caught sockeye salmon, skin off
6 slices of hardwood smoked bacon
Zest from one orange
Juice from one orange
¼ cup tamari
1 tablespoon Sriracha sauce
¼ cup orange marmalade (all-fruit, no added sugar)
6 6-inch bamboo skewers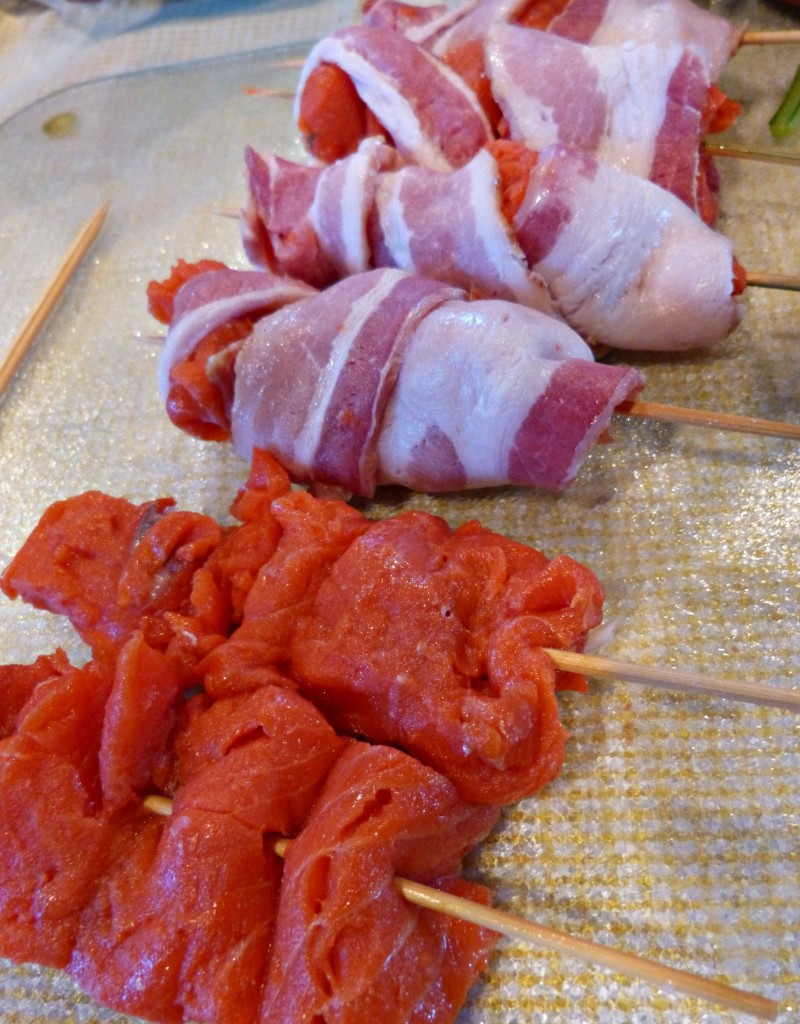 1) Soak bamboo skewers in water for at least 10 minutes to prevent burning.Cut salmon into 6 equal-sized strips. Thread onto skewers. Wrap skewered salmon with one slice of bacon.
2) Heat grill pan to medium-high heat. Pan grill kebabs for approximately 4 minutes on each side (including sides), for a total of approximately 16 minutes or until bacon is crisped and salmon cooked through.
3) While kebabs are grilling, prepare glaze by adding juice, tamari, Sriracha and marmalade into a small microwave-safe bowl.  Microwave on high for approximately 1 minute, stirring once, or until heated through.
4) Remove kebabs from heat and brush with glaze. Sprinkle with orange zest. Use any remaining glaze on the greens, noodles, rice or whatever you are serving*
Serves 2.
I served these Bacon-wrapped Salmon Kebabs with a version of my Kicked-up Orange Cashew Kale. Heck yeah, the cashews add a little extra crunch and healthy fat. Instead of kale, I used a 10-ounce bag of mixed greens (turnip, collard and mustard). By the time it cooks down, that big bag (which isn't all yet in the pan above) serves just the two of us. Convenient because I still  can't get my kids to eat cooked greens; pretty sure I wouldn't as a teenager either.