The Events: To the best of my memory, I raced eight 5ks, one 5-miler, one 10k, four half marathons, one marathon and two obstacle course Spartan Races (the Sprint and Beast).   I also competed in the CrossFit Games Open, Austin Fittest Challenge, the Zilker Relays and a CrossFit event called "Sprint & Snatch."   Loved them all!
Most Unexpected Race Win:  In October, I was the first OVERALL winner of the Hill Country Half Marathon in Marble Falls, Texas. Granted, the field wasn't Rock 'n Roll marathon kind of huge, but that being said, I beat all the women and the MEN with my scrawny legs — the hills were some of the worst I've ever seen (not kidding, one went upward for at least half a mile).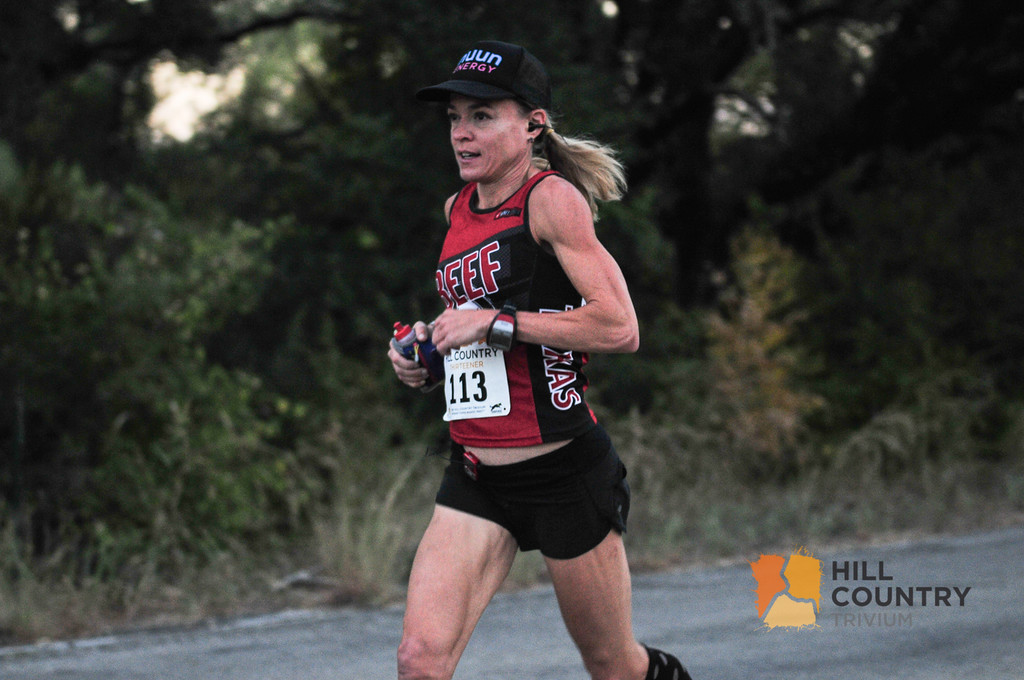 Craziest Conditions in a Race: The Spartan Beast Dallas was not what I was planning for, it was crazy! With a half marathon being in my wheelhouse, I expected to nail this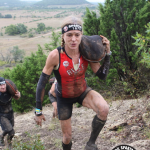 race — but unforeseen Texas flooding delayed the start for hours and created a running situation in ankle deep mud the entire distance. I was sore the next day in some pretty weird places!  Although hoping to do better, I managed to pull off a 2nd place podium finish in the Elite Master division (and it was only my 2nd Spartan, and first "beast").
Most Unusual Prize Won in a 2015 Race: A $250 gift card for a tattoo! I am no saying if, when and where I used it! 🙂
Best Pre and Post Race Festivities at a Race:  Hosted by Health and Cooking Light magazines, The Fit Foodie Run in Austin (but also in Fairfax, Chicago and San Diego) proves that a healthy lifestyle can mesh with culinary enthusiasm!  The weekend is packed with celebrity chef tasting, food and fitness interactive demos, yoga sessions, and yoga boot camps – there is so much food! Plus, the goodies and samples you get to take home from the after run are some serious healthy nom-noms – bring a big bag!
Best Running & Fitness Moments on Instagram: Of course, I blew up my @thefitfork profile with photos of my favorite yoga poses and running with friends!
Favorite Women-centric Race: I've been an ambassador for Zooma Race Series for 4 or 5 years now and have run that hilly Austin-area half marathon and said – "never again" at the finish line. But, after I catch my breath a few minutes later, I'm like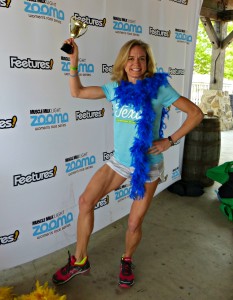 "awesome, that was the best race ever despite the course challenges." The Austin race is now defunct, but the other fabulous locations across the country beckon for a mini-vacation! Created and run by women, this race focuses on females supporting each other, no matter age, ability or life situation – and the weekends make great girlfriend getaways!  My mom and I have made a tradition of it! Even though I've been in a role to mentor and support the runners, I can't tell you how much more energy and inspiration I've received from them – always so happy to see those smiles and high-fives at the half-marathon turnaround.
Favorite Yoga Pose:  Always the Crow or some variation! Hopefully this time next year, my hamstrings and back will be more bendy and stretchy so my Instagram profile can be more well-rounded!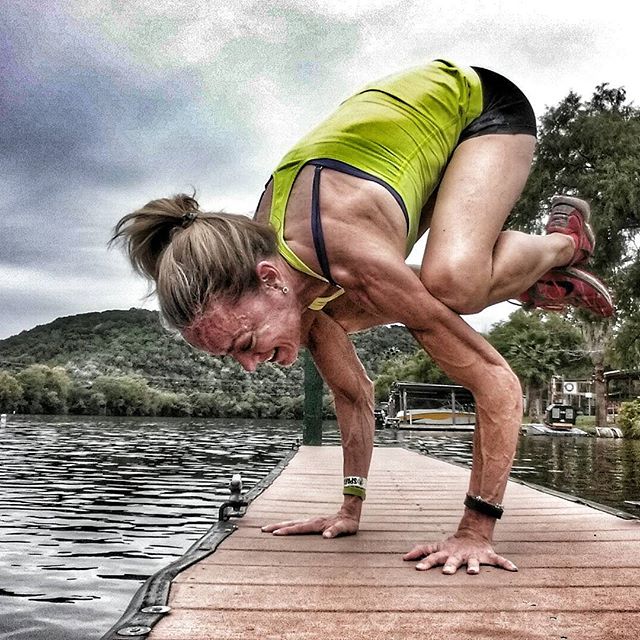 Running / Workout Injuries: Thankfully, nothing serious this year – eg. no stitches, concussions or pulled rib muscles like last year! Only falling off a box doing the Murph CrossFit WOD and spraining ankle, numerous palm tears, one lost toenail . . . looking for some wood to knock on!   Despite the healthy year for me, I did write a helpful post on 4 Ways Sports Injuries Build Better Athletes that will keep all of us focused on end goals.
Weirdest Workout Moment: It would have to be working out with watermelons for the second summer in a row on my #LivingOnTheWedge blog series!  I CrossFitted with watermelon, ran with watermelon, and even worked out in the swimming pool with a watermelon! Oh, you don't want to miss that watermelon pool workout video – please make sure you are wearing Depends. On behalf of the National Watermelon Promotion Board, I will be taking the show on the road at IDEA World Fitness & Nutrition Expo in L.A. in July 2016.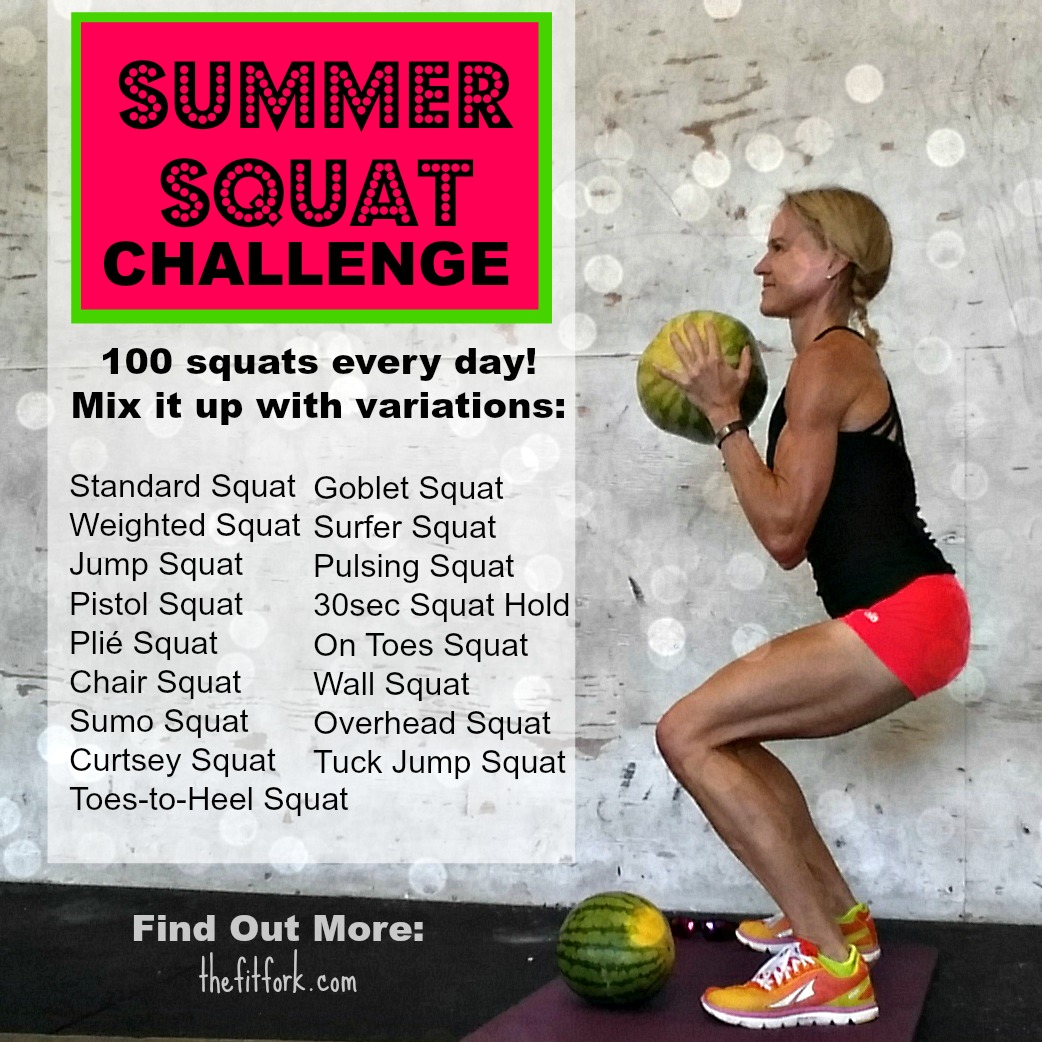 Best Blooper(s):  Oh, there are a lot of bloopers and outakes, my phone is filled with them!  Practicing on the parallettes is cause for crashing on my face or rear, but still it's fun.  There are also some awkward moments coming out of a handstand in a walkover when my old back decides "no" midway through! 
More Bloopers: Because research shows you live longer if you laugh.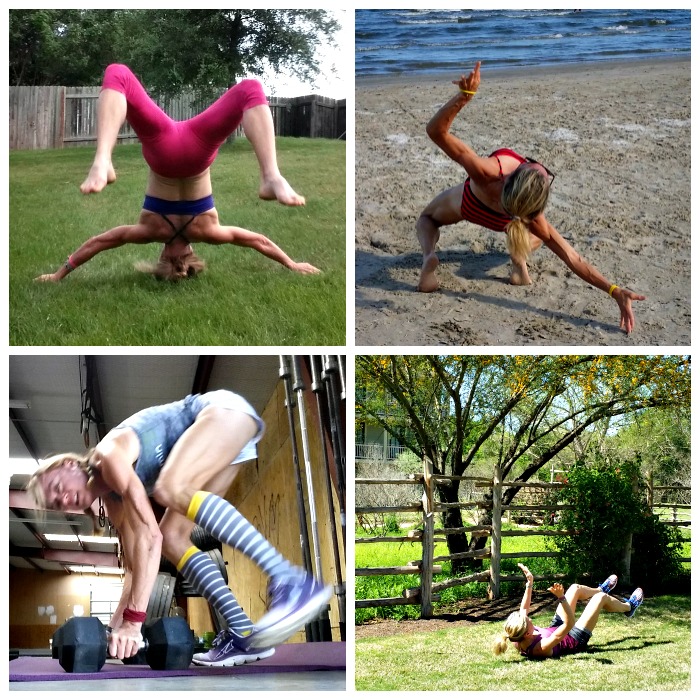 Favorite Running and Workout Gear / Fuel:  Vim & Vigr Compression Socks (super functional , fashionable and fun  in a variety of stripes, polka dots and fun patterns), Altra Running Shoes (I love the super lightweight, zero-drop "The Ones" ) and Nuun for my hydration needs  — I'm digging their  fairly new product called PLUS for Nunn. Unlike regular Nuun that is virtually calorie free (there are a few, but under 10), PLUS provides a boost with fast absorbing performance carbohydrates that keep me hydrated and provide quickly sourced energy for demanding endurance events.  Also, I still love my bottle of Core Power High Protein Shake in Chocolate Lite Flavor for 20g of quality protein to help my muscles recover right after a long run or intense workout.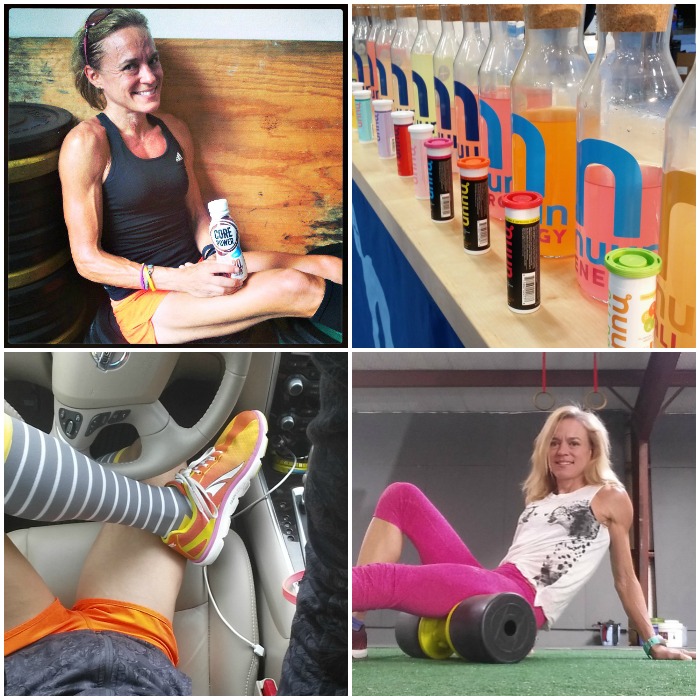 I'm also really appreciating mobility gear from ACUMOBILITY – a great company that I connected with this year at The Running Event that not only makes rollers and other mobility products, but also assesses, corrects and unifies movement to reduce injuries and unlock improved performance.   Stay tuned because I will be having an awesome giveaway at the beginning of January! And, for "on the go" rolling, I really love The Original Worm (based right here in Austin).
Most Used Mantra: When times get tough in a race, I break out the "If you can take it, you can make it" line from Unbroken. Or, when I try to get too controlling about stuff  –  "Where are you?  Here. What time is it? Now. What are you? This moment." – from Dan Millman's book , "The Way of the Peaceable Warrior"  Both books are so inspirational — read them!
'
Favorite Kettle Bell Workout: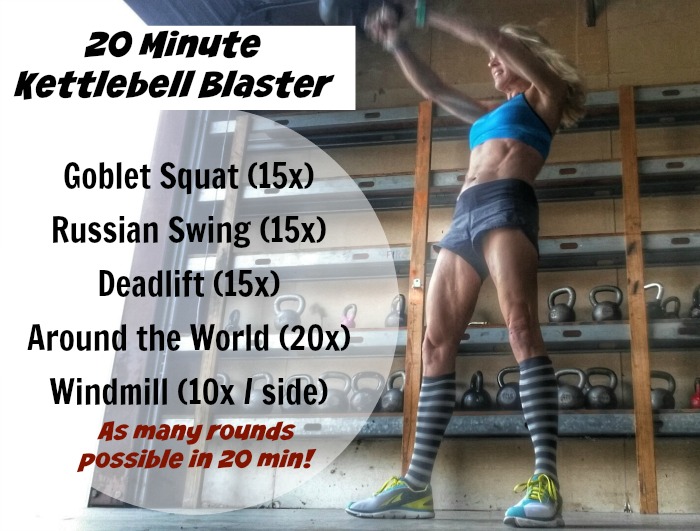 My Best Way to Stay Motivated: When I start to feel burned out, I take an active fun day! And, always more crazy with my friend Valerie (by the way, she's an internationally known running coach, not kidding — check her out at @runrx ) 
What are your fitness favorites from 2015?! Please share in the comments below — XOXO, Jennifer