As the holidays approach, I think fondly of all those who are near and dear – and also my loved ones further away. And, of course, the readers of my blog and friends and supporters on social media are on my mind and heart, what would I do without you all! I just want to let you know that it would be the total PITS without you . . .  OLIVE YOU! Because OLIVE YOU so much (bear with the puns please), I'm sharing some of my favorite ways to use olives in holiday recipes.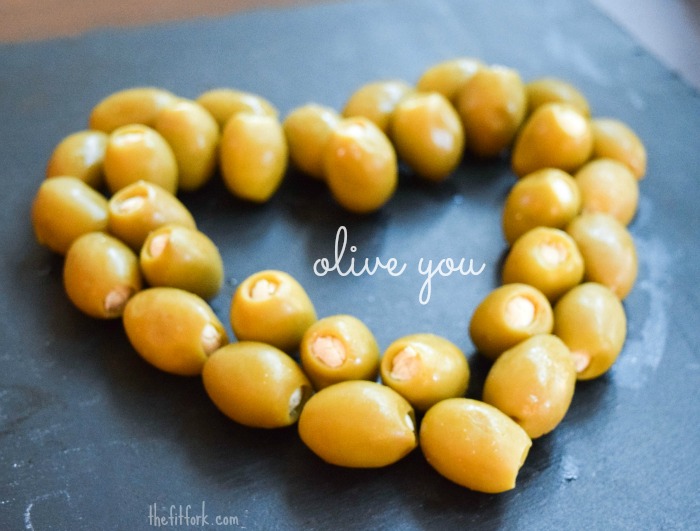 First, it's cocktail hour. Might I suggest skewering up a salty olive to complement a sweet drink – you'd be surprised at how well the combination goes. Because I fall on my face easily enough sober, I typically limit myself to ½ a drink. With just one "mini" drink, I can still wake up refreshed for the fiercest workouts and morning to-do lists, but can still enjoy a little taste of fa-la-la libations.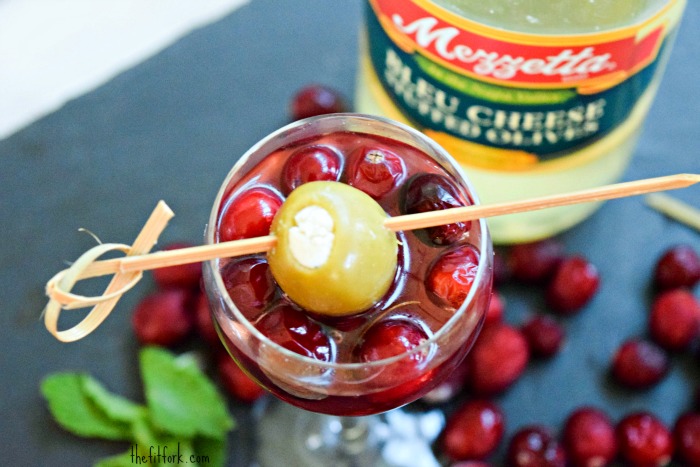 Here, I've added a Mezzetta Olive to a Mini Cranberry Martini – it's a tablespoon each of vodka and cranberry juice along with a splash of lime juice – and cranberries for garnish.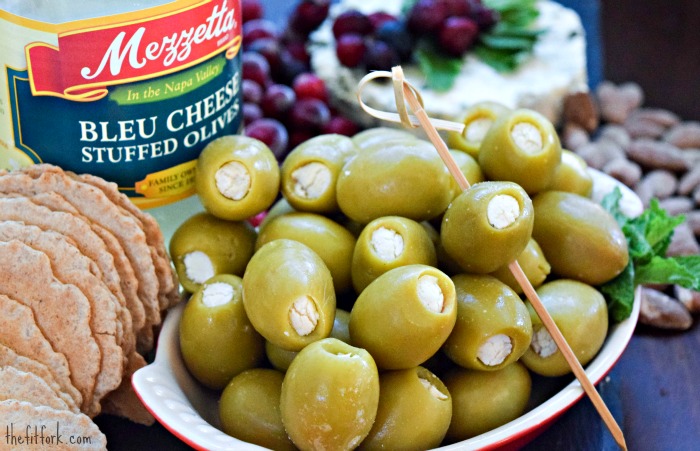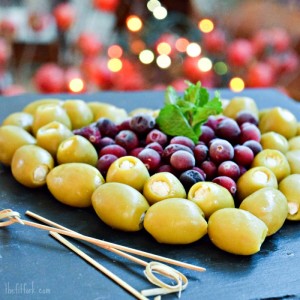 No cocktail party would be complete without an olive tray and cheese board filled with delicious noshes –  olives, aged cheeses, seasonal fruit, artisan crackers and an array of almonds. It's simple yet sophisticated as a focal "snack" for your festivities and also makes a lovely prelude to any holiday meal and creates an abundance of Mezzetta Memories.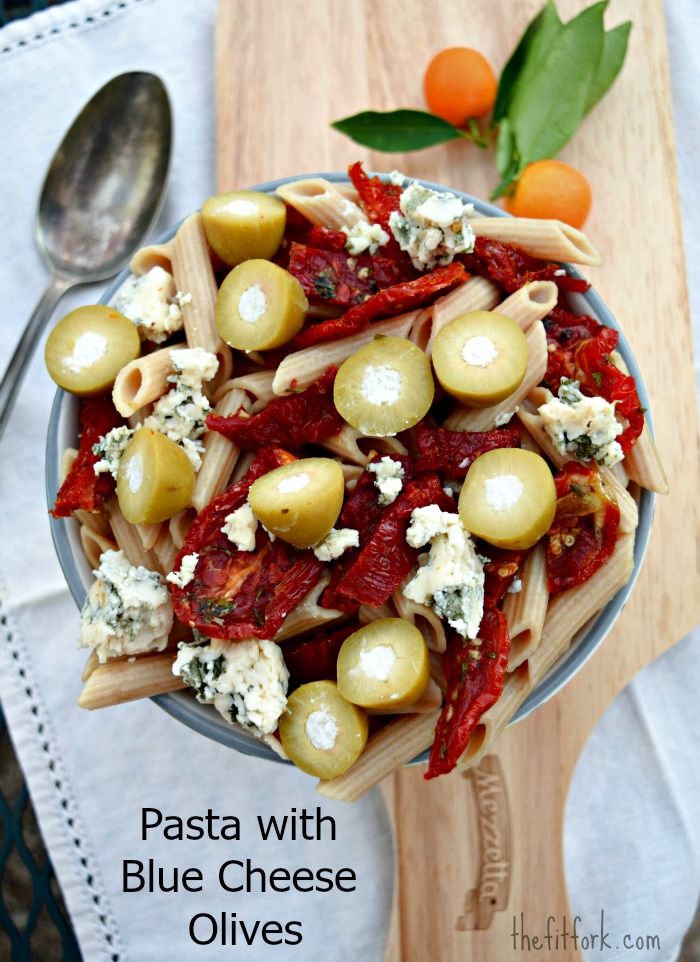 Speaking of holiday meals, think of all those busy-night dinners leading up to and after the BIG DAY where a huge roast or bird isn't on the menu – yet you have a house full of folks who have worked up quite the appetite shopping, wrapping, visiting, caroling, baking or being on hall-decking detail. My recipe for Pasta with Blue Cheese Olives is the easiest, most amazing holiday meal that comes together practically in the wink of an eye – or as long as it takes to cook pasta al dente. If you're making it after Hanukah, Christmas, Kwanza or whatever your holiday celebration may be, feel free to toss in any leftover main course protein such as beef tenderloin, pork roast or turkey breast!
Pasta with Blue Cheese Olives Recipe
8 ounces uncoooked whole grain pasta
3 tablespoons extra virgin olive oil
4 cloves crushed garlic
1/2 teaspoon red pepper flakes
1/2 cup sun dried tomatoes, coarsely chopped
1 cup Mezzetta Blue Cheese Stuffed Olives, halved crosswise
1/2 cup crumbled blue cheese
12 ounces pre-cooked protein leftovers, like chicken, turkey, roast beef
Cook pasta according to package instructions. Drain and set aside.
Heat up olive oil in large skillet and saute garlic and red pepper flakes for approximately 1 to 2 minutes.
Add olives and tomatoes and cook for another 2 minutes until warmed.
Toss with noodles optional protein leftovers (warmed) and a little extra olive oil, if needed. Season with salt to taste. Stir in blue cheese while still warm.
Serves 4.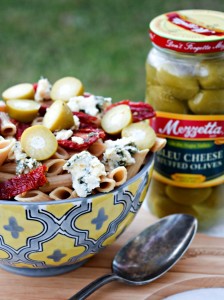 Being able to make a speedy yet special recipe like Pasta with Blue Cheese Olives which uses extraordinary ingredients I wouldn't necessarily use every day (including gourmet olives, bold blue cheese and sun-dried tomatoes) frees up my time to make more meaningful Christmas memories with family and friends that will last a lifetime. Plus, I appreciate the fact that Mezzetta, a fourth generation family-owned company, also values holiday tradition, family and providing the highest quality olives available from the sun-drenched soils of California, Italy, Spain, France, and Greece. I like to keep quite a few varieties of Mezzetta olives stocked in my pantry for impromptu salads, pizzas, pastas, snacks and more — inspiration is just a twist away!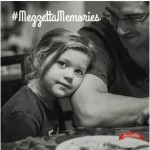 Please visit Mezzetta to find daily inspiration and enter the Holiday Memories Sweepstakes for a chance to win the holiday memories sharing pack. One winner will receive an Instant Print Digital Camera plus an Ultimate Olive Lover's Gift Basket and ten others will receive the Ultimate Olive Lover's Gift Basket – I have one, it's fabulous! Expires Dec. 31, 2015 – enter here.
What are your favorite holiday memories that involve gathering friends and family around good food? Please share in the comments below – XOXO, Jennifer