Do you ever look around after preparing a meal and feel like you've dirtied up EVERY pot, pan and bowl in your collection? No one ever seems to honor the "I cooked so you clean" rule on those nights when I create a bit too much chaos in the kitchen!  But, wait until you see this delicious recipe I created for the Litehouse Foods blog —  One-Pot Cream Balsamic Chicken and Couscous!  It's truly a busy-night blessing, only ONE dish and a couple utensils to clean up . . . and did I mention tasty?
This one-pot recipe is a well-balanced, nutritious meal inspired by Mediterranean cuisine, so pour yourself a glass of red wine if you must!  Featuring colorful red tomatoes (I love the little Cherubs) and yellow peppers, everyone's favorite chicken breasts, whole wheat couscous, creamy balsamic sauce and a finishing crunch or garlicky croutons, I seriously doubt you'll have any leftovers to scrape out of that one single pot!!
Please head over to Living Lighthouse to grab this recipe for One-Pot Creamy Balsamic Chicken and Couscous!
So, what's for dessert? I love having "dressed up" fruit for dessert like my Salted Honey and Ginger Broiled Grapefruit or Watermelon with Fruit Salsa. But if you're looking for a quick and healthy dessert that won't dirty up any dishes in the making, how about just sticking some dark chocolate chips into raspberries and eating right out of the carton!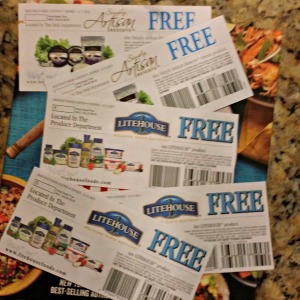 To encourage you to make some of these yummy recipes, I'm giving away five (5) coupons for Litehouse Food's Products (they expire on 12/31/15).  Litehouse Foods makes all sorts of fresh products like traditional salad dressings and vinaigrettes; Greek yogurt based dressings and dips; caramels and sweet dips, freeze-dried herbs; artisanal cheeses and more. You can find most of these products in the refrigerated section of your market's fresh produce section and gourmet cheese area. Two of the coupons are specifically designated for the Artisan Reserve Cheeses including gorgonzola, blue cheese and feta.
a Rafflecopter giveaway