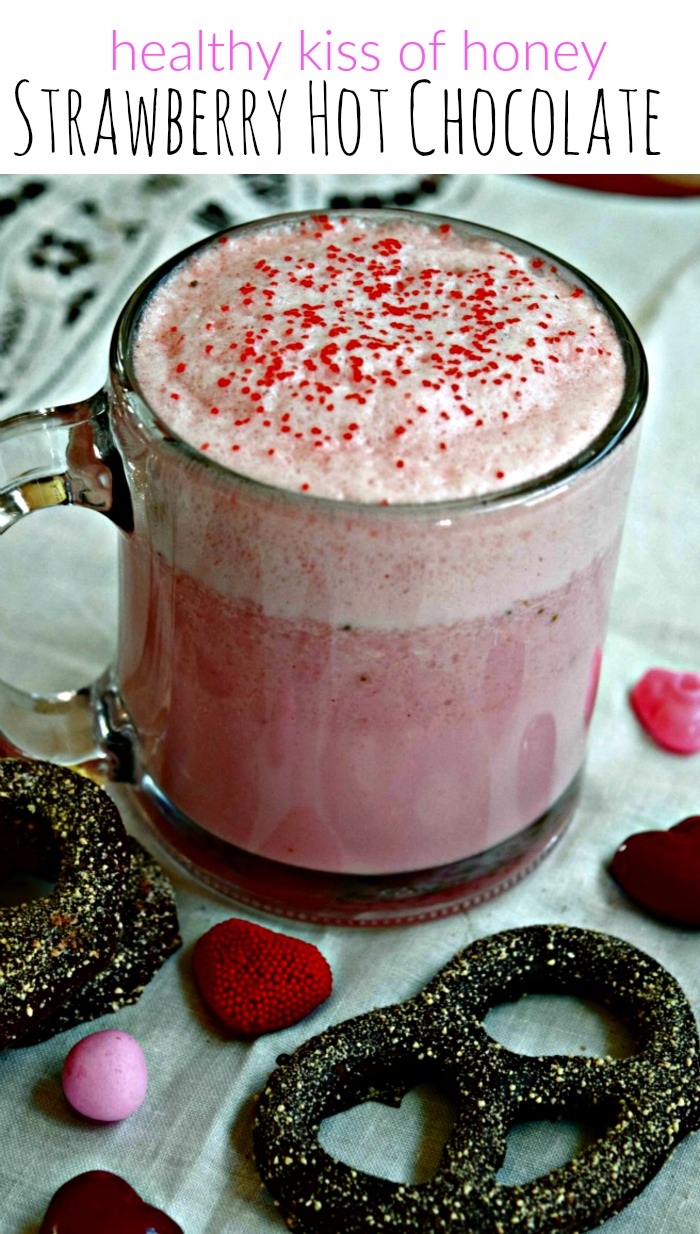 This Valentine's Day, treat your sweetie to my Kiss of Honey Strawberry Hot Chocolate – it's a mug of hot, steamy love. There is no better way to warm up on February 14th, with the exception of a great big hug from your honey. Homemade from the heart, your favorite guy or girl will be tickled pink to sip away at this berry blissful beverage – and you'll fall in love with how simple it is to make. Read to the bottom for giveaway.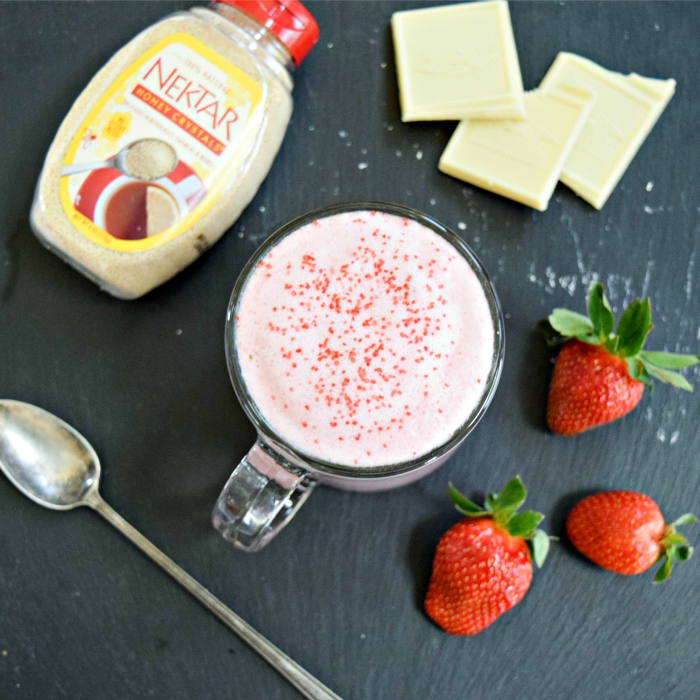 Oh, and something else to adore – instead of fake flavorings, peculiar preservatives and corn syrup sweeteners found in many hot chocolate mixes, this made-from-scratch recipe uses fat-free milk (for the best frothing!), real strawberries and just a touch of added sweetness from Nektar Honey Crystals.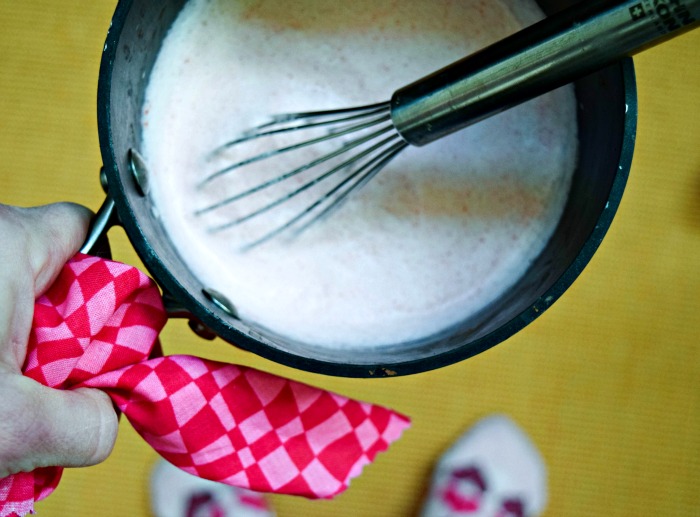 Can you believe this recipe makes it's own whipped cream?! Well, not really cream, but the air that gets whipped up while blending makes a nice creamy top that is dense enough to hold sprinkles or colored sugar! I don't really know the science behind it, but fat-free milk works the best for creating foam in the blender or with a frother. If you don't do dairy, you can swap out for almond, coconut or cashew milk and still end up with a delicious drink.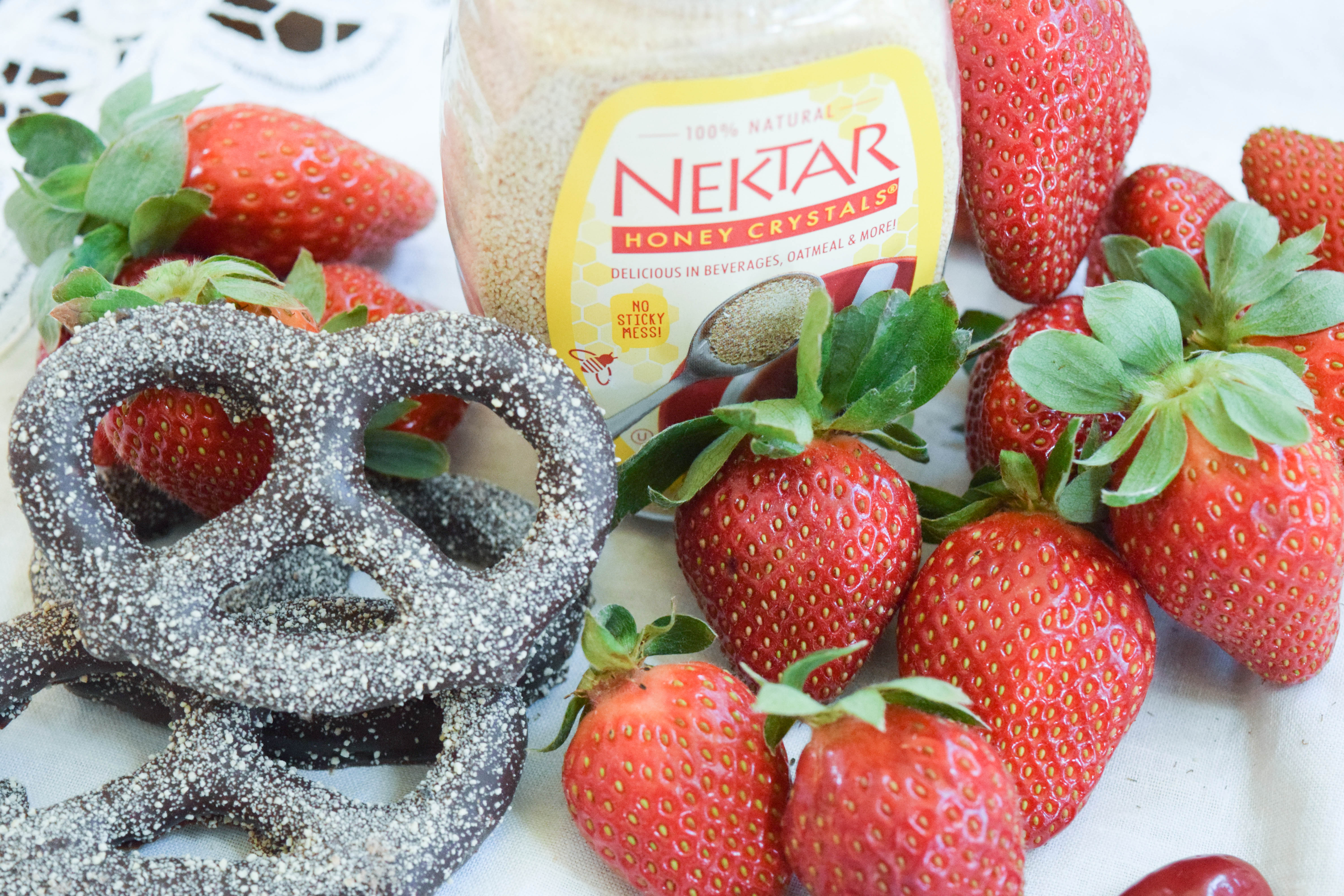 Since this recipe isn't over-the-top sugary sweet, indulge your loved one with the perfect pairing – Dark Chocolate Covered & Nektar Honey-Crystal Dusted Pretzels. Ahh, strawberry hot chocolate and dark chocolate pretzels ARE a delicious duo, trust me!

And, it's always tasteful to express your sentiments with food, words are also nice! Send a FREE "HoneyGram" to your sweetie – along with your personalized note comes with a complementary packet of Nektar Honey Crystals to melt your loved one's heart. Go HERE to send a HoneyGram – hurry, ends 2/7!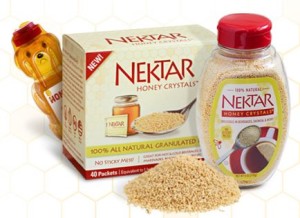 I first discovered Nektar Honey Crystals when looking for a way to pre-sweeten the homemade holiday tea bags I was gifting family and friends  – you must check out my DIY Tea Bag post, it's genius. You also need to check out Nektar Honey Crystals, an equally clever and convenient idea Forget about the sticky mess usually associated with honey, these 100 percent natural crystals are super yummy sweet and deliver the familiar flavor of honey and the convenience of cane sugar anywhere — at home or on-the-go. They are non-GMO and naturally gluten free – pick up a bottle of spoonable crystals or a box of individual on-the-go packets at your local Walmart and also enter my giveaway at the end of this post!
Kiss of Honey Strawberry Hot Chocolate (serves 1)
8 ounces fat-free (skim) milk
2 to 3 large strawberries, hulled and halved
1 ounce quality white chocolate, broken into bits
½ to 1 teaspoon Nektar Honey Crystals (depending on sweetness preference)
Garnish: colored sugar or sprinkles, if desired
To make, place milk and strawberries in a blender.  Blend together for approximately 45 seconds until strawberries are incorporated and froth areating up on top (strangely enough, skim milk works much better than higher fat milks).
Place blended mixture into small saucepan along with honey crystals and white chocolate.  Heat over medium-low heat, stirring gently until white chocolate is melted and drink is heated through. Pour into 12-ounce mug, top with colored sugar or spinkles if desired.
Enter giveaway below to try a bottle of Nektar Honey Crystals!
This post and giveaway sponsored by Nektar Naturals, however the recipe, opinions and enthusiasm are all mine!