Oh yeah, it rained in Austin yesterday and goodness knows we can use it. For the last couple years, our beloved lake has been in jeopardy of drying completely up and blowing away. In honor of this precipitous precipitation, I'm sharing one of my favorite chocolate smoothies – a Muscle-Making Mudslide Smoothie.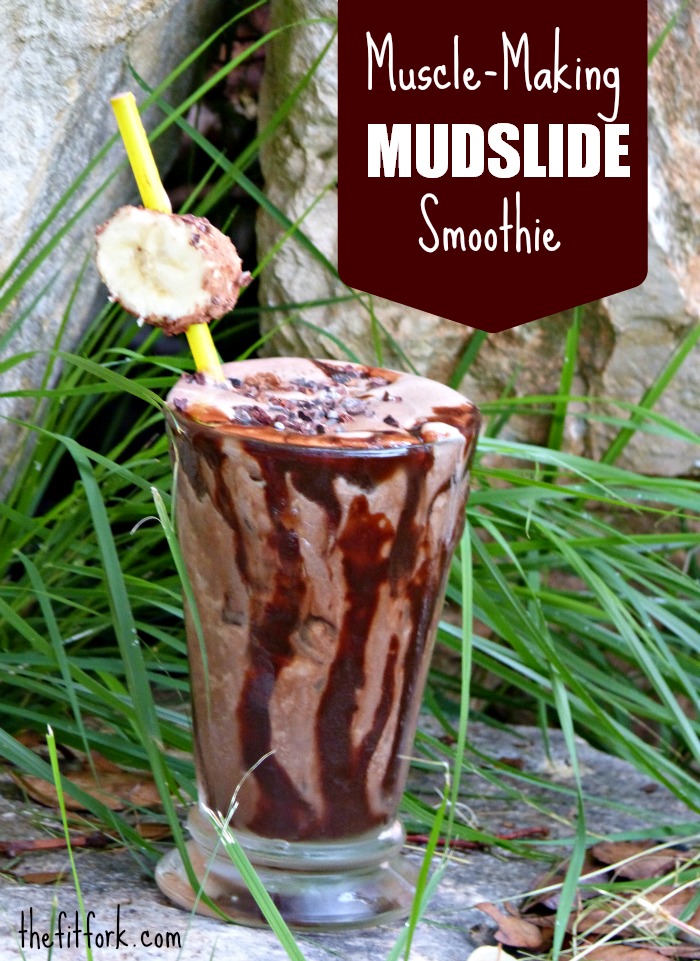 Muscle-Making Mudslide Smoothie Recipe
10 ounces of almond milk*
1 scoop (1/3 cup) favorite protein powder*
1 tablespoon cocoa powder
4 ounces strong coffee, chilled
1 large frozen banana, sliced
1 teaspoon cacao nibs
Ices, as needed
Chocolate syrup (optional)
Blend first 7 ingredients together until smooth. If desired, drizzle sides of glass with chocolate syrup before pouring in smoothie.  *An 11.5 ounce bottle of Chocolate Core Power may be substituted for the almond milk and protein powder.
I also have lots of favorite new products to share that have been sent to me complimentary for my opinion.  I tell it like it is, so don't worry about getting some polished sales pitch. If you have any questions, please ask me in the comments.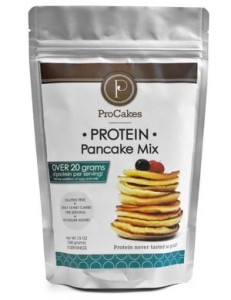 ProCakes High Protein Pancake Mix:  I'm back in town and finally had a chance to whip up a batch of these yummy pancakes. The founder of ProCakes is a fellow FitFluential ambassador and came up with the idea for this protein pancake mix while training for her first fitness competition – she wanted to show people how easy and tasty it can be to eat in a way that does the body good. This product has lots of protein, no added sugar, no gluten — meaning no guilty conscience about enjoying a stack of these light and tender hotcakes in the morning. That is, no guilt unless you soak 'em up in a sugar bomb of syrup – how about some fresh fruit and dollop of Greek yogurt instead?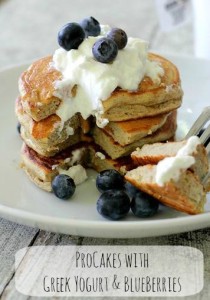 ProCakes Protein Pancakes with Greek Yogurt & Blueberries Recipe
1 packet (45g) ProCakes pancake mix
1 large egg or egg white equivalent
1/3 cup 2% milk
1/4 cup 0% plain Greek yogurt
10 drops liquid vanilla Stevia
1/4 cup fresh blueberries
Mix pancake mix, egg and milk together in bowl. Heat lightly oiled skillet to medium-low heat. Pour batter onto heated skilled into three pancakes. Cook until pancake bubbling on top, then flip over until golden brown. Mix yogurt and stevia together in small bowl. Top pancakes with dollop of sweetened yogurt and blueberries. Makes 1 serving (3 pancakes)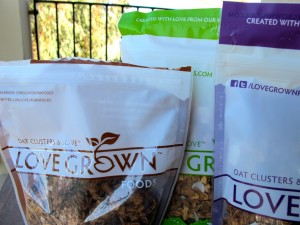 Love Grown Foods – I'm still on the breakfast bandwagon here and am a new-ish fan of Love Grown Foods, an awesome company that offers all sorts of nutritious products to start the day including Power O's (great for kids), Oat Clusters (this granola-lover's favorite), and Hot Oats which I haven't tried yet. With no genetically modified ingredients, high fructose corn syrup or hydrogenated oils, I feel confident feeding my family Love Grown Foods. I love how the Power O's are made with a bean blend to add protein, fiber, and additional health benefits. Yes, that's right BEANS FOR BREAKFAST. Although, you'd never know they were in there! How lucky am I that when I stopped in the gym yesterday, I bumped into one of my favorite bloggers, Ms. Cotter Crunch and the company founder, Maddy – they loaded me up with a big haul of LOOT and LOVE.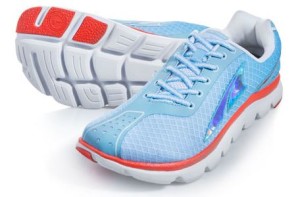 Altra's The One2 –  I am totally digging my new running shoes from Altra Zero Drop – in fact, they may be my favorite yet. Lighter and less clunky that some of the past models, these streamlined babies weigh in at only 5.4 ounces yet have loads of wiggle room for toes (yay, no black nails) and some real, honest-to-goodness cushioning that you don't get in a lot of other zero-drop shoes.  Goodness knows I love me a minimal shoe, but sometimes my feet have had enough impact– Altra calls the cushioning "light" and I call it great compromise for my road weary feet. The One2 running shoe is perfect for speed work and shorter road racing. I'd even be comfortable wearing them through a marathon, but I know many of you like a running shoe with more cushioning – Altra has those, too!

Surpahs Body Fat Scale BFS-835 – Okay, I have always avoided body fat scales because I felt like I didn't need one more thing to obsess over. But, when Surpahs offered to send me one, my curiosity got the better of me – and now that I'm used to it, I think it's a great way to check in every week or two for a benchmark. Some people say, "oh these body fat scales have a huge margin of error" – who knows, because I know I'm fit, I am not so concerned with my body fat being 100 percent correct – I am just looking for discernable changes in my weight and body fat from week to week.  Not only does this body fat scale measure body fat, water, muscle mass and bone mass, it can be pre-programmed for up to eight people making it convenient for large families or fitness / nutritional coaches. The scale is super sleek and looks great with my bathroom décor. Get a good deal at Amazon.com:
So, what products are you loving right now?
Have you ever used a body fat scale?
What are you eating for breakfast?
Have you ever tried Altra Zero-Drop running shoes?