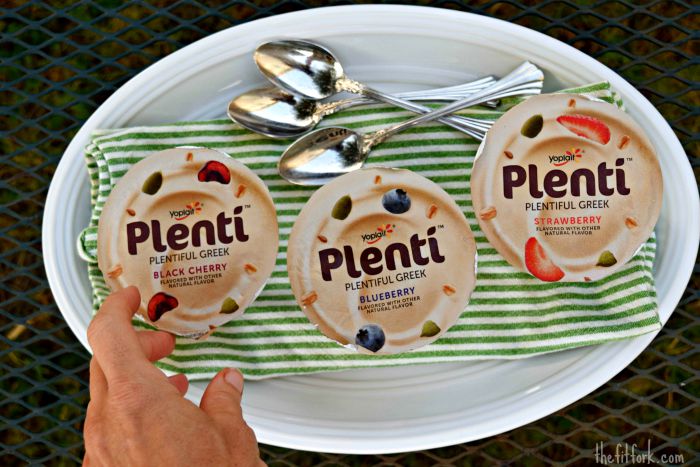 I know you are all are as busy as me  — sometimes I get so sidetracked with my workouts, kids and errands that I've forgotten to eat a meal or nourishing snack (my new favorite Plenti Greek Yogurt, more about that below)– that's not a good thing and honestly, not even a good way to lose weight (if that is your goal). Whether you are trying to drop a few pounds, maintain weight, or fuel up with extra calories to support a training schedule full of strength-training, yoga, and endurance sports, it' best eat three balanced meals a day and protein-rich snacks between, if needed.
I am a huge Greek yogurt fan – I eat it daily for breakfast and a bedtime snack! Recently, I discovered a new variety called Plentí Yogurt made by Yoplait, a brand I've trusted and served to my family for years! What makes Plenti unique and alluringly convenient in my eyes is that it comes pre-packed with loads of the "good stuff" including strained Greek yogurt, fruit, whole grain oats, flax and seeds – all the stuff I love to stir into my plain Greek yogurt but am often too tired or too low on pantry and fridge food to do so!  It comes in eight yummy flavors; you'll never get bored — Black Cherry, Blueberry, Coconut, Peach, Raspberry, Spiced Apple, Strawberry and Vanilla.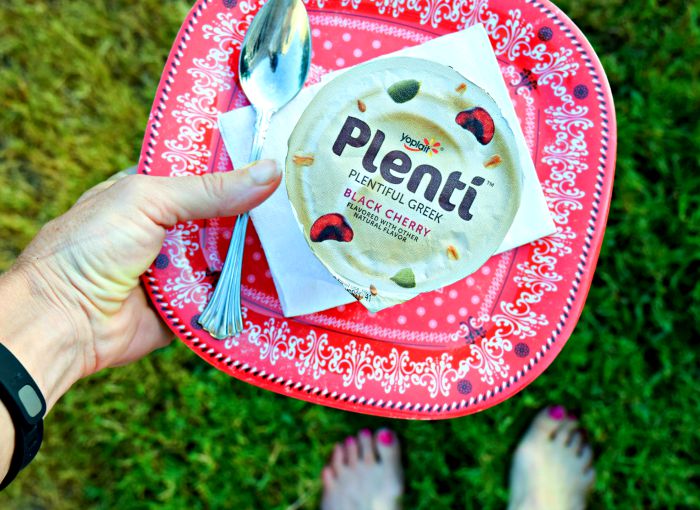 Whew, what a relief to know that I can just grab one of the eight Plenti Greek yogurt healthy flavors "as-is" from the fridge for a quick breakfast, post-workout snack or healthy dessert. Because Plenti has 12 grams of protein per serving, it makes a tasty and satisfying snack that boosts my energy so that I can conquer even the most "plentiful" day. I've talked lots about the benefits of eating protein and the Protein Challenge on my blog and with television and radio media, and Plenti fits right in.
I aim to make protein 30 percent of my daily calorie intake, taking in about 25 to 30 grams of protein at each of my three meals and supplementing with two healthy snacks with about 10 to 15 grams of protein each. A growing body of research is suggesting that spreading protein consumption throughout the day (starting with breakfast) can improve cardiovascular health, better address muscle maintenance and growth, and help maintain weight by keeping away those "hangries" that happen when your blood sugar drops and energy level tanks (from eating too many carb-heavy foods).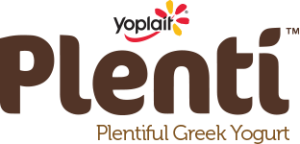 I really encourage you to check out Plenti Greek Yogurt for yourself and also their new, fun Instagram site– this product features a 1:1 protein to sugar ratio (12 grams of each) – now just because I like a higher protein diet doesn't mean I shun healthy carbs and a small amount of sugar – I need it to provide quick energy for my runs!  Look for Plenti in the dairy section of your market – you'll smile putting it into your cart knowing that it's made with lots of wholesome ingredient that will do your body good – it's also a gluten-free food and also has no gelatin, if these are concerns for you.
What flavor sounds the most delicious to you – Black Cherry, Blueberry, Coconut, Peach, Raspberry, Spiced Apple, Strawberry or Vanilla? Please share in the comments below and also share the most "fun" fitness thing you've done this week! XOXO – Jennifer