It's the most wonderful time of the year – it's a season for eating and greeting and spreading good cheer! If you are hosting a morning get-together over the holidays, it needn't be fancy or fussy to be successful. In fact, some of the best memories I have are sitting around in my pajamas after the stockings have been unstuffed and ribbons unraveled to share a leisurely breakfast with family and reminisce about the glories of yore.  When I'm in town, I also like to don my most festive "ugly" sweater and invite the neighbors over for a holiday brunch.
Check out 12 Ideas for a Healthy Holiday Breakfast or Brunch

by The Fit Fork at Foodie.com

I have to admit though, the thought of hosting breakfast or brunch sometimes intimidates me – especially knowing I'm not a graceful waker-upper. So, I like to have many of the menu items prepped ahead of time so I'm not running around like an overworked, grouchy elf in the morning. Make-ahead egg casseroles are ideal as are muffins and quick breads that can be baked a day or two earlier. Even pancakes can be cooked and kept in the freezer for a no-stress holiday breakfast celebration. Some of my favorite breakfast recipes are included in the Healthy Holiday Breakfast and Brunch collection I created for Foodie.com.
If your gathering is anything like mine, there will probably be at least a dozen kids racing around the Christmas tree high as flying reindeer jacked up on candy canes. I have an entertaining little activity that will slow down these busy bodies for a just a few minutes and also provide the opportunity to pump them with a wholesome glass of milk (soy, almond or whatever!).  These Snowman Milk Bottles are adorable and a super easy craft that most any youngster can make with minimal supervision – however, I suggest pre-cutting the felt and assisting with the glue gun lest there be no emergency room trips on a holiday. And, BTW, TheFitFork.com has not turned into a DIY Craft blog, but these were just too fun not to share!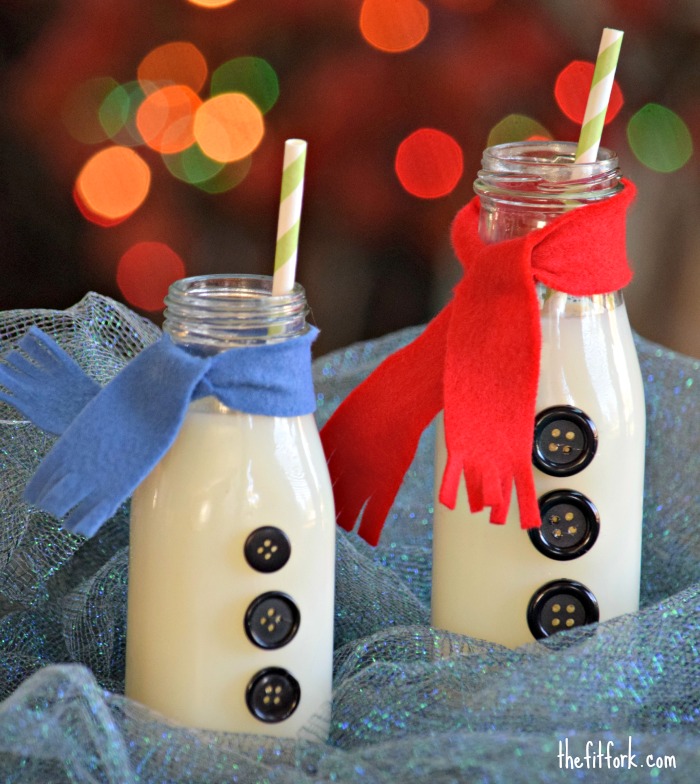 Supplies needed for each Snow Man Milk Bottle:
Empty mini milk bottle (available at craft store or recycled Starbucks Frappuccino bottle)
1 ½ inch x 8 inch piece of colorful felt
3 black buttons
Glue gun or glue dots
Scissors
Striped paper straw
For the scarf, use scissors to snip ½" long fringe into each end of the felt. Wrap around neck of bottle and knot to one side; secure with glue or glue dot if needed. Glue three buttons down front of bottle.  Fill with milk and add colorful paper straw.
So, what do you like to serve on Christmas or holiday mornings?  Do you have a once-a-year special holiday recipe or do you stick with your standard-issue morning meal?
This post was sponsored by Foodie.com, however all recipes and editorial comments are my own.