Well, I'm on my way to the "Big D" to run in the Rock & Roll Dallas Half Marathon Sunday morning.  I heard that Deena Kastor is in the field, so I'm really going to have to step up my game (insert hysterical laughing here). The past bronze-medal winning Olympian and American record holder in the marathon (London 2006 in 2:19:36) and half-marathon (Berlin 2006 in 1:07:34) is proof that getting older doesn't mean you have to stop competing. Even though these records were set eight years back, this weekend the 41-year runner will be trying to make half-marathon history again by breaking as many as three or four American Masters Records, according to Competitor Magazine. If Kastor can run between a 5:25 and 5:30 pace per mile (as opposed to my exact 1 minute per mile slower 6:25 – 6:30 pace), she just may capture records at the splits in four distances — 15K (9.3 miles), 10 Miles, 20K (12.4 miles), and the full half marathon. She estimates her finish time to be 1:11 to 1:12.  Why isn't she trying break a record in the 5k too?  Just kidding; I learned that lesson the hard way – years ago I PR'd at the 10k inside of a marathon; finishing the remaining 20 miles was brutal.  Run Deena, run, I'll be chasing you from 13 minutes behind!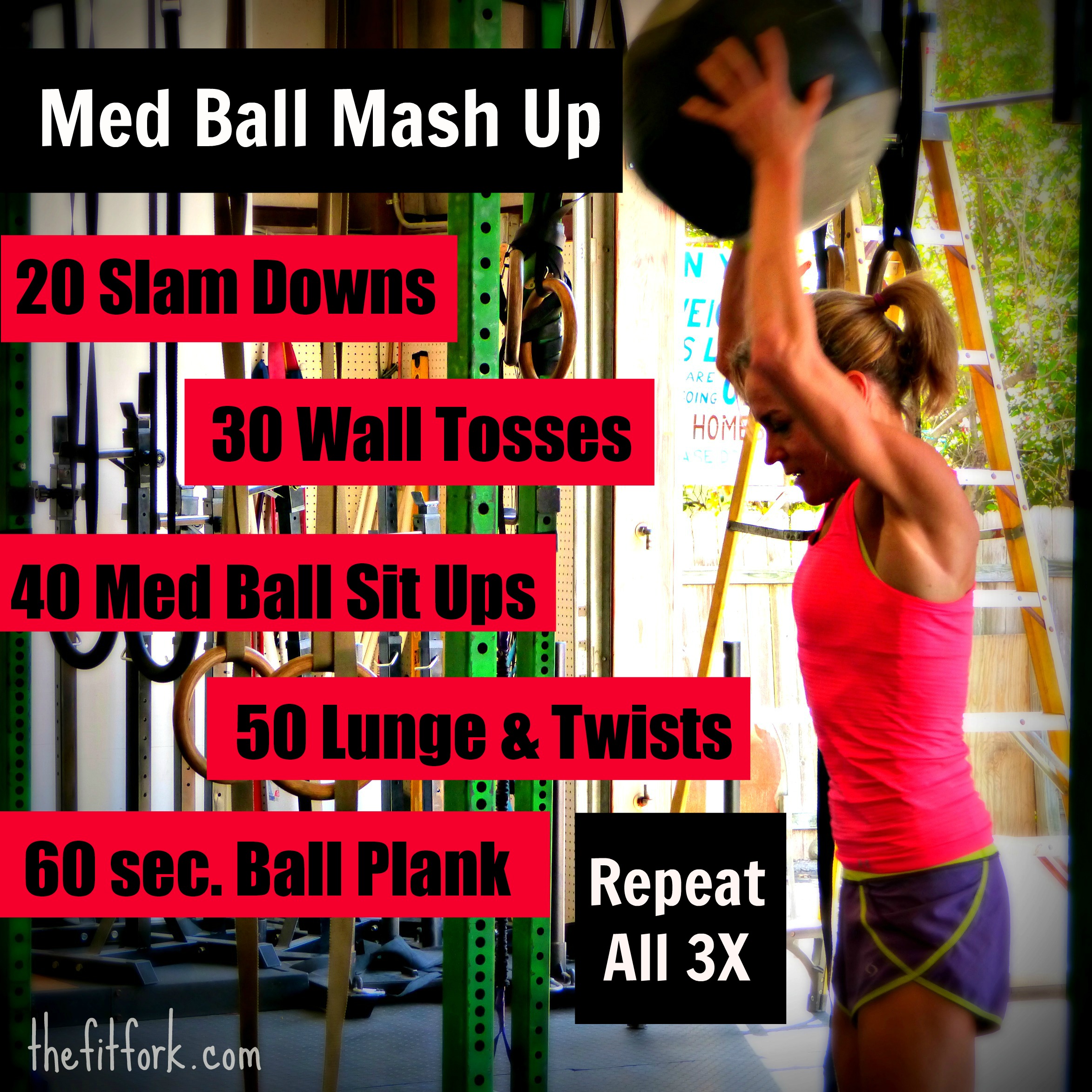 If you're not running this weekend, I have a fun little workout you can do. All you need is a medicine ball and some space with a hard-surfaced floor. It's amazing how much you can get worm out with just one piece of gym equipment – a tame-looking medicine ball.  By the way, I whipped up this Medicine Ball Mash Up workout for CorePower. The company makes a great high protein shake to nourish taxed muscles after a hard WOD or run.  Pick up a case for the most delicious workout recovery ever — Chocolate Light is my favorite flavor with 150 calories and 20 grams of protein.
I was also recently sent a sampler pack of Ratio Protein Bars through a campaign for Fitfluential.com (By the way, if you haven't joined Fitfluential, you really should. It's free and a great community of instant fitness friends, plus there are lots of perks.  Tell them Jennifer Fisher at TheFitFork.com sent you in the referral line). Anyway, back to the Ratio Bars —  I am a total nutrition bar addict and am very particular about which ones I eat. As you can tell from the picture, I don't like to give a review without actually trying the product – every one of these Ratio Bars was gobbled up by yours truly. What I like about the bars is the high protein content; I always choose a bar with at least 20 grams of protein (these all have 24 grams) and under 250 calories. Plus, these bars advertise no gluten, no soy products, no hormones, no artificial ingredients and no GMOs.  Hard to say which of the six yummy flavors I liked best, but I think Cookie Crunch and Cake Batter were the front runners.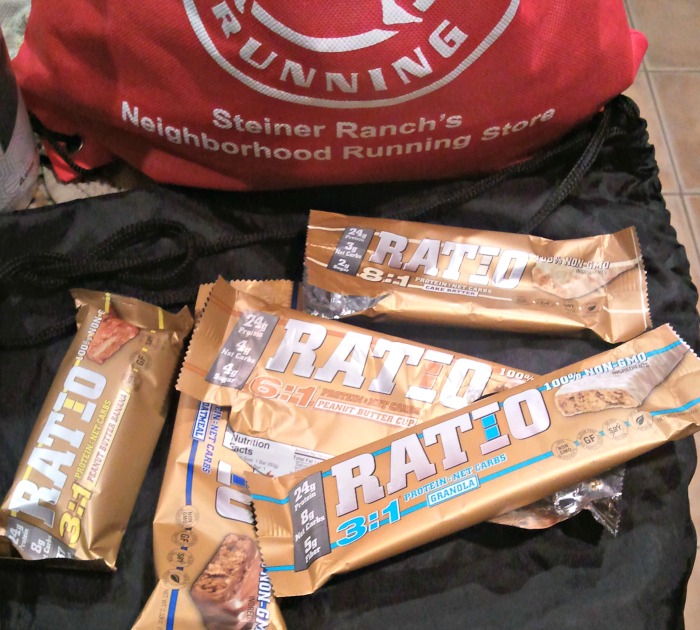 As part of my ambassadorship with the Zooma Women's Race Series and their relationship with Ultimate Direction, I was sent some useful running gear to try out. This company has been around since 1985 and is the initial mastermind behind the hydration pack; in fact, they invented the first waist pack designed to carry water bottles – today they have introduced even more options to make hydration easier, from handhelds to vests and more.   I'm excited to try out a couple of products from the Jenny Collection including the "Meow" waist belt and "Handy 10" water bottle. At first I thought maybe they named this cute, comfortable gear after ME, but found out that the designed-for-women-by-women product line is actually named after the athlete-designer, Jenny Jurek (wife of renowned ultra runner, Scott Jurek).  Cool, check them out and stay hydrated this spring!