Just when I think I've tasted every type of fruit and vegetable there is to eat (ever been to Produce Convention), I realize that a tasty treat has slipped past my radar – the Cherimoya. Mark Twain once likened the cherimoya "deliciousness itself!"  – how did I ever miss the memo on this quite large and armored lizard-skinned looking fruit!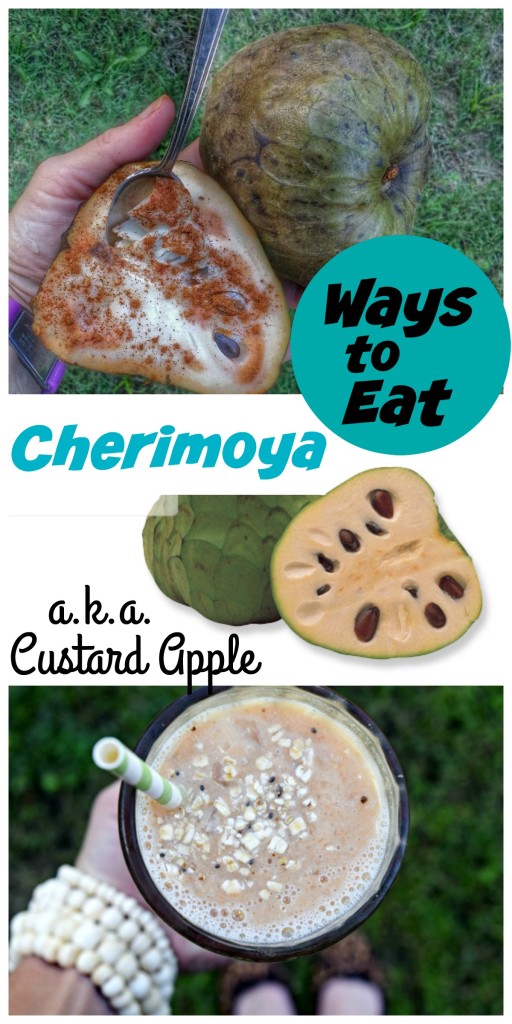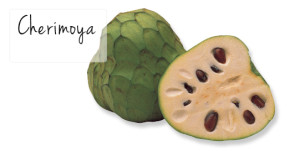 Once set aside solely for ancient Incan royalty, this "King of Fruit" is still a prized possession – they are delicious and hard to find . . . and usually fairly big-bucks if you do. But, so worth the investment as you will gobble up this healthy treat in a single sitting, especially if you have a friend sitting nearby with a spoon. The flesh inside is amazingly fragrant, soft, sweet and scoopable – there some seeds inside, but they aren't too hard to flick away.  When selecting afruit, pick a cherimoya that is still green but showing minor signs of turning brown soon. Like an avocado, the fruit is ripened with the flesh yields to a gentle touch. So, if your fruit is still green and hard, let it ripen on the counter for up to three days – or stick in a paper bag to speed the process along.  Check out my friends at Frieda's for other great Cherimoya Recipes and Tips.
So, my top 3 ways to chow a cherimoya are: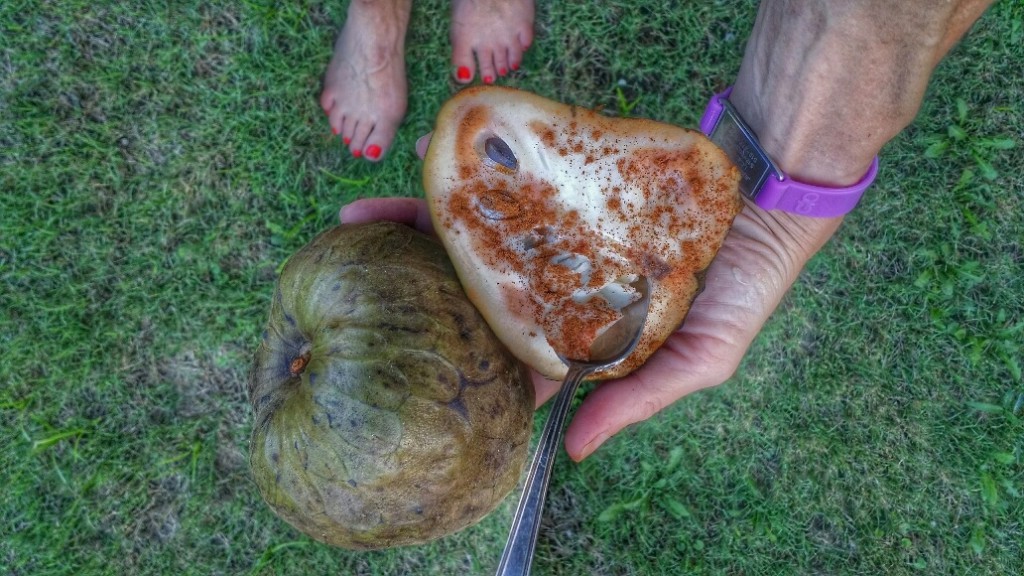 1)  Sprinkle with Spices: Sliced in half and sprinkled with cinnamon, dash of nutmeg and a bit of honey drizzle – I swear it tastes just like apple pie. My kids think it tastes more like a pineapple and banana that got married and laid a big prehistoric egg.  Either way, it's a taste bud winner – haha!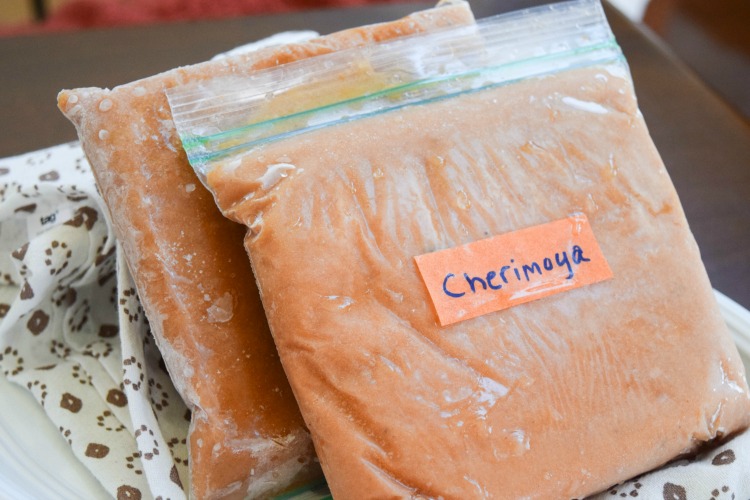 2) Mixed into Oatmeal: I put chunks or puree of cherimoya in my morning oatmeal.  This is a great way for me to boost up the vitamin C, potassium, and in my fiber in my daily diet. If I find the fruit on sale or can't eat what I've purchased before going too ripe, I simply puree the fruit in the blender with a tiny splash of lemon juice and freeze in heavy-duty zip-top bags (above picture). This will keep in the back of your freezer for 6 months! You can also sub in for 1/2 the oil in baked goods as you would applesauce, pumpkin or another fruit puree.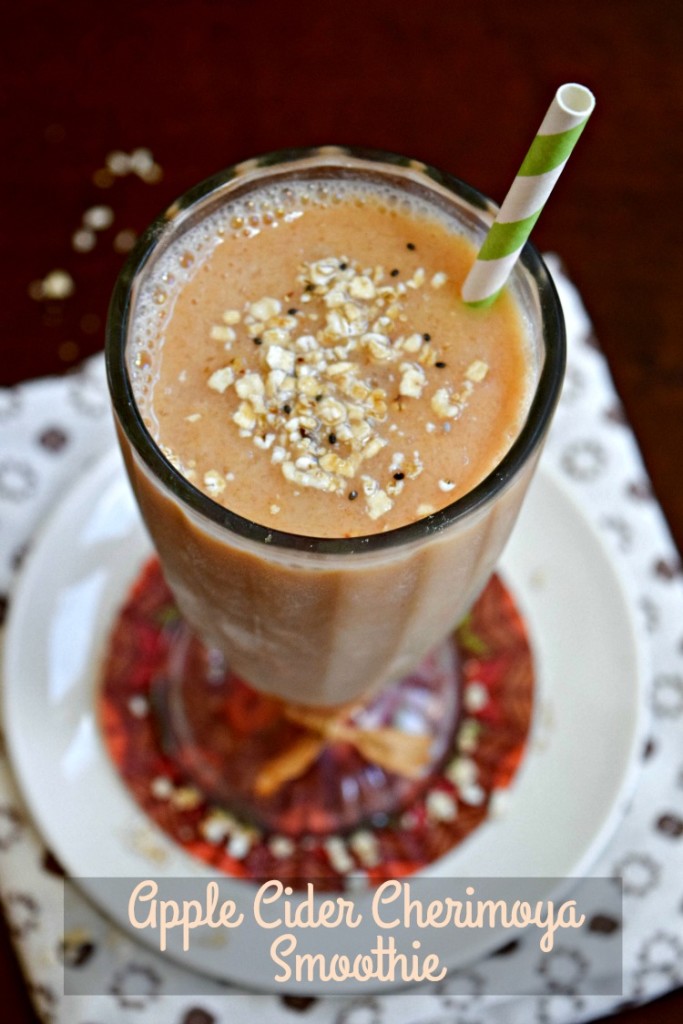 3) Blended into Smoothie: Blending cherimoya with orange juice is traditional but my recipe for Cherimoya Apple Cider Smoothie is super yummy.  I use one of the delicious, cold-pressed, 100% juice apple ciders from Litehouse Foods — so fresh you need to look for it in the produce department!
Directions: Add 2 tablespoons oats to bottom of blender, pulse for a few seconds to grind up. Add ½ cup cherimoya puree (preferably frozen) or fresh chunks, 3/4 cup unsweetened vanilla almond milk, ½ cup apple cider, ½ teaspoon cinnamon and 1 tablespoon honey (or sugar-free alternative) to blender and blend for 1 minute, adding a few ice cubes to achieve desired consistency. Serves 1.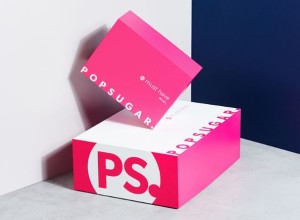 Also, I want to share with you my favorite little luxury each month – it's the PopSugar #MustHaveBox from POPSUGAR.  The Must Have Box is a specially-curated monthly subscription that is filled with full-sized products across fashion, beauty, home décor, upscale edibles and more. I absolutely have adored everything that's come in my monthly box – often they are splurges that I would never buy myself (but am oh-so happy to have) or fabulously off-beat, quirky things that I never knew I needed until I have in my hot little hands – and then I'm hooked!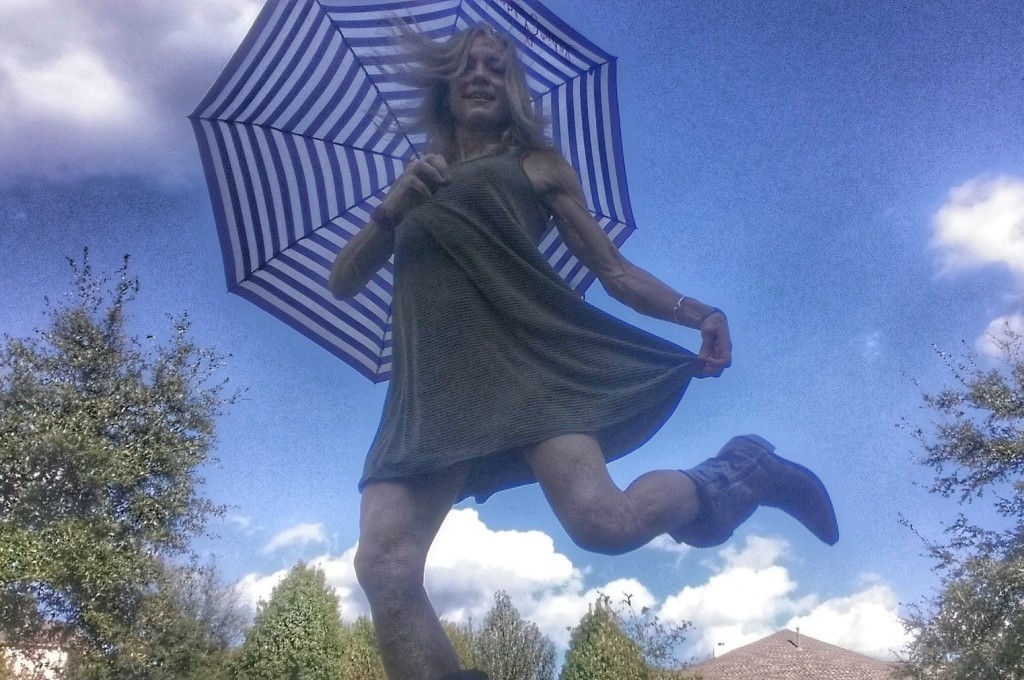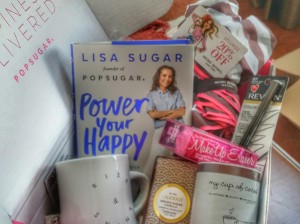 The October box included a book, Power Your Happy, by POPSUGAR founder Lisa Sugar, a gorgeous umbrella from Henri Bendel (along with a shopping discount card), Dark Drinking Chocolate (by My Cup of Cocoa) and a Rise & Shine Diner Mug (by Morning Culture). The Lalicious Bubble Bath, Revlon Eye Pen and Makeup Eraser Mini really spoke to my girly side, that's a nice treat when a mom of three boys!  Check out some of the past Must Have Boxes  and sign up for a subscription that suits you – save $5 on your first box with code SHOP5.  Whoohoo!
What is your MUST HAVE this month? Tip me off on your new, most favorite, most awesome find! Oh, and have you ever tried a Cherimoya?! Please share in the comments – XOXO, Jennnifer