Okay, doing this whole 2014 CrossFit Games Open has been a real challenge for this runner who likes to cherry pick her WODs. I'm the one who won't do the heavy squats because "I'm saving my legs for a race" or substitutes pull-ups for muscle-ups because "they are more fun and I can actually do them." I'm made it through four of the open workouts with just one left this weekend, and let me tell you every weakness has been exposed –but my spirit hasn't been broken.  For every double-under I tripped over and weighted lift I buckled under, I made up for with pretty-darn good abilities on the bar and lots of endurance. Really the failures (although I really can't call them that) only put a burr in my britches to become proficient in the skill.  Check back next week for a full report on the whole experience.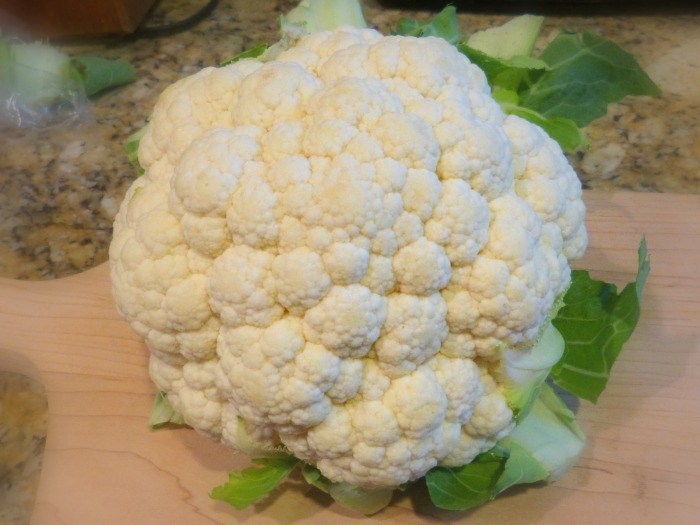 Now onto the food! If you've been on Pinterest or crossed paths with a Paleo food fanatic, you'll well aware that the once neglected cauliflower has been elevated to king of the cruciferous vegetables.  This big white vegetable is no longer looked upon as your grandma's cauliflower, boiled and bland. Today you'll find smashed cauliflower, riced cauliflower, cauliflower in muffins, soups and curries – and even cauliflower pizza crust.
My kids think cauliflower looks like a human brain and I tell them that's because it's a really smart food to put on their plates. High in dietary fiber and low in calories, this versatile veggie is packed with beneficial vitamins (including vitamin C, vitamin K and manganese) that have antioxidant and anti-inflammatory properties.
While you can get crazy with cauliflower, sometimes simple healthy recipes are the best. My recipe for "Oh Yes" Oven-Roasted Cauliflower will be gobbled up by everyone in the family, even the pickiest kids! Creamy and slightly sweet when roasted, my husband took a bite and exclaimed about it's deceiving decadence — "it tastes like butter!"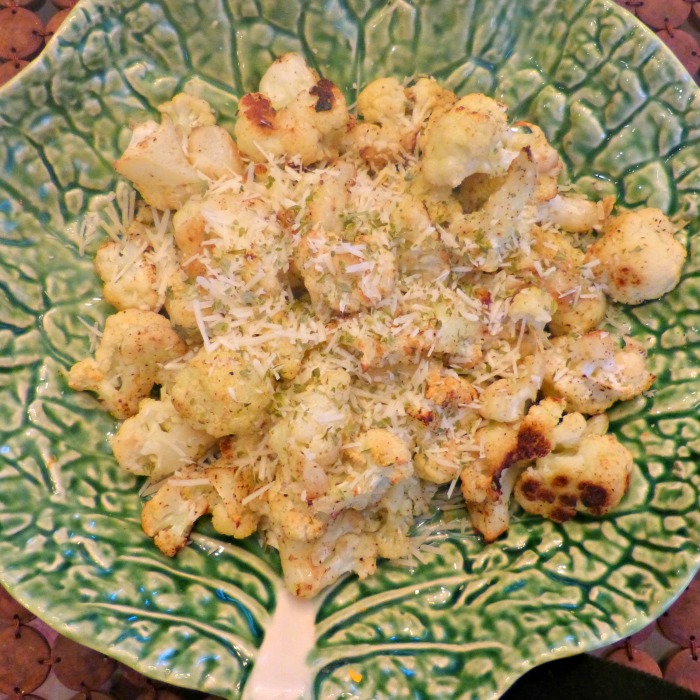 "Oh Yes" Oven-Roasted Cauliflower Recipe
1 large head cauliflower
2 tablespoons olive oil
1 teaspoon chili powder
1 tablespoon garlic salt
¼ cup fresh grated Parmesan cheese
1 tablespoon fresh chopped parsley
Preheat oven to 425 F degrees.
Remove outer leaves from head and thoroughly wash cauliflower.  Use a knife and/or hands to break up cauliflower into approximate 1-inch pieces.
Add florets into bowl and drizzle with olive oil. Sprinkle with chili powder and garlic salt; toss to distribute evenly.
Place cauliflower on large rimmed baking sheet. Bake at 425 F degrees for 20 – 25 minutes, stirring once or twice, until beginning to turn light brown.
Sprinkle with cheese and return to oven for 2 minutes. Remove from oven, sprinkle with parsley.
Serves 4.
Cooking Light always does a great job on making my favorite vegetables even more delicious. Check out this recipe  gallery that is blooming with 21 of their inspiring cauliflower recipes – you won't know where to start!