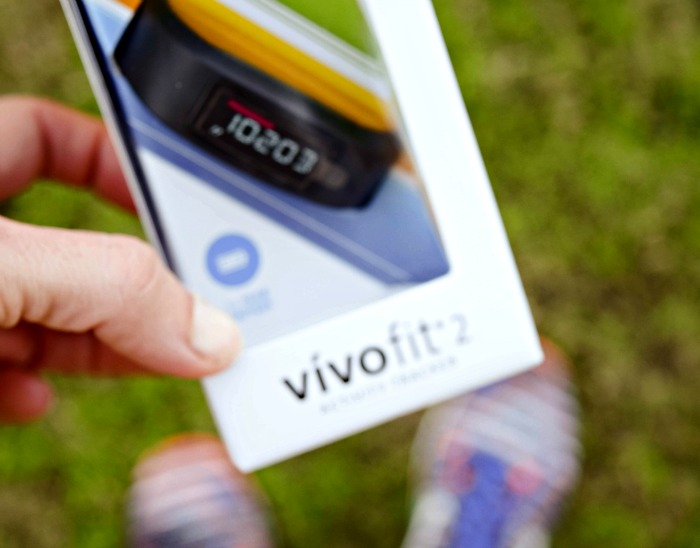 Have you jumped on the bandwagon and purchased a fitness tracker? I resisted for a while, knowing I am more than active enough will all the running, sports and here-and-thereing I do on a daily basis. However these devices are handy little tools for accountability, have neat features like heart rate and sleep tracking, and even have a social aspect that can connect you with other like-minded movers (like Garmin Connect)!
So, I caved and snapped one on my wrist, the vívofit 2 by Garmin. Love it!  In addition to tracking steps, two of the features I really appreciate are the sleep tracking and the heart rate monitoring – two important data sets that help me optimize my athletic performance. There are so many other features that you can see on the handy backlit display to see how many steps you've taken, distance traveled, calories burned, overall time and more.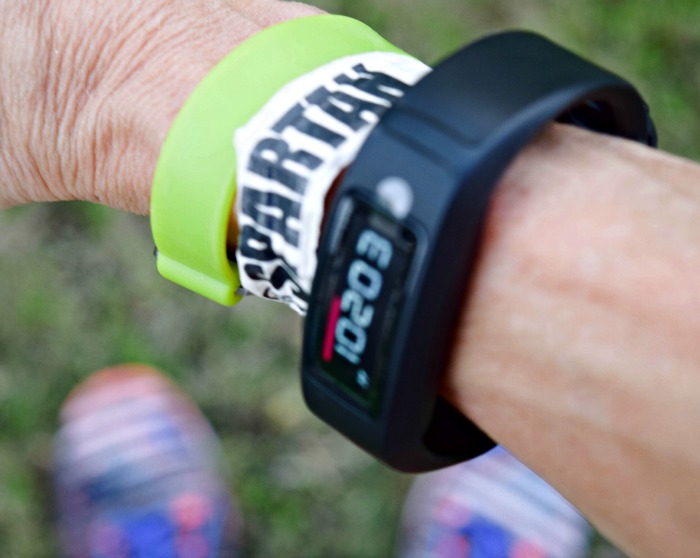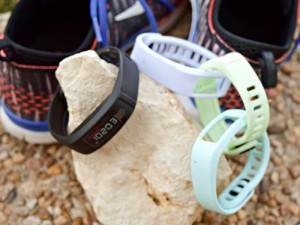 Plus, with a 1+ year battery, it's a no-brainer – you just put it on and go about living your life, no worries about charging up every couple days.
Oh, and vívofit 2 has a 5 ATM (50m) water rating2, which means you can jump in the shower or swim with no stress of ruining – isn't that awesome?! And with different colored accessory bands, you can be fashionably fit and have a different look for all of your moods!
Here are five ways for you to get the recommended 10,000 steps in per day:
Walk your kids to school. Our elementary school is a little over a mile away. That means two round trip jaunts (morning and afternoon) equals 5 miles or 10,000 steps!  Plus, the side benefits of walking children to school are more quality time spent together, a chance to chat with teachers and neighbors, and a reduction in the environmental impact (and just plain traffic jam nightmare) of being stuck in the carpool lane.
Walk your dog. Many of today's pooches are couch potatoes, which is a shame considering our canine friends are innately designed to be working, moving and exercising. Depending on your pet's age, breed and fitness level, vets suggest walking your dog for 10 to 30+ minutes while monitoring your pet for signs of overheating or fatigue. A brisk 30 minute walk will get you about 5,000 steps – so, twice a day and you've met your step goals for the day!
Schedule power hour breaks. Whether you are working at home or in the office, set a timer (or use the move bar feature on the vívofit 2 activity tracker) and take a 1,000 step "time out"  – this approximate ½ mile break takes less than 10 minutes of your time. Do this a couple times in the morning and a couple times in the afternoon, in addition to the remainder of your normal walking and you should read a 10k step goal.
Take the Road Less Traveled. Take the stairs rather than the elevator, park in the back of the parking lot, take the long way to the park or leave your desk early for the morning meeting and wind through all the hallways on your way to the company conference room. There are many ways to sneak in extra steps towards your 10k goal – you'd be surprised at how fast they all add up if you are just a little bit for "inefficient"!
Go big with a workout. Tackle all of your steps and more with a daily workout that includes some running, walking or other aerobic activity. A 5 mile walk or run (broken up or in one chunk) gets you to a 10k goal, although with some variance for stride length. Check out this chart on "step equivalents" that shows you how many steps per hour for different types of activities and sports.
Do you wear an activity or step tracker? What are some of the creative ways you fit more steps into your day? Please share in the comments below, XOXO -Jennifer
This post was sponsored by Garmin through their partnership with POPSUGAR Select. While I was compensated to write a post about vívofit 2, all opinions are my own.