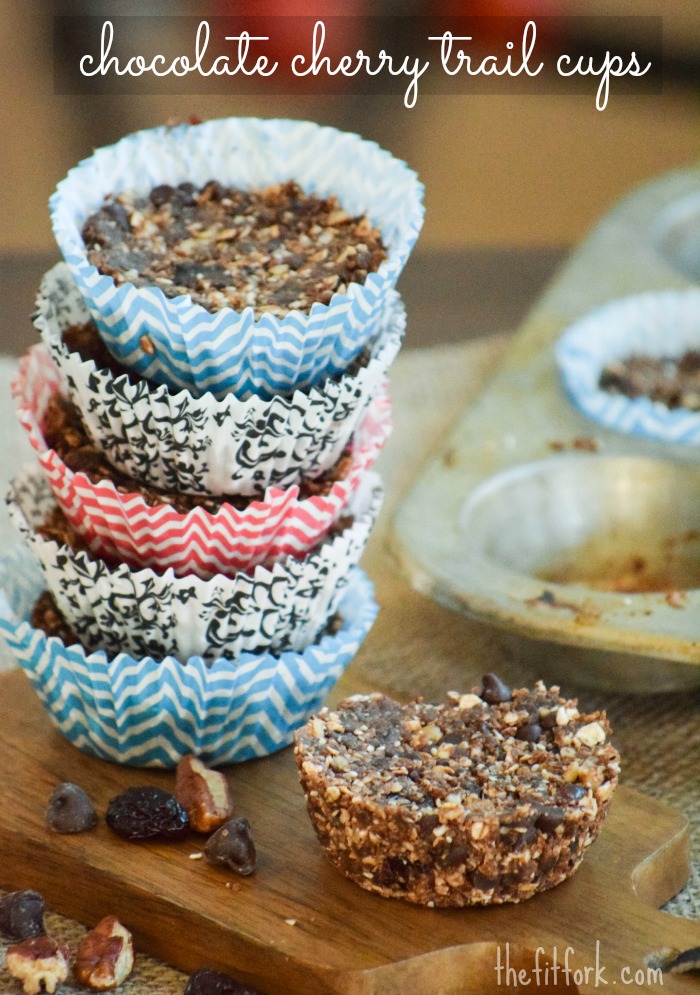 Snacking, snacking, snacking – lots of snacking going down at my house because I am my three teen boys are always so hungry. I've been experimenting with some homemade energy bars and trail mixes and have come up with the perfect combo – Chocolate Cherry (Protein) Trail Cups.  My husband mentioned after gobbling one up that it reminded him of a Chocolate Chip Cherry Torte Lara Bar  — so, I made a Larabar copycat recipe without even realizing!
These healthy snacks are super easy to whip up and using a food processor makes the task even less time consuming. The tip to making sure these treats hold up to any adventure is to make sure the crumbly mixture is moist enough to stick together when pressed between fingers. If it seems too dry, throw more nut butter or sugar-free chocolate syrup in 1 teaspoon at a time.
I'm taking my batch of trail cups for some long-lasting energy when the family heads out on a ski trip soon. I created this recipe with protein power as one of the ingredients to balance the dried fruit and chocolate.   I don't want to hear ANY "I'm hungry mom" complaints when we're dangling our skis and snowboards off a lift 10,000 feet up.
Chocolate Cherry (Protein) Trail Cups Recipe
1 ¼ cup Love Grown Super Oats*
1/3 cup chocolate protein powder (like Quest Nutrition Chocolate Milkshake)**
2 tablespoons cocoa powder
2/3 cup raisins
½ cup pecans
1/4 cup nut butter of choice (I used almond)
1/3 cup dried tart cherries
2 tablespoons Stevia-sweetened cocoa syrup***
¼ cup mini chocolate chips
*You may use regular rolled oats and add 1 tablespoon of chia seeds. 
**If you don't want to use protein powder, add an additional ¼ cup oats and 1 tablespoon nuts.
** I used NuNaturals Cocoa Syrup, but you can use any chocolate syrup
Add oats, protein powder, cocoa powder, raisins and pecans in work bowl of food processor. Processes until ingredients are broken down but still fairly coarse
Pulse in nut butter and syrup until mixture is moist and sticks together when pressed between fingers.
Pulse in cherries and mini chocolate chips until just combined.
Place approximately ¼ cup loosely scooped mixture into muffin tin that has been prepped with a paper liner. Press mixture down with back of spoon of fingers until compacted.
May be stored in the refrigerator in airtight container for several weeks. Makes 15 :"cups."
Oh, and I have a workout you're going to flip for – if you don't have a tire, a heavier med ball can be substituted.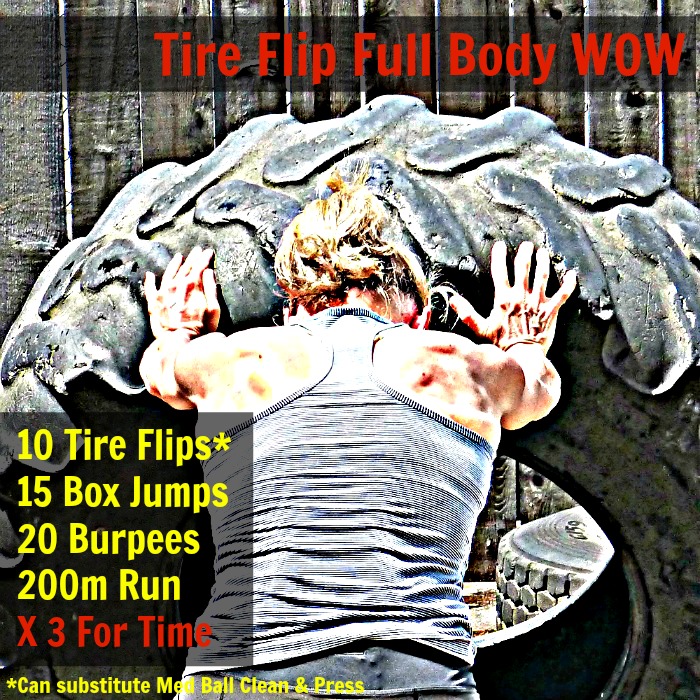 What is on your workout and / or snacking schedule this week?  Have you ever flipped a tire?