I am so happy that June is here, it's officially the kickoff to my summer-long binge of watermelon. Those who know me understand and accept that I am a watermelon worshiper and those who are visiting for the first time will quickly come to realize the magnitude of my affection for this fruit. Last year, I celebrated watermelon with a week full of undivided attention and am including those links at the bottom of this post – please visit! This year, I am spreading out the watermelon love with an entire summer of #LivingOnTheWedge – twice a month, I'll share my best creative and unique ways to make watermelon a part of a fit, flavorful and fabulous lifestyle.
As crazy as it sounds, today I have a watermelon and am ready to workout. Last year, I shared a WOD using a watermelon in lieu of a medicine ball – this year, I taking the action to the swimming pool so we can all stay cool! In terms of weird and wacky workouts, Prancersize doesn't have anything on this!  In addition to the graphic, I have a video demo further down (you'll definitely laugh).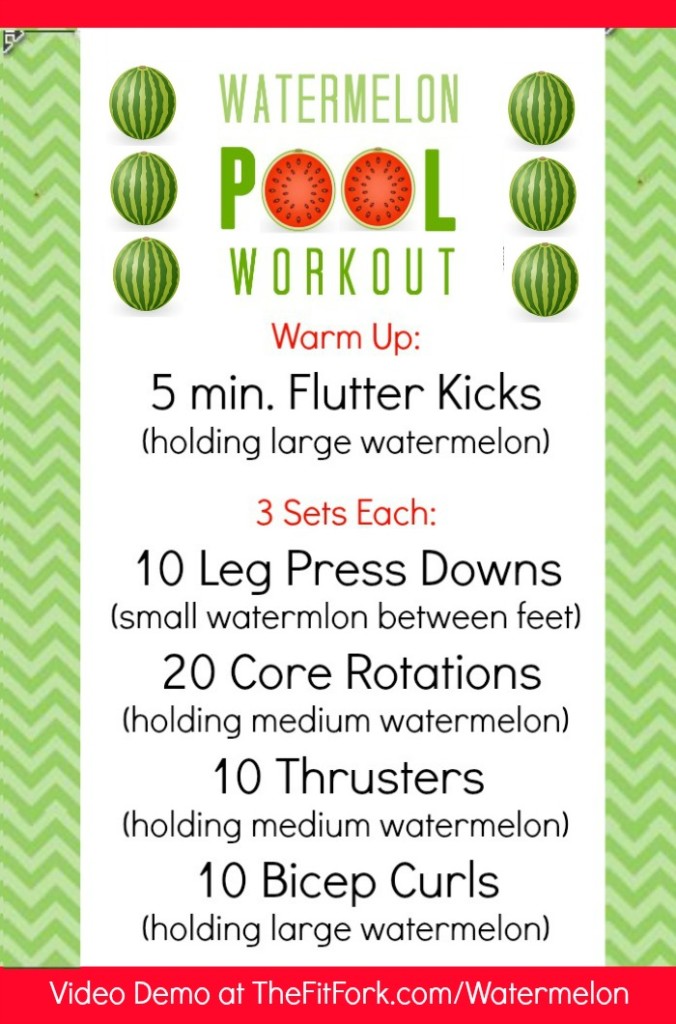 A couple great things about exercising in the pool (other than staying cool) are that it's easy on your joints and offers extra resistance for easy toning and muscle-making! Watermelons come in a variety of sizes, for this workout, I've used a seedless watermelon that weighs 30 lbs and a personal-sized watermelon weighing in at 10 lbs — adjust to meet your fitness level.  One of the perks of working out with a watermelon is that you get to EAT the equipment afterward! #EatTheEquipment 
<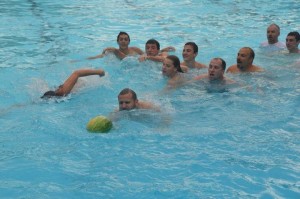 I have another idea for watermelons and large bodies of water! If you're having a pool party, keep the kids (and grown-ups) thoroughly entertained and active with a game of Greased Watermelon Football.  Just lather up a good-sized melon with petroleum jelly and toss it in the pool. When the whistle blows, everyone jumps in and the first person to emerge on dry land with the watermelon in hand is declared the winner. A greased watermelon, along with its awkward-to-grasp size and a jumble of underwater arms and legs, makes this end goal much harder than it sounds.
After the watermelon water workout and spirited game of greased watermelon football, I'm just going to kick back and relax on my new pool float. How awesome is this — a slice of heaven!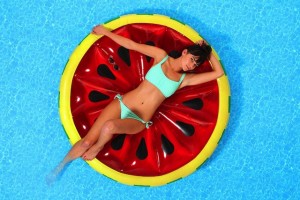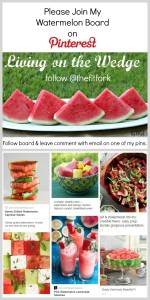 Remember to check back all summer to take part in my great big celebration of watermelon – I'll have posts on picnics, celebrations, special recipes, health benefits, family fun, a giveaway and (maybe the most fun of all) the first-ever running of the Watermelon Mile. I feel like a world record is going to be set! In the meantime, check out my "Living on the Wedge" Watermelon Board on Pinterest filled full with watermelon recipes, facts, health benefits and all the wacky watermelon things that catch my eye. I'd love for you to follow the board and if you have recipes, tips or anything watermelon-related, please follow the instructions to join as a pinner to the group!
#LivingOnTheWedge 2014 Posts
Have you ever worked out in a pool workout or used anything "alternative" for an exercise weight? Please share in the comments below! XOXO Jennifer 
The post is sponsored by the National Watermelon Promotion Board. However, the opinions and content (unless otherwise noted) shared are my own and NWPB did not tell me what to say or how to say it.