Who doesn't love a crispy rice treat? I do, but not those prepackaged ones made with corn syrup, white puffed rice and a ton of other ingredients and preservatives I can't pronounce.  Plus, there's only a scant trace of protein in one of those gooey squares; that means I'll be crashing lickity-split from my carbohydrate high. What's a girl got to do to satisfy her sweet tooth and get a little snap, crackle and pop going on? Mix up her own healthier version of this favorite treat from childhood, that's what! I have a hunch you are going to fall in love with this healthy snack recipe – package them up and give them to your favorite sweetie for Valentine's Day!
My version of crispy rice treats, Protein Nut Butter Crispies, features puffed brown rice, a 100% whole grain, that hasn't been enriched or fortified with any weird stuff. A couple scoops of protein powder (you can use any brand or flavor) adds long-lasting energy that is perfect before a workout or to help build back up damaged muscle tissue afterward. Almond butter and honey helps hold everything together with delicious taste while cacao nibs lend an extra dose of crunchiness to this fun-to-eat treat.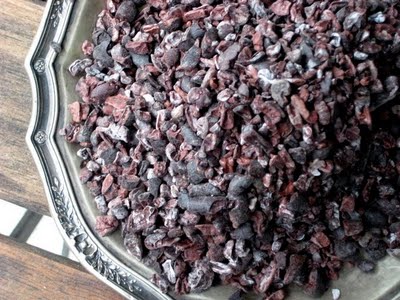 You may be wondering, "Just what are cacao nibs and why should I be eating them?" Cacao nibs are little pieces of cacao beans that been have roasted, hulled and prepped for the chocolate-making process. While I like to think of them as "nature's chocolate chips," cacao nibs don't really add any sweetness to a recipe. In fact, they are a tad bitter (in a good way) and have a slightly nutty flavor with chocolate undertones. Here are some other good things to know about cacao nibs:
Cacao nibs are abundant with magnesium, a mineral needed for in excess of 300 biochemical reactions in the human body including muscle and nerve function and maintaining a steady heart rhythm.
Unlike chocolate bars, cacao nibs pack in a lot of fiber in a small serving – one ounce of cacao nibs has nine grams of fiber.
Cacao nibs are rich in iron, a necessity for the production of red blood cells  — and a good thing for women, runners and other athletes who need more iron (up to 30% more) than the average Joe.  One ounce of raw cacao nibs provides six percent of the daily recommended value.
Cacao nibs provide more antioxidant benefits than eating the darkest chocolate bar around. You've probably heard that the darker the chocolate, the better – experts suggest picking a bar with as much as 70% cacao (it can take a while to get used to the less sweet taste). Since cacao nibs are the basis for chocolate candy (after being ground into a paste and mixed with sugar and milk solids), you're skipping all the unhealthy stuff and going straight to the unsullied source of nutrients..
Get creative with cacao nibs! You can eat cacao nibs straight out of the bag, mix them into oatmeal or sprinkle on Greek yogurt – or mix in cacao nibs into any of your recipes for baked goods.
Protein Nut Butter Crispies with Cacao Nibs Recipe
2 cups puffed whole grain brown rice cereal
2/3 cup (2 standard scoops) chocolate protein powder
¼ cocoa nibs
1/4 cup almond butter
1/4 cup honey (I like Wholesome Sweetener's Fairtrade Organic Honey )
Optional:  2 Tbsp. chocolate candy-covered sunflower seeds
Place puffed rice, protein powder and cocoa nibs in a medium-sized bowl and toss together until combined.
Warm almond butter in the microwave for about 20 seconds so it's more malleable. Spray spatula with baking spray and scoop out warmed nut butter on top of dry mixture. Drizzle honey on top of this and stir everything until combined. Mixture may be a bit crumbly, that's okay.
Using hands, form mixture into approximate 1 ¼" diameter balls, packing tightly. Repeat process with remaining mixture.
If desired, lightly press tops of nuggets into candy-coated chocolate sunflower seeds or another topping of choice.
Makes 18.