Oh, the magic of these Mojo Beef Kabobs is quite impressive. Not only are they quick to make, they are low in calories, low in fat and packed with protein and loads of citrusy-garlicky flavor. Plus, the kids just love to eat these; there's nothing quite like eating meat off a stick which can later be waved around like a sword. This is one of the many fabulous recipes from the Healthy Beef Cookbook and one that I'm going to be taking on the road for "Art of Grilling" demonstrations for the Texas Beef Council. I want to show healthy people like YOU that preparing great flavor profiles with lean beef is simple and simply divine. Seriously, this recipe takes no more than 30 minutes to cook start to finish and will earn you rave reviews from the carnivorous crowd that will start to gather once you throw these babies on the grill. Plus, with 27 grams of protein and veggies, it makes the perfect meal after an afternoon workout – enjoy!
Mojo Beef Kabobs Recipe
Ingredients
1 lb. boneless beef top sirloin steak, cut 1-inch thick
1 tsp. coarse grind black pepper
1 large lime, cut into 8 wedges
1 small red onion, cut into 8 thin wedges
1 container grape or cherry tomatoes (about 10 oz.)
Mojo Sauce
1/4 cup fresh orange juice
1/4 cup fresh lime juice
3 Tbsp. finely chopped fresh oregano
3 Tbsp. olive oil
2 Tbsp. finely chopped fresh parsley
1 tsp. ground cumin
1 tsp. minced garlic
3/4 tsp. salt
Whisk Mojo Sauce ingredients in small bowl. Set aside.
Cut beef steak into 1-1/4 inch pieces; season with pepper.
Alternately thread beef with lime and onion wedges evenly onto four 12-inch skewers. You can thread tomatoes with beef skewers or make separate tomato skewers depending on how well-done you like the tomatoes (they cook fast).
Place kabobs on grill over medium, ash-covered coals. Grill tomato kabobs, uncovered, about 2-4 minutes or until slightly softened, turning occasionally. Grill beef kabobs, uncovered, about 8 to 10 minutes for medium-rare to medium doneness, turning occasionally.  Or, cook on inside grill pan over medium-high heat for about the same length of time.
Remove from heat source at let rest for 5 minutes. Serve kabobs drizzled with sauce.
Serves 6.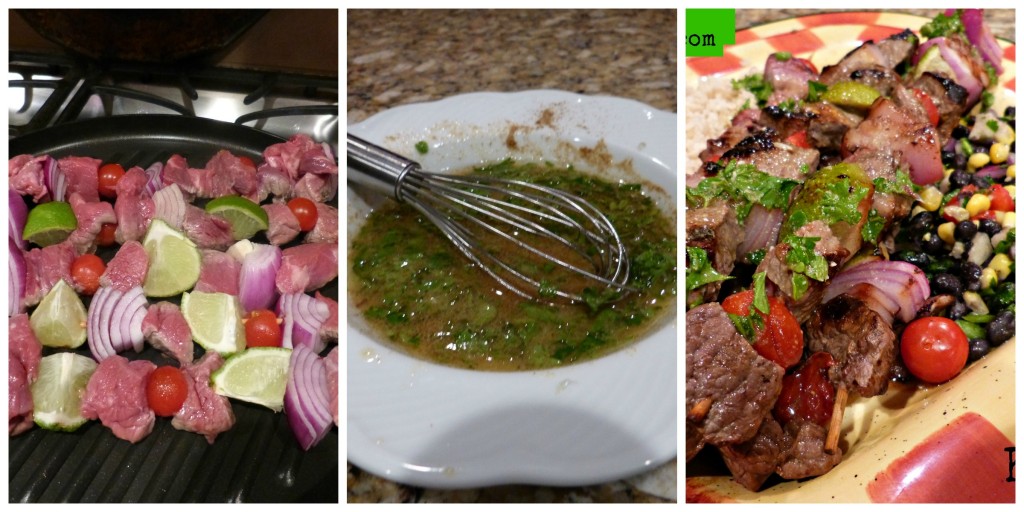 Tips & Suggestions
Mojo sauce is great as a sauce with other cuts of beef including flank steak and flat iron steak, or can even be used as a marinade.
Serve kabobs over couscous, rice or your favorite grain.
Remember to start with a hot grill (or grill pan) and cold meat.
If using bamboo skewers, soak in water for 10 minutes to prevent burning.
In a pinch, store-bought orange juice and lime juice may be substituted.
Nutrition info per serving: 285 calories; 15 g fat (3 g sat. fat; 10 g monounsaturated fat); 50 mg cholesterol; 500 mg sodium; 10 g carbohydrate; 1.8 g fiber; 27 g protein; 8.2 mg niacin; 0.6 mg vitamin B6; 1.4 mcg vitamin B12; 2.6 mg iron, 31.9 mcg selenium; 5.1 mg zinc.