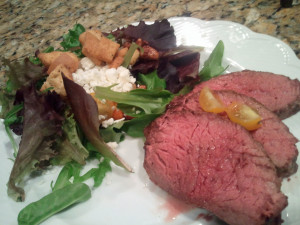 Attention carnivores!  The April 2012 edition of Runner's World has hit the stands, tackling the meaty issue of whether or not eating beef and other red meats is beneficial for the athlete.  Go ahead and indulge in moderation, the scientific verdict shows that lean red meats in moderation helps to rebuild and strengthen muscles by replenishing vital protein and amino acids lost during training. Additionally, iron is plentiful in beef, making a steak dinner a fine way to refuel for endurance athletes who require approximately 30-percent more of this nutrient than the general population.  Plus, a modest 3.5-ounce serving of lean beef provides 34-percent of the daily requirement for Zinc, a mineral that encourages a resilient immune system.
For many of us, this renewed belief in beef is nothing new.  I've been blabbing about beef and how it's helping my running performance now for a couple years.  Thanks to the Texas Beef Council, I gave up my boring grilled chicken breast existence to enjoy the bounty of delicious lean beef – did you know there are actually a whopping 29 cuts of lean beef?  And, when I say 'lean,' I mean each 3-ounce serving contributes  'less than  200 calories, less than 10 grams of total fat, less than 4.5 grams of saturated fat and less than 90 milligrams of cholesterol,' according to the nutritionists at TxBeef.org.
Check out this delicious tenderloin I roasted up for dinner the other night. It's basically a 'no recipe' recipe. Simply season the outside of the beef (about 1 pound) with salt and pepper and chunk on a wire rack in a big roasting pan. Cook in the oven at 375 F degrees for 45 minutes to 1 hour (or until meat thermometer measures at least 135 F degrees).  Let rest for 5 minutes, slice and enjoy!