My childhood years were fueled by a lot of English Muffin Pizzas. My parents both worked and this quick-fix meal or snack could be made in the toaster oven in under 10 minutes, reducing my mom's worry that I was sitting at home starving, or worse yet, burning the house down. Naturally, I've taught my own three boys how to fend for themselves and make these little single-serve pizzas and variations of an open-faced sandwiches.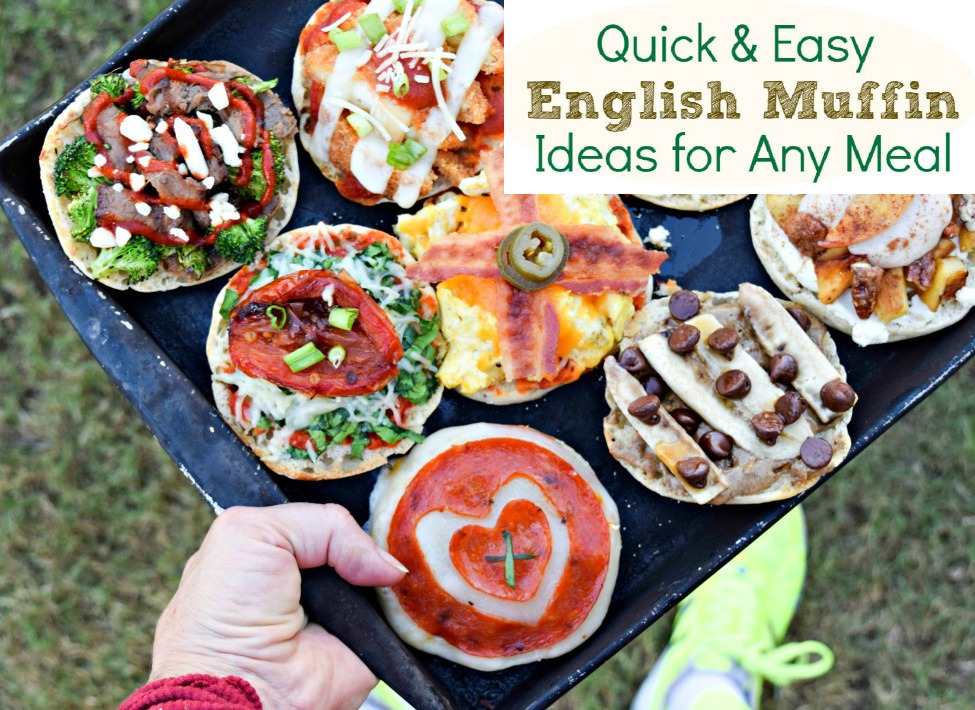 One of the perks of English Muffin Pizzas is that each can easily be adapted to suit picky palates and gourmet appetites alike.  With just a quick switch-a-roo of ingredients (even leftovers found in the fridge or freezer), you can come up with a one-of-a-kind, personal-sized cure for any craving – even dessert!  Check out these quick recipes using English muffins and solve your current breakfast, lunch, dinner or snack situation.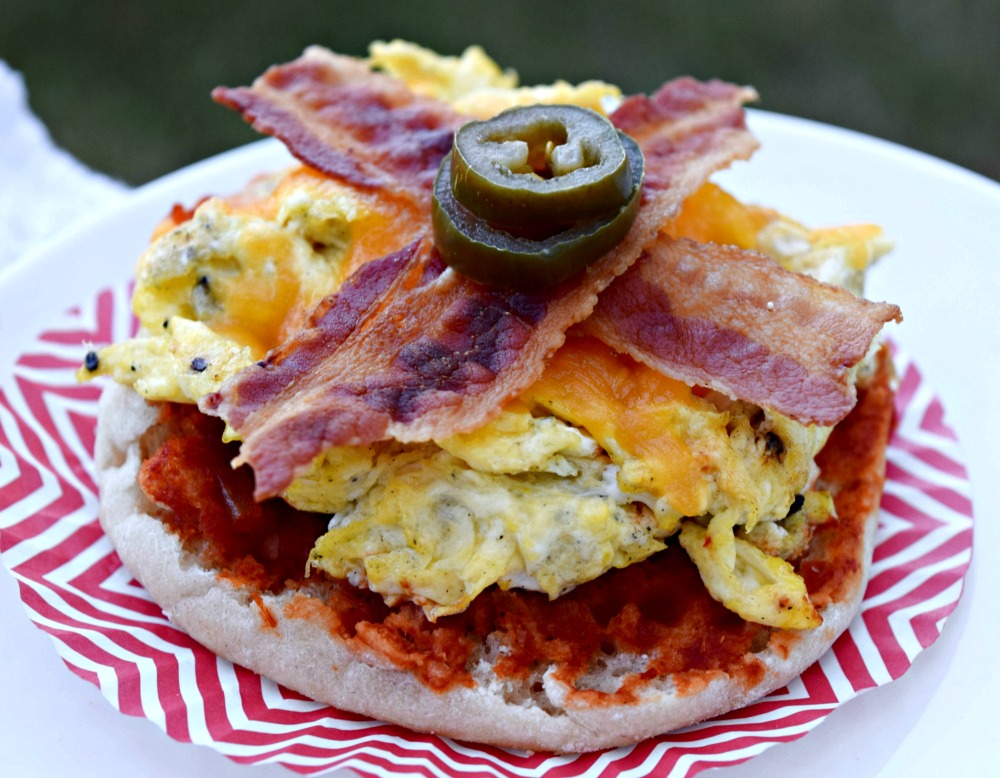 24-Hour Diner Breakfast Pizza: Top muffin with eggs, cheese, bacon and all the morning meal fixings you love – no need to hit a drive-thru for breakfast when you can make this in 10 minutes.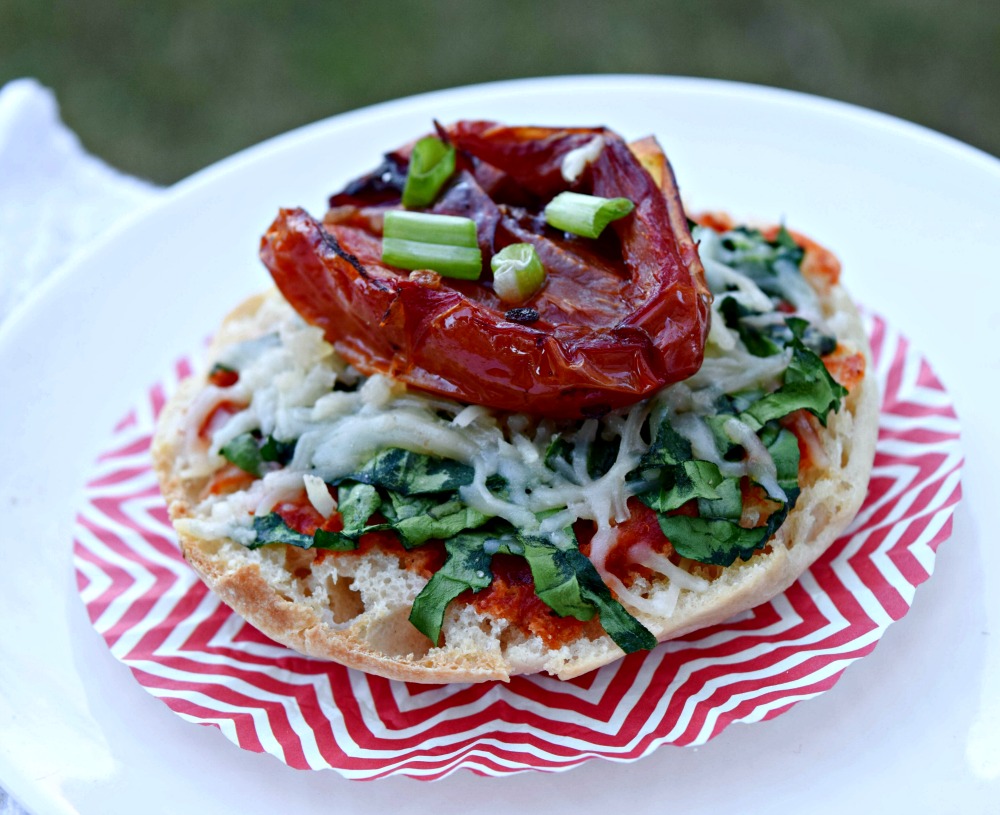 Tomato & Spinach Caprese: For a tasty lunch, spread an English muffin with prepared pesto of choice and layer of mozzarella cheese. Top with shredded raw spinach and a roasted tomato half or thick tomato slice. Sprinkle with Feta cheese before serving.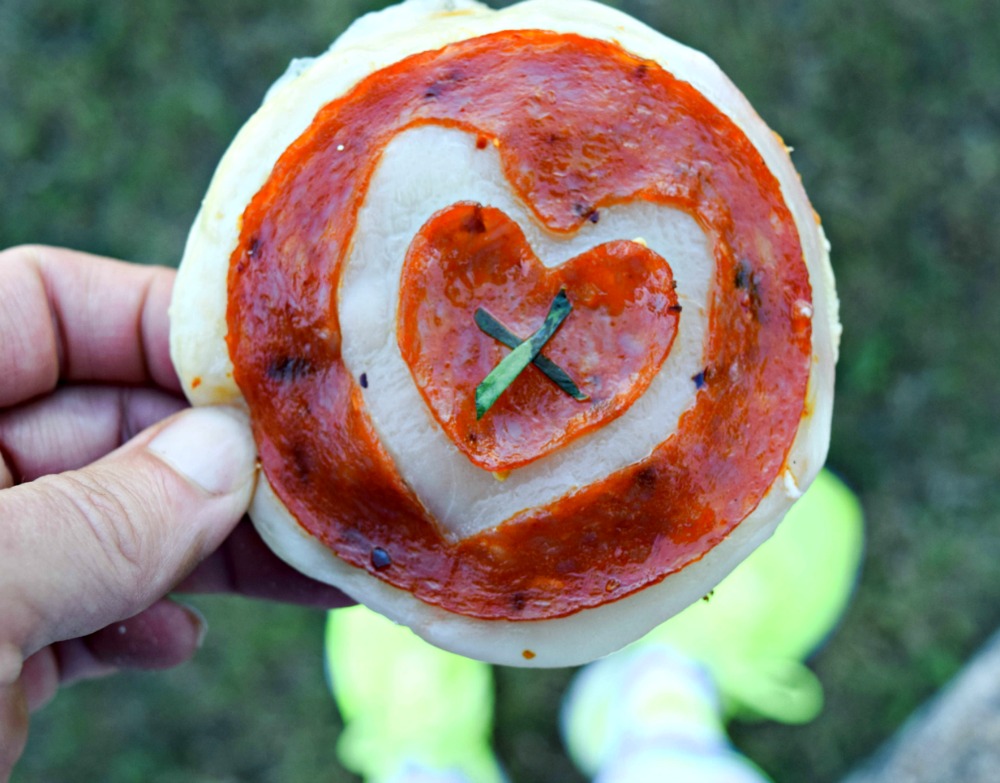 Pepperoni & Cheese: Of course, this English muffin is the little pizza that started the trend. This crowd pleaser comes together in seconds with a dollop of store-bought marinara sauce, round slice of provolone and pepperoni. This is a fun version my son made for me using a cookie cutter on a large slice of pepperoni.
Maple Banana & Nut Butter: For a healthier dessert or snack, spread nut butter on the bottom of the muffin and top with sliced banana and chocolate chips. Drizzle with maple syrup before eating.
Other ideas:
Spread with peanut butter and top with stir-fry veggies.
Spread with almond butter and top with sautéed apples, walnuts and cinnamon.
Top with taco meat, cheese and guacamole.
Spread with cream cheese, dollop of lemon curd and blueberries.
Spread with cream cheese, salmon and sprinkle with capers.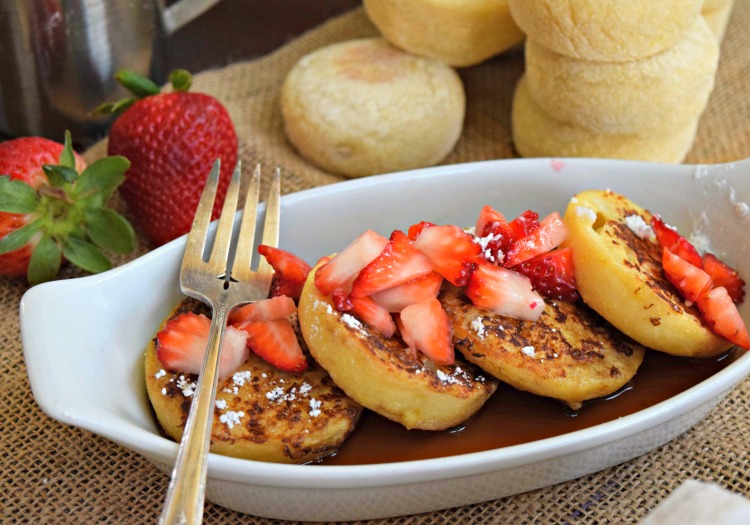 Also, made in a skillet, not toaster oven, still my English Muffin French Toast makes a special treat and is a great way to use up English muffins that have gone stale.
Some basic tips I follow when making English Muffin Pizzas in the Toaster
Pre-toast English muffin with a bit of butter or olive oil brushed on the cut side, about 2 minutes or lightly golden brown. This step promotes a crunchier crust and creates a barrier that keeps the bread from getting soggy right away.
Although exact cooking time and temp will vary from toaster oven to toaster oven, I bake my pizzas (after pre-toasting the muffin) at 375 F degrees for about 8 minutes or until the cheese starts bubbling (or chocolate melting, as the case may be).
When using non-delicate veggies on my pizza, like broccoli, onions or cauliflower, I typically par cook them in the microwave or a sauté pan for a minute to tone down the crispiness.
Many ingredient combos of English Muffin Pizzas can be prepped and kept in the freezer for those super-busy days. I've done this with the "Pepperoni & Cheese" and "Bacon & Egg" suggestions above. Just toasts the crusts, add the sauce and toppings and then don't do the final cooking – instead wrap individually in foil.  When you are ready to eat, set on the counter for 30 minutes to partially defrost, then unfurl the foil as your "pan" and bake at 375 F degrees for 10 minutes.
What are your topping ideas? I'll add my favorites to the list! Please share in the comments below — thanks XOXO, Jennifer