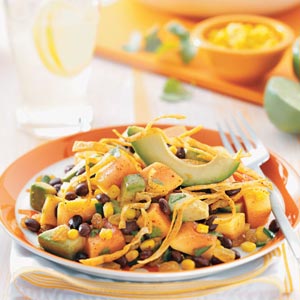 Inspired by southwestern and tropical cuisine, this salad is substantial enough for a meal thanks to the filling black beans and avocado. Overflowing with fresh flavors and a rainbow of colors — orange, yellow, green — that are ready to do your body good!  I created this beautiful salad several years ago and Taste of Home thought it was such a stunner, they put it smack on the front of the magazine. It's the first time I've ever been a cover girl!
Tropical Fusion Salad with Spicy Tortilla Ribbons Recipe
2 cups cubed peeled papaya
1 can (15 ounces) black beans, rinsed and drained
1 medium ripe avocado, peeled and cubed
1 cup frozen corn, thawed
1/2 cup golden raisins
2 serrano peppers, seeded and chopped
1/4 cup minced fresh cilantro
1/4 cup orange juice
2 tablespoons lime juice
1 tablespoon cider vinegar
2 garlic cloves, minced
2 teaspoons ground ancho chili pepper, divided
1/4 teaspoon sugar
1/4 teaspoon salt
2 corn tortillas (6 inches), cut into 1/4-inch strips
In a large bowl, combine the papaya, beans, avocado, corn, raisins, peppers, cilantro, orange juice, lime juice, vinegar, garlic, 1/2 teaspoon chili pepper, sugar and salt.
Place tortilla strips on a baking sheet coated with cooking spray; sprinkle with remaining chili pepper. Bake at 350° for 8-10 minutes or until crisp. Serve with salad. Yield: 4 servings.
Nutritional Facts
1-1/4 cups salad with about 10 tortilla ribbons equals 321 calories, 8 g fat (1 g saturated fat), 0 cholesterol, 380 mg sodium, 58 g carbohydrate, 11 g fiber, 9 g protein.
Originally published in Taste of Home April/May 2010, p53.