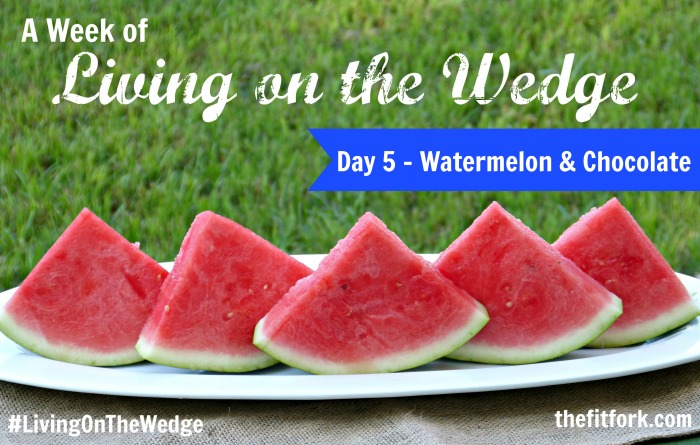 Watermelon and chocolate are two of my favorite sweet things to eat in this world. Summery sweetness meets indulgent richness – the unusual but oh-so perfect pairing was inevitable and why I didn't think of it sooner is beyond me! So, without further ado, I'd like to introduce you to my Whirled Watermelon Chocolate Pie – one bite and I'm sure you will also become best friends forever with this duo of deliciousness. What a lip smacking way to end a summery meal, perhaps even after a grill-up of my recipe for Grilled Watermelon Shrimp Kebabs with Sweet Spicy Glaze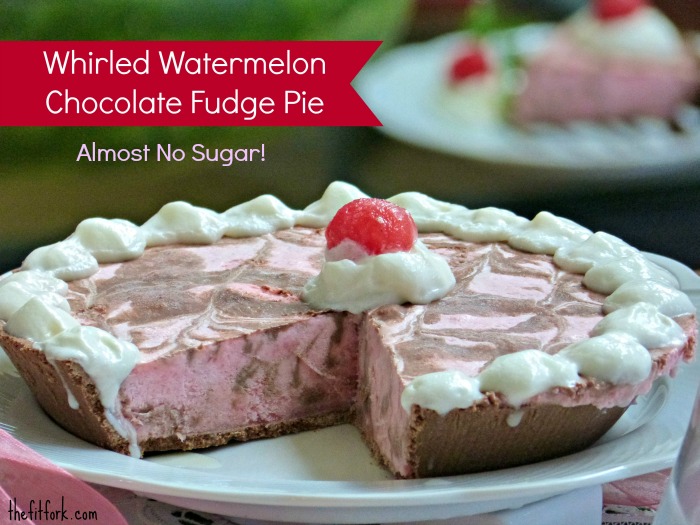 Whirled Watermelon Chocolate Pie Recipe
For Watermelon Filling:
5 cups seedless watermelon cubes
½ teaspoon liquid stevia
2 packets unflavored gelatin
1 tablespoon fresh lime juice
2 large egg whites, at room temperature
1 cup cold heavy cream
1 teaspoon liquid stevia
For Chocolate Filling:
1 cup semi-sweet or dark chocolate chips
1 ½ cups heavy cream (divided)
2 pre-made chocolate pie shells (8 – 9 inch diameter)
Directions:
Add seeded watermelon to blender; use wooden spoon to mash it up and get juices releasing. Puree watermelon until as smooth as possible.
Measure out 2 ¾ cups of watermelon puree; any remaining can be used for another purpose. Stir ½ teaspoon liquid stevia into watermelon puree.
Pour ¼ cup of the juice in a large bowl and sprinkle with gelatin powder; let dissolve for 2 minutes.
Add ½ cup of watermelon puree that has been heated in microwave for about 45 seconds (near boiling); whisk into bowl with gelatin.
Mix in lime juice and the remaining 2 cups watermelon juice into the bowl; place in refrigerator for approximately 30 minutes.
Using an electric mixer, beat the egg whites in a medium size bowl until stiff peaks form; set aside; clean and dry beaters.
Beat the heavy cream in mixer until it holds soft peaks; add liquid stevia and beat for a few more seconds; refrigerate.
When the watermelon mixture starts to firm up, add about one-quarter of the whipped cream and beat with electric mixer until smooth.
Gently fold in beaten egg whites and remaining whipped cream with a large rubber spatula, breaking up any globs of whites or whipped cream.
Transfer watermelon mixture to another bowl and return to refrigerator. Thoroughly wash and dry mixer bowl and whisk attachment to make chocolate filling.
In microwave-safe bowl, melt chocolate chips and ½ cup of heavy cream by heating and stirring in 15 second intervals until smooth. Let cool for 10 minutes or until near room temperature.
Add chocolate mixture and remaining 1 cup of heavy cream to mixing bowl and beat for approximately 2 minutes, until smooth.
Ready the 2 chocolate pie shells. Spoon in ¼ of watermelon mixture into bottom of each. Next, spoon in "blobs" of the chocolate mixture. Repeat the watermelon and chocolate layers until pie is filled (should just be about 1 more set of layers).
Use the tip of knife to create a swirled pattern. Loosely cover pies and freeze for at least 2 hours, or overnight. To serve, let partially thaw for 10 minutes and slice each pie into 8 pieces. Makes 2 pies (serves 16)!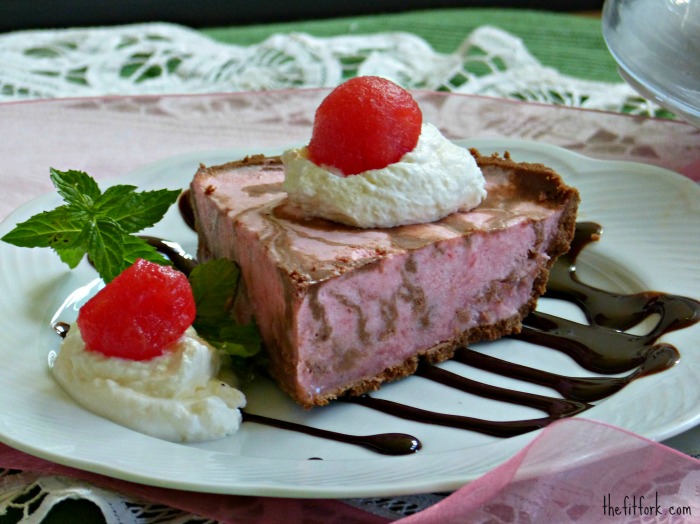 By the way, please notice that this recipe makes TWO pies – if, for some unheard of reason, you are opposed to making TWO pies, just cut the amount of each ingredient in half. I also found that any leftover fillings make really good Frozen Watermelon Chocolate Pops – just pour into a frozen treat mold or paper cups.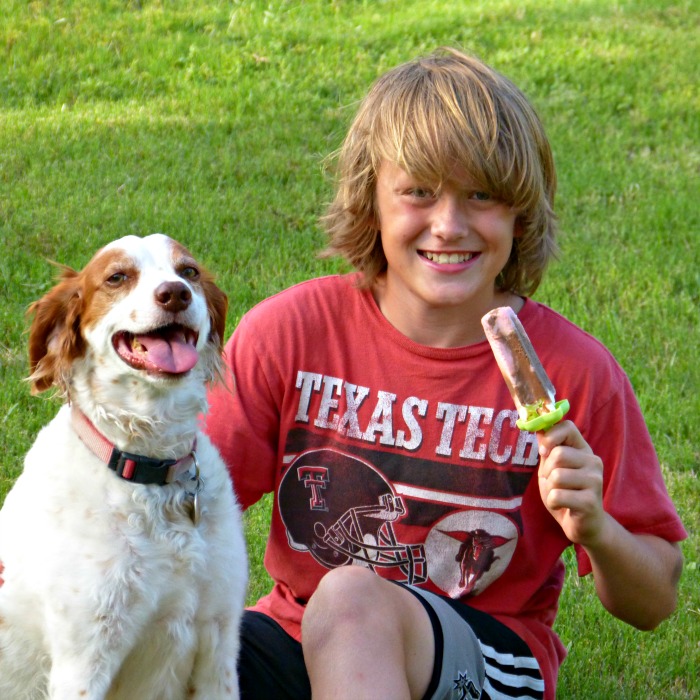 Watermelon.org also has great dessert recipes that feature watermelon and chocolate. Check out these two family favorites: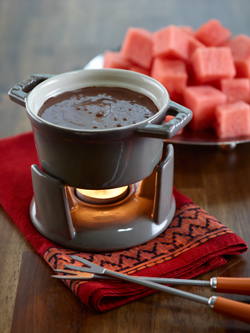 Watermelon and Spicy Mayan Dark Chocolate Fondue –  I'm just looking out for your health, people! While it might look decadent, this hot fondue is rich with polyphenols found in cocoa powder – and dark chocolate is also great source for iron and magnesium. Plus, you'll add extra potassium, lycopene and vitamins A and C to your diet with each dunk of watermelon!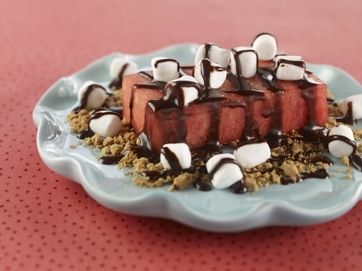 Watermelon S'mores — need I say more?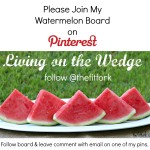 If you have a watermelon recipe to share, please post it in the comments. Or, better yet, join #LivingOnTheWedge Pinterest board.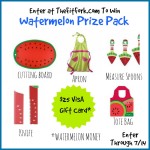 Also, check out my other posts on watermelon featured all week and don't forget to enter the giveaway for a great Watermelon Prize Pack.
The National Watermelon Promotion Board is providing me with compensation to share my love of watermelon. However, the opinions and content (unless otherwise noted) shared are my own and NWPB did not tell me what to say or how to say it.