Pack your cooler and head to the nearest park, lake or recreation area because June 18 is International Picnic Day! Yes, that's right, folks all over the world will be lounging on blankets, grilling or eating cold-cut sandwiches and enjoying refreshing beverages. While I personally think it might be a bit cold for a June picnic in some parts of the world (uhh, like Siberia), Texas certainly has more than enough of the warm weather thing going on – that's why I insist on making watermelon part of our picnic in every way possible.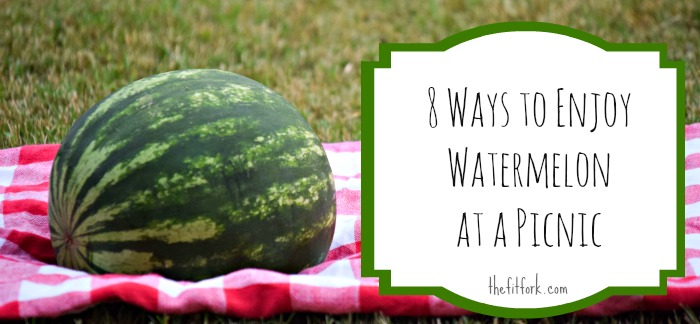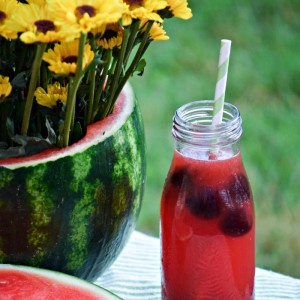 Not only is a slice of watermelon super tasty, it's also hydrating. Did you know that munching on 8-ounces of watermelon is like drinking almost that same amount of water – but in addition, you get natural sugars, electrolytes, vitamin A, vitamin C, and lycopene! It's like Mother Nature's sports drink except with no added sugars or funky stuff.  You're going to love to quench your thirst with my recipe for Watermelon Coconut Cherry Sippers at the bottom of this post.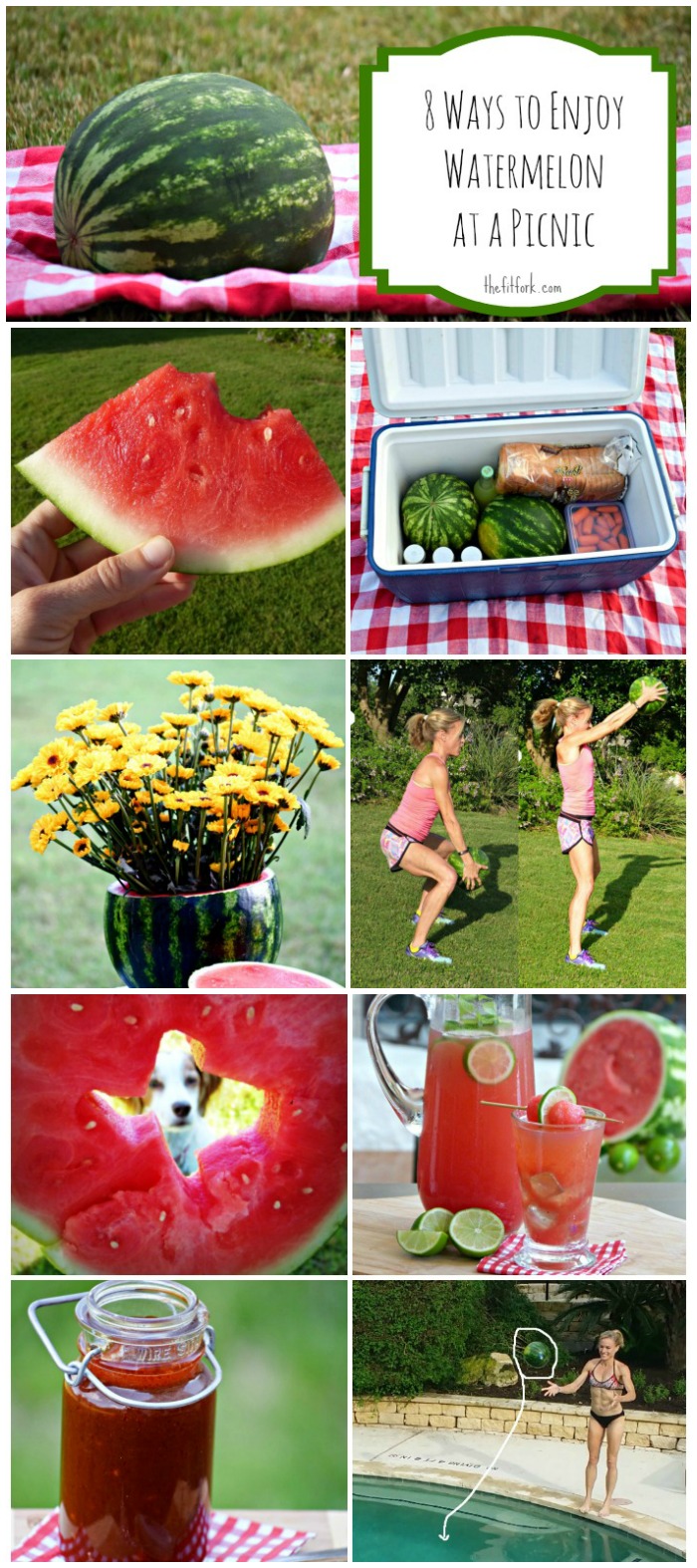 In addition to the Watermelon Coconut Cherry Sipper recipe, I'm also sharing eight ways to enjoy watermelon at your next picnic or outdoor event!
Eat by the Slice: Uncut, this fruit is easy and mess-free to pack for a picnic – and big enough to share with a crowd. Slice up your watermelon on-site with this simple way to make watermelon spear slices for sharing.
Use as "Ice" in Cooler:  Chill an uncut watermelon or two in the refridgerator overnight, get 'em good and cold. Transfer watermelon to a cooler the next day before your picnic and pack remainder of food around and on top of the melon.  If using picnic perishables within a few hours, food should remain cold and safe. However, if it's going to be a long day in the sun, add a bit of ice.
Repurpose Rind as Vase:  The bowl-like rind that remains after watermelon flesh is scooped out makes a clever vessel for displaying flowers.  Use a personal-sized melon and slice off the top three-fourths of the way up.  Or, for a dramatic display on a big table, slice a large oval melon in half lengthwise and arrange with blooms.
Work Up a Sweat: Don't lounge on the picnic blanket all day, get moving! Use a watermelon to get in a workout on dry land or exercise in the pool – watermelons in sizes ranging from 10 to 40 pounds are easy to find, so there is a weight option for everyone.
Kid-friendly Cutouts:  Keep younger children busy and entertained at your picnic by appointing them helpers who punch out shapes in slices of watermelon with cookie cutters.  Shapes can be served on an ice pop stick for a fun handle.
Drink Up: Because watermelons are more than 90 percent water, they are very refreshing on a hot day. The high water content along with vitamins, electrolites and other nutrients will help you and your family from becoming dehydrated on a hot day.  Drink the juice "as-is" or enjoy one of the numerous watermelon beverages around including the Watermelon Coconut Cherry Sipper recipe below or one of the many watermelon beverage recipes from the National Watermelon Promotion Board.
Create Unique Recipes: Watermelon is very versatile and can be incorporated into many creative recipes for your picnic. Pack the fixings for Watermelon Sandwich Wraps or, if grilling at your picnic, whip up a batch of Spicy Watermelon BBQ Sauce before you head out.
Play Games:  Keep the watermelon fun going all day long by using the fruit to play fun party games.  Small children will have a blast playing Hot Watermelon with a small, personal-sized watermelon. Have the kids sit in a circle and pass the watermelon around from person to person while music plays. The child who is holding the watermelon when the music stops is "out" and the game continues until one person remains.  Older kids will have fun at a pool or lake picnic playing Greased Watermelon Football, a game where a watermelon rubbed with Vasaline is tossed in the water and teams jump in to retrieve it and bring to dry land – it's a slippery, action-packed and hysterical event!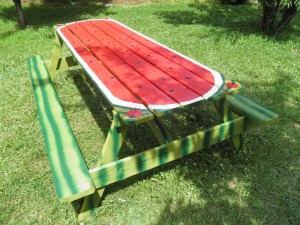 If you're feeling crafty, why not paint up a simple picnic table to resemble the quintessential fruit of summertime?!  I found this cute idea on Pinterest! That reminds me,  you should follow my #LivingOnTheWedge Pinterest board to keep up to date on all things watermelon!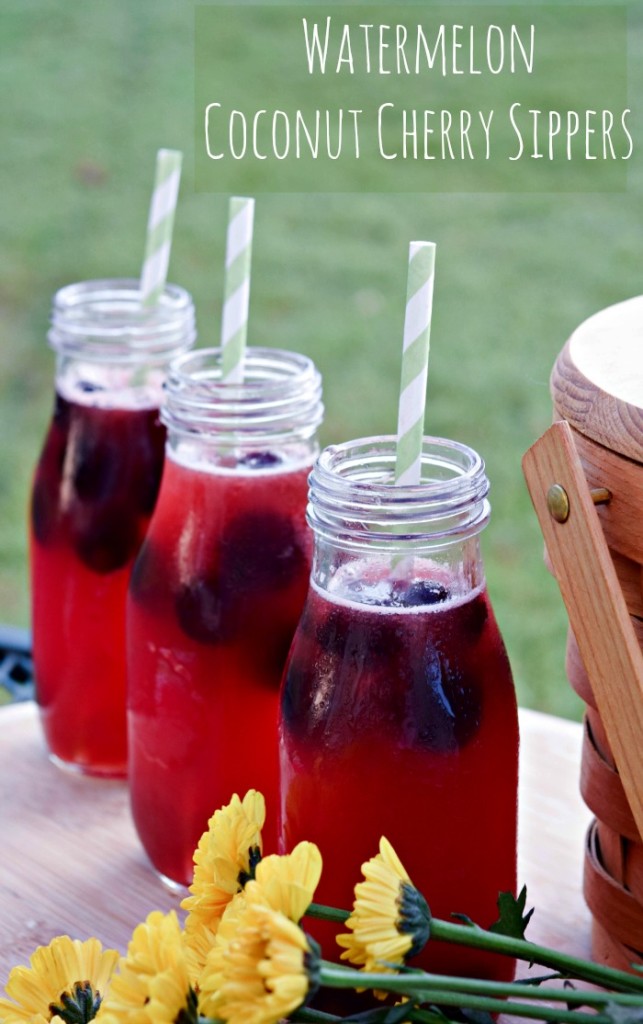 Watermelon Coconut Cherry Sippers Recipe:
4 cups chopped watermelon
12-ounce bottle coconut water
1 cup frozen dark cherries
Add approximately 4 cups of chopped watermelon into blender. Pulse for 30 seconds, or until juiced. Pour contents through fine strainer to remove excess pulp (it's okay if some goes through).  Add a 12-ounce bottle of coconut water to extracted watermelon juice. Stir. Pour evenly into 4 tall glasses and add 6 to 8 frozen dark cherries to each cup (to serve as tasty ice cubes).  Serves 4.
How would you enjoy a watermelon at your next picnic? Please post it in the comments below — XOXO, Jennifer 
The post is sponsored by the National Watermelon Promotion Board. However, the opinions and content (unless otherwise noted) shared are my own and NWPB did not tell me what to say or how to say it.