Also known as "The Trails and Entrails of the 2012 Hood to Coast Relay"
Some of you may have heard that I just got back from running the famous Hood to Coast Relay on a team sponsored by Nuun Hydration. Whoo-hoo!  It was truly the realization of a 16-year dream to take part in this almost 200 mile journey from the snow-capped Mount Hood all the way down to the sandy (and quite chilly) beach of Seaside, Oregon.  And, to represent for an awesome company whose product I firmly believe in and actually do drink made the experience all the more exceptional, as did hanging out with the 35 other like-minded runner-blogger-foodie-fashionistas. Holla!
I'm not a very savvy race recapper; I've forgotten my race leg times, my mind and my photos are fuzzy, and I'm just staring at the big bag of swag donated by generous sponsors (thank you) that I will eventually need to dig through and provide thoughtful reviews. However, I do clearly recall important details about the trip such as the food and drink. It's all perspective and priorities, people – and this is The Fit Fork after all!
When I finally rolled into Seattle (Nuun HQ), the pre-running party had been going on for at least a day. Since I missed out on the female bonding at the Seattle Mariners game, the morning run-swim and the insider tour of Oiselle, I hoped that my attempt to sweeten up these girls with Jamba Juice smoothies would bear some fruit. Thanks to the yummy, slushy goodness of flavors like Razzamatazz™, Strawberry Whirl™ and Aloha Pineapple®, I felt as welcomed as the new girl at school whose mom sent in cupcakes to mark the occasion — only healthier!
Soon, we'd meet up at Nuun HQ for a variety of activities including a taste-testing of not-yet-for-sale secret flavors whipped up by the company president, Mason Reay.
The frenzied scavenger hunt across the city of Seattle sent me into a few moments of tourist distress. Alas, we only had time to stop, snap pictures and tweet our location at a number of foodie locations including Pike's Market, a famous Donut Shop, the Original Starbuck's Coffee.  I'm definitely will need to revisit these places at my leisure on a future trip!
The pre-race dinner, catered by Bucco de Beppo, was a smorgasbord of healthy Italian dishes to suit the rainbow of food restrictions in the group. I am not at all being snarky here when I point out that Team Afternuun Delight covered quite a slice of the nutritional spectrum from dairy-free, soy-free and gluten-free to plant-based and low-carb. Kosher? Raw only? If I missed some, post in the comments. I always like to hear about a new diet lifestyle. I felt tempted to throw in my personal preference which is the Paleo Diet (fish, grass-fed pasture raised meats, vegetables, fruit, fungi, roots, and nuts, with the exclusion of grains, legumes, refined sugar, and processed oils). But, then I remembered I follow the "100-percent Paleo, 80-percent of the time" mindset; meaning vacations, even a running vacation, almost always fall under the other 20-percent of the time. This would be my mistake.
Race day we were up at the crack of dawn, but didn't have to take off until later in the morning. This meant a quick trip to Specialtys Bakery near the ballpark where the-nicest-ever-employee Colin hooked me up with a Southwestern Egg Sandwich on bread. Yes, bread!  After loading into our respective vans (six ladies to each and some darn nice ones riding with me), we headed out of town and only made it as far as the Panera Bread in Tacoma. Here the whole gang noshed on our favorite menu items (me, Barbeque Chicken Salad) while local lunchers looked on with a combination of bewilderment and, I'm just guessing, awe and admiration at our sparkly skirts and rainbow striped arm-warmers.
Most of our remaining day and a half would be spent inside the 12-passenger van, except when it was time to run our respective legs, visit one of the 529 port-a-lets (they called 'em "Honey Buckets" and I came to know 'em well), or hang out for some down time at an exchange. This meant we relied on rations piled up in the back of the van except when our intrepid and highly entertaining driver Tyler, a Nuun employee, would pull over to grab us a snack.
Rations consumed in the van:
Nuun Hydration tablets (favorite flavors were Kona Kola and Strawberry Lemonade)
12 Chiboni Yogurts  (the official yogurt of the USA Olympic Team and Team Afternuun Delight)
Lots of Kind Snacks – Granola and Bars
14 bananas
8 bagels
Peanut butter
Homemade brownies (I never got one!)
GNC caffeine chewies
Saltines
Graham Crackers
Trail Mix
Gummy Bears
String Cheese
Assorted beers
Muscle Milk
Assorted energy drinks (consumed by driver and, err, me)
Coffee
Random ham sandwich and hamburger stops
You know you're committed to eating right when you bring food along with you on a trip. Wish I had that much stick-to-it-iveness; maybe I wouldn't have had so many stomach issues. The crazy lady (love ya) in the back seat delighted us with an endless array of healthy options on the go, some actually good!  Kale chips, sprouted raw pumpkin seeds, tuna fish in a can (she courteously went outside to eat that), beans, rice milk, berries, kombucha and more.
After we finished our first round of legs, we had arrived in Portland. Since it was after midnight, we parked the van and walked over to the closest place open and serving food, the Bunk Bar. At this time of night, you can't be picky. Another Egg Sandwich for me (top bun off but loaded down with bacon ) and split a local brew on tap with a teammate. Was hoping that beer would help me go to sleep during our 2 hour layover in the parking lot. But, alas, it was the indigestion and adrenaline that so wanted me to stay awake.
My second leg at 8am was fueled in quality style with a Monster Absolute Zero followed by a banana and yogurt for recovery. The remainder of down time until my third leg at 5pm included no sleep, a long traffic jam through the countryside of Oregon, overindulging in trail mix until I couldn't even look at the bag anymore, and a stomach ache that refused to be resolved.  Several days of magnesium, caffeine and fiber supplementation were failing me, there seemed to be no solution to my hormonal-travel-naughty-eating induced problem.  The whole van was pitching in to help, amazing how close you can become with people when "living" in such close quarters.  Rumors from another team van were flying; apparently the Aspaeris Pivot Compression Shorts, a gift in our goodie bag, were literally squeezing the #@$& out of some of the girls. It was worth a try, but I was foiled from the get go. My pair was missing.
Apparently, all types of digestive problems are common during the 28+hour relay, as evidenced by the van for the team Great Bowels of Fire.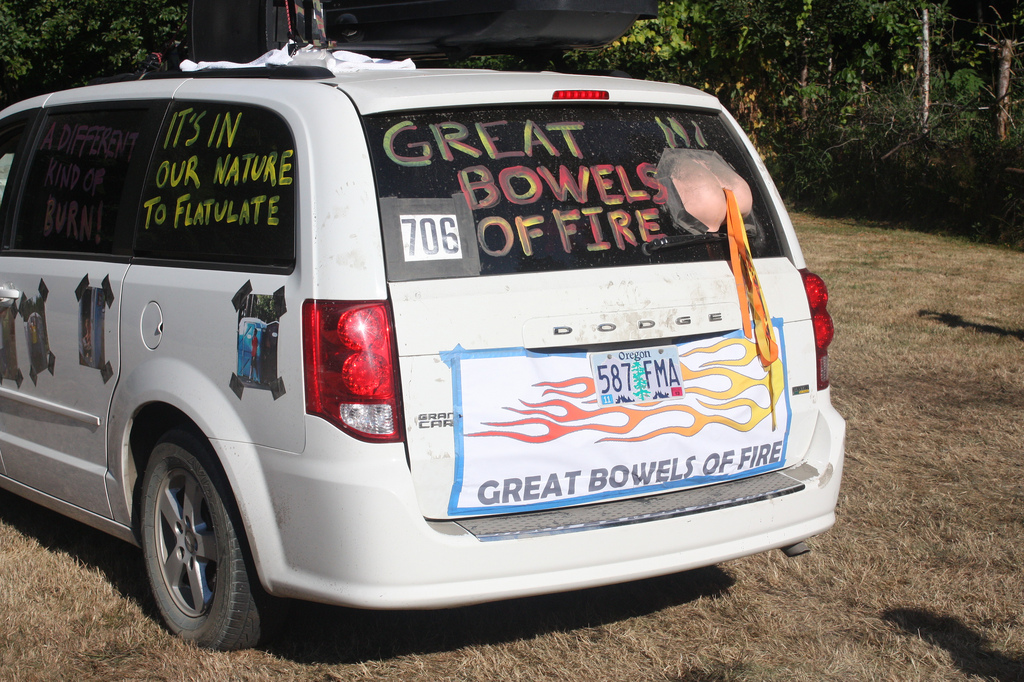 Third leg was run around 5pm after a late afternoon filled with heartbreaking drama including a nasty, sprained ankle by a sweet teammate and picking up lost runners who had run miles out of their way out on the course. It was really touching, and a great lesson for me, to see everyone rallying together to emotionally boost up the injured and upset. It wasn't about winning the race or how fast or cool a single person was; it was about finishing together regardless of the circumstances.  And we did!
To celebrate, we partied down at the beach as guests of Nike. Local hefeweizen, pulled pork, smoked turkey, salad and such.  It was good, it was all good.
After a midnight van ride and another sleepless night in Seattle, I started working my way back to Austin. A Kind Bar and Starbuck's Chai Latte held me for breakfast and a spinach salad with feta and craisins was a not-too-bad airport layover lunch. And, when I got home at 7pm, everyone was waiting for dinner! Hurray! Fajitas on the fly.  Oh yeah, and I unpacked. Everything. All problems solved.
Thank you Nuun Hydration for such a wonderful experience and all the support from your employees. It was both harder and easier than I thought, does that make any sense?  Loved it!